I am sure you have heard it many times: "the money is in the list"! Whether you are selling products from your website, promoting an e-book or online course, advertising coaching services, you will need to build an email list. For this you will need one of the best email marketing companies, that will enable you to contact your prospects and clients and make more sales.

So you might be wondering what is the email marketing provider that you can use and what is email marketing services that I should look out for? In this AWeber review we will look at the features, the pricing, interface, pros and cons, and much more about what is an email marketing platform.
By the end of the review you will see why AWeber is one of the best email marketing companies and you will know what is the email marketing platform all about.
What is AWeber?
AWeber was founded in 1998 and have worked with more than a million businesses over the past twenty years. Currently they have more than 100,000 individuals and businesses that use the platform for email campaigns.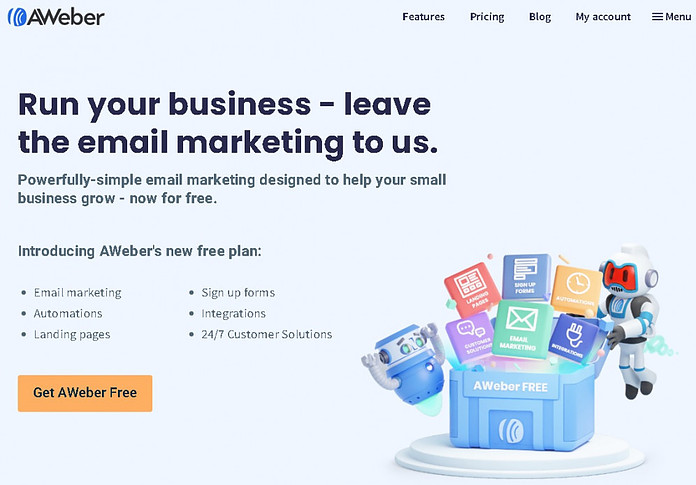 The AWeber email marketing software allows you to:
Create a mailing list and enter date into it.
Design newsletters that can be sent to your subscribers.
With the use of autoresponders, you can automate your email marketing.
View and analyze statistics related to email marketing campaigns.
The mission of AWeber is to deliver powerful simple email marketing software for small businesses and entrepreneurs, that does ninety percent of the work for you. You can grow your business with email marketing and AWeber will show you how to:
Create sign up forms and landing pages  
Write and design beautiful emails
Build your email list in creative ways.
Measure the performance of your emails.
Avoid your emails ending up in the spam folder.
What is the email marketing software all about? It is a tool that offers an email marketing service or bulk email service, so that you can collect email addresses and send messages without spamming your subscribers.
Get started with AWeber for FREE
Features of AWeber
What is the email marketing key features that AWeber e-marketing software have:
Import and host a mailing list – you can transfer an existing list to AWeber, add them manually, or copy and paste rows of subscribers. The file types that can be imported are .xls, .xlsx, .tsv, .csv and .txt. You have the option of tagging your subscribers and adding them to a specific set of autoresponders, while you are importing the data. This is a very nice feature as many other providers do not allow imported data to go directly into an autoresponder cycle. To comply with AWeber's anti-spam, you will have to answer some questions on how the data was collected that you are importing.

Responsive email designs with over 700 HTML e-newsletter templates that are available. This is compared to about 220 from GetResponse and roughly 80 from Mailchimp.
Email templates are responsive, meaning they automatically resize themselves, depending on the device that is being used. This is an essential feature for different devices like smartphones and tablets. A preview button lets you see a preview version of what your e-newsletter will look like on a mobile device.
With AWeber you can use web fonts in the templates. Web fonts are normally more attractive than the standard fonts that you are restricted to with email marketing. This means you can improve the appearance of your emails and it can help to get brand consistency between your emails and your website. You have roughly ten more fonts available to you to enhance your e-newsletters.
Blog Broadcasts means you can turn your website's RSS feed into an e-newsletter. This is sent according to a schedule that you define. This is a great feature for bloggers as their subscribers can automatically receive an email with their latest blog posts. It basically means you can send e-newsletters from your website. A specific set of templates are designed for this RSS-to-email purpose. There is room for improvement here as the standard drag and drop interface cannot be used for editing, but another editor has to be used.
Autoresponders are a key part of what is email marketing services. It is a series of follow-up emails that are triggered automatically by either actions or are time defined. These could include:

As soon as somebody subscribes to your mailing list, they get a welcome email.
A few days later you send them a promotional code.
A fortnight or so later you invite them to visit your Facebook page and follow you on social media.

This saves you a huge amount of time and is a breeze to set up follow-up emails with AWeber. The options to trigger autoresponders are limited, compared with other providers like GetResponse.

AWeber Campaigns is a marketing automation feature, which is a feature where you design a flowchart and based on user action, an email is sent. This would be based on email opens, link clicks, purchases made, site visits, etc. User actions and the application of tags, can determine when an email should be sent and to whom. There could be improvement on the flexibility of this feature.
AMP is a new technology that makes it possible for recipients to take action within an email, without having to leave the email or visit a website for. The sender can also insert dynamic content, like weather update, into the email. AMP for email is now a feature in AWeber.
Flexibility of the opt-in process allows you to have your subscribers on either a single opt-in, or a double opt-in. A single opt-in means a user is immediately subscribed after completing a form. A double opt-in means you receive a confirmation email with a link that you must click on to complete the subscription.
Split testing allows you to send variations of your emails to some of your subscribers. By monitoring the performance of each variation, you can choose the best performing one and send it to the rest of your list. Different versions could have different subject headers or email content. This way you can establish what is the email marketing tool that is best. AWeber will automatically send the version that performs best to the rest of your list. When split testing with AWeber, you can send three versions. The split testing feature is not available in the free plan.
Reporting: apart from being able to monitor and analyze reports such as open rate, click through and bounce rate, you also have analytics on the growth of your lists, sign-up methods, geographical location of people opening your email, the history of each subscriber's activity, and more.
Segmenting data in AWeber is straightforward. Based on the content of any field in your database, combined with your user activity, you can create segments, which are flexible and easy to use. Unfortunately you cannot broadcast to multiple segments at once, but have to do it separately. On the other hand, you can send to multiple lists at the same time.What is segmentation?It is the process of grouping your list into smaller subgroups, based on certain criteria. Use tags to create a segment of subscribers.  
Landing page builder, whereby you can design a simple landing page, is a new feature. A landing page, also known as a squeeze page, is a web page that is designed to capture data. It is normally a form with an attractive image and message that will get people to submit their email address. A squeeze page is often more effective than a normal form on a website as there are no distractions, and can be used in combination with advertising campaigns. The landing page builder is easy to use and you also have free stock photos you can use. You can also add Google Analytics tracking code and a Facebook pixel to your landing pages. No split testing is possible at the moment and it still needs improvements, but it is a great feature. You do not need a website to build landing pages. Related post: Siterubix – How to create a website online for free.
Integration with third part Apps – several hundred integrations with other solutions are available that allow you to connect AWeber to various types of cloud based software. These include web builders like WordPress, landing pages like Instapage and CRM tools like Salesforce. Some might require a snippet of code into a website or using a dedicated widget  A stand out feature of AWeber is the customer support through email, telephone and live chat. Easy access to good quality support is a must for anybody that is new to email marketing, making AWeber a very good choice as one of the best email companies.
What I like about AWeber
AWeber provides the tools, knowledge and customer service to send the right messages to your customers, at the right time. These are the benefits of AWeber, in terms of what is an email marketing platform providing that simplifies email marketing:
Emails and landing pages that look amazing is automatically created. An Artificial Intelligence (AI) powered email template designer, called Smart Designer, is used to create branded emails in seconds. You have access to a free template library.
Create automated emails and campaigns that you can personalize, and thereby optimize your email marketing efforts.
Create automations that assign triggers and flows to your emails, that deliver the right message to the right person at the right time.
With segmentation and email automation, sending more targeted emails at the right time, is possible. For instance, new subscribers can automatically get a welcome email.
Tagging and segmentation can be used to send more targeted and relevant messages to specific groups of customers.
AWeber delivers emails themselves and do not outsource it, meaning it drops into the inbox and not the spam folder.
Pre-built analytics and reporting – pre-built reports means you get mobile reports and data that matters, giving you insight into the performance of your emails and what is the email marketing campaign achieving.
Easy subscriber management enables you to categorize and manage the people on your list, so that you can easily and quickly email those that will respond to offers. Quick segmentation and targeting and sign-up forms.
Through native integration, you can integrate other systems, like PayPal, Shopify, Etsy, WooCommerce, Facebook etc. that many businesses use, with your email marketing programs.
AWeber Pricing
What is the email marketing solution going to cost you? AWeber has two plans, the Free Plan and Pro Plan.
The Free Plan: a completely free version of AWeber is available if your mailing list is less than 500 subscribers. This is perfect for somebody who is just starting out and building a list. Once you reach 500 subscribers, you can upgrade to a paid plan.
The Pro plan prices for hosting and emailing a list is as follows:
Up to 500 subscribers: $19 per month
501 to 2,500 subscribers: $29 per month
2,501 to 5,000 subscribers: $49 per month
5,001 to 10,000 subscribers: $69 per month
10,001 to 25,000 subscribers: $149 per month
For more than 25,000+ subscribers on your mailing list, you will need to call AWeber for a quotation.Discounts are available:
Pay quarterly: 14% discount
Pay annually: 14.9% discount
Discounts are available for students and non-profit organizations.
The pricing has to do with the size of your list, rather than the features that you have access to.
How does AWeber Pricing compare with Other Providers?
Remember that when you compare AWeber prices with other email service platforms, that you need to compare apples with apples. Some might be cheaper, but with fewer features. There is no other provider that has a completely free plan, for an unlimited period of time, for up to 500 subscribers.
AWeber is much more expensive than Mad Mini (but Mad Mini has far fewer features and is very basic)
Slightly more expensive than GetResponse.
About the same price as Mailchimp.
Much cheaper than both Campaign Monitor and iContact.
Price wise, AWeber is roughly in the middle of the spectrum of what is email marketing services costing.
All other providers have a free trial period, but then you have to upgrade to continue using their services after the trial period. I have previously tried GetResponse for a free trial period, but because I had a small list, it was not economical to upgrade for the small list.
Reasons to Join the FREE AWeber Plan
Signing up for an AWeber account is easy and quick. All you need is your name and email address to join and start out, so no barriers for small businesses and entrepreneurs.
Everyone has access to free migration services. Anybody who has an existing different email service, can transfer to any of the AWeber plans and AWeber will do the migration for free.
You will have access to stunning landing pages and content creation. All AWeber users have access to message editor, landing page builder, sign up form builder or have the Smart Designer technology to build amazing looking templates.
Unlimited email automation and no restrictions on the capabilities of any version of AWeber email automation. Anyone can use the entire campaign builder and massage editor to create unlimited campaigns. This allows you to email more efficiently and create more meaningful and deeper relationships with your audience.
Everyone has full access to customer solutions, including those using the AWeber free plan. All users have access via telephone, email and chat to the customer solutions team.
With the free plan you can not do split testing or have access to abandoned cart emails.

Both the Free and Pro Plan have these features on Landing Pages:
Unlimited landing pages.
Beautiful landing page templates for a variety of goals.
Thousands of professional images.
Video landing pages.
Google analytics and pixel tracking on Facebook.
AWeber Pro Plan
The features that make the Pro Plan worth every penny
Unlimited lists and unlimited amount of email you can send. There is no restriction on how many times you can email your subscribers.
Create custom messages for segments in your audience so you can send targeted messages and promotions. This way you can appeal to the specific interests and needs of different people in your audience.
Improve audience engagement by learning who is opening your emails, who is clicking and what they are clicking on, and how your list is growing. This means you can do split testing on variations of your sign up forms, subject lines and emails.
Trigger an automated campaign when somebody abandons a shopping cart. Send personalized messages based on the website pages that you subscribers visit, what they clicked on and what they purchased.
Track sales and website traffic. See which website pages your subscribers visit and track when they buy a product or service.
What is the email Marketing Platform Lacking?
These are the features of AWeber that I think can be improved:
No split testing in the landing page builder, but as this is a very new feature, improvements are in the pipeline.
Some templates look outdated.
Standard drag and drop interface cannot be used in Blog Broadcasts.
Flexibility on AWeber Campaigns have room for improvement.
There is a big jump in pricing from 10,000 subscribers to 25,000. An in-between option would be good.
Final thoughts on What is email Marketing Services
AWeber delivers powerful features to help you grow your business through email marketing. AWeber is one of the most popular choices for designing and sending e-newsletters, with 24/7 Customer support, amazing educational resources and email marketing software that is easy to use.
AWeber is one of the best email marketing companies for sole partners and small businesses, and anybody with a small list and just starting out.
Related post: You do not need a website to build a landing page, but if you want to build a website for free, this is where you can do it
Still wondering what is email marketing services all about or want to know more about the best email marketing companies? Please leave any questions or comments about what is an email marketing platform or AWeber below, and I will get back to you.