BlueHost is well-known as one of the best beginner-friendly WordPress hosting providers. In August 2021 they launched the BlueHost Website builder, which makes it easier to build a website yourself. But how good are the BlueHost website builder templates and can it compete with other popular website builders?
Building a website can be overwhelming. The mission of BlueHost in creating the website builder, is to empower people to fully harness the web.
BlueHost web builder is one of the most dynamic and impressive web builder tools. It is a useful tool for anyone who has no idea where to begin when it comes to creating a website.
Disclosure : I do have affiliate links on this site. If you click on any and make a purchase, it will not cost you anything more and will help me to bring you more reviews. These are my own opinions based on my experience and research.
BlueHost Website Builder Reviews: Snapshot
The drag-and-drop Bluehost web builder is built on top of WordPress, to enable you to quickly create a professional looking WordPress website.
WordPress is a popular, flexible content management system (CMS) that powers millions of websites. It is the backbone of the BlueHost website builder.

Although the builder is based on WordPress, you get a completely custom interface to set up your website and create content. It is available on all of BlueHost hosting plans.
You can leverage the power of WordPress, while creating your site using a drag-and-drop interface. It is an exciting option for anyone who wants the power of WordPress, but the simplicity of using what is a drag-and-drop website builder editor.
Integration with WordPress allows you to set up your website using WordPress. Included are more than 300 templates, full access to WordPress and custom CSS.
No technical know-how, coding skills or even familiarity with WordPress, is required to assemble a robust website with the drag-and-drop builder. The interface is minimalist in design. Just drag required elements from the menu section, to add different components and create pages.
The BlueHost website builder gives you the tools you need to make attractive, dependable pages, as well as eCommerce options. It is a beginner friendly website creation tool.
So what are the benefits of building a website with BlueHost website builder templates?
Pros of BlueHost Web Builder
These are the best reasons for choosing Bluehost to create your website:
Very beginner friendly, largely because of the user-friendly onboarding wizard.
You can build an awesome looking website, even if you have no experience of making a website.
You can get a website up and running in very little time.
It is a cost effective way of building a website as there is no need to pay a web developer.
Limitless customization with Gutenberg blocks and plugins.
The section-based design approach is easy for newbies to grasp.
Easy to use interface. You can choose a design for your niche by just entering a keyword.
Large library of templates and stock photographs.
Eases you into learning WordPress content management system.
Because it is based on WordPress, you can still use the WordPress dashboard and install plugins. This gives you far more flexibility than many other website builders.
Excellent uptime.
WooCommerce storefronts.
Free SSL certificates. A SSL certificate is an added security benefit. You will find it is also included with SiteRubix website builder and Gator from HostGator.
Can easily switch between Builder and WordPress Builder.
Reasonable pricing.
Very helpful customer support.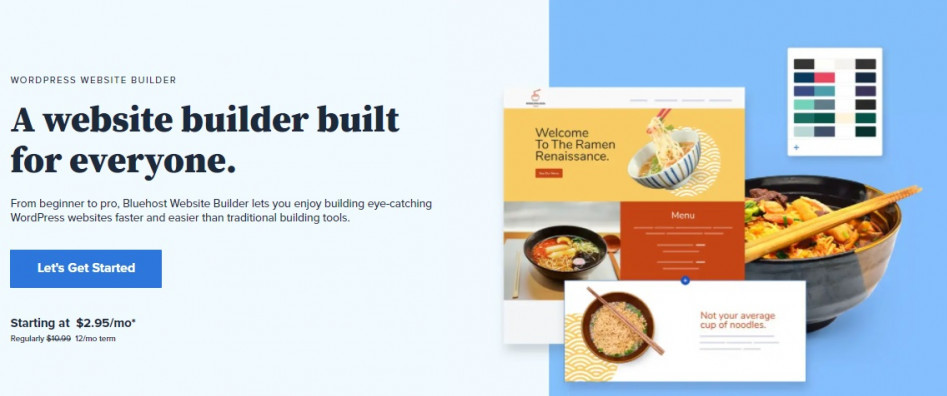 As with everything, there are areas where BlueHost can improve, so these could be disadvantages to some users.
Cons Of Bluehost Website Builder Templates
No free option, but it is reasonably priced.
Design choices are fairly basic and limited, so it might not provide you with the unique-looking website you want.
Limited image editing. Although you can import your own photos and browse the BlueHost stock library, you cannot really edit the photos. All you can do is to resize them, add a link and a meta description.
Cannot switch templates after you have selected yours.
Sections could be more intelligently organized.
Prices, Plans And Payment Options
Although there is no free option, the BlueHost web builder is reasonably priced. Depending on whether you opt for monthly or annual billing, it will determine the introductory offer and renewal price. These are today's best deals.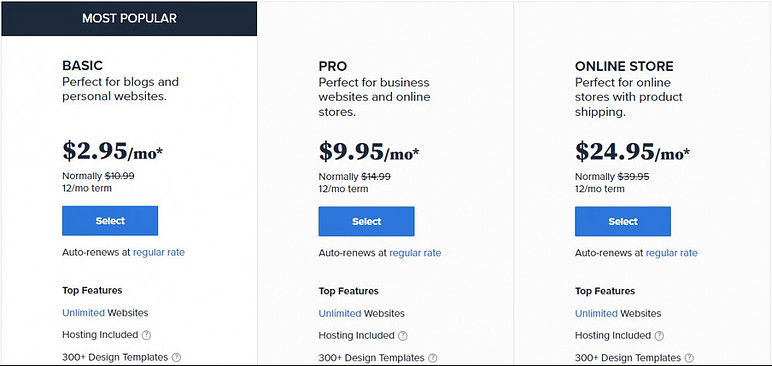 Three plans are offered and each plan has distinct capabilities. These are the costs:
BlueHost Website Builder Basic plan: $2.95/month.
BlueHost Website Builder Pro plan: $9.95/month.
The BlueHost Website Builder Online Store: $24.95/month.
Basic plan is intended for personal websites and blogs, whereas the other plans are aimed at store owners and businesses. The most popular plan is Basic. Save money with a 3-year plan.
No questions asked 30-day money back guarantee that offers partial and full refund. This is more than enough reassurance to have peace of mind when you try BlueHost website builder.
eCommerce Options
For an online store you can choose between the Pro plan or Online Store plan. The additional features are:
30+ additional design templates like business reviews, subscriptions, team profiles, testimonials and more.
Domain privacy.
Accept online payments with Woocommerce.
Unlimited online store products.
10+ Pricing and packaging templates.
The Pro plan gives you access to WooCommerce online payment and storefront tools, extra premium templates and domain privacy. You have access to all the eCommerce features. These include product listings, reviews, promotions and price lists. You can sell tons of different physical or digital products with WooCommerce, as well as subscription memberships.
With Online store you also get discount code generator, online appointment booking, subscription services, incart product customization, local and county tax management and codeguard basic.
Attractive features, such as a free domain name for the first year and 24/7 expert support to the website building software, are included.
Bluehost WordPress Website Builder Reviews: Features
The top features of BlueHost Website Builder plans are these: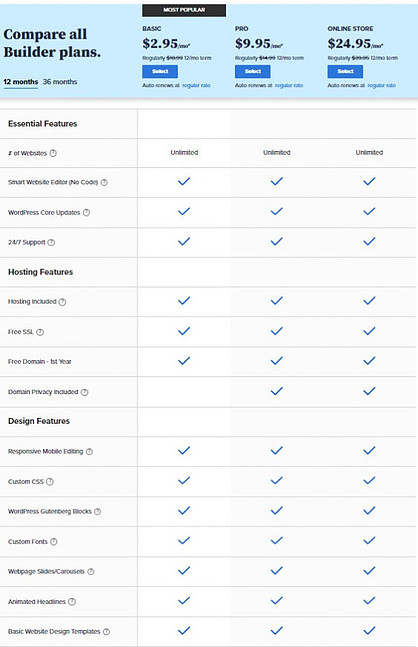 You can build unlimited websites.
Hosting included: BlueHost website builder plans come with hosting already included. You can concentrate on creating your website, while BlueHost will keep you up and running.
Choose from more than 300 BlueHost website builder templates. As you enter information, the website builder will recommend desktop friendly and mobile friendly templates that are best suited for the needs of your website.
Blog post management: you can easily add a blog section to your website. Manage your post from either traditional WordPress dashboard, or inside the website builder.
Image library with unlimited uploads. There are hundreds of images you can choose from, or upload your own images. There are no storage limitations on your images.
Free SSL is powered by Let's Encrypt, keeping your visitor's and customer's data safe.
Your first year domain name is free.
Email marketing powered by Creative Mail. This enables you to create and manage email marketing campaigns.
Unlimited monthly data transfers with all plans.
Unlimited storage with all plans
All the website builder plans include various features that are aimed at businesses. These include landing pages, social media sharing buttons for visitors to share content, as well as social review templates. Social review templates help visitors to see reviews from sites like Google, Yelp etc.
The BlueHost web builder gives you the tools to make attractive and dependable pages, as well as eCommerce options. ECommerce functionality is a big draw and WooCommerce is one of the best WordPress plugins out there.
BlueHost claims that their new website builder can cut down the time it takes to create a website, by 25%. So how do you create a website with the drag-and-drop website builder? How does BlueHost website builder work?
Create A Website Using Bluehost Website Builder Templates
The first step is to complete the sign-up formalities and register your domain. You are now ready to create your website. To get started, click the "create website button". You can choose from three options:
No help needed.
Little help needed.
Built for you.
These describe the level of familiarity and skill you have working with WordPress. If you want to use the smart AI driven system to create your website, then opt for "little help needed".
The BlueHost website builder relies on smart Artificial Intelligence (AI) to help you narrow down the look and design of your website. This is based on key questions to identify the nature of your website.
So, you will be asked questions to help identify the nature of your business and the type of website you wish to build. This is important as a website for a textile or organic cotton jeans shop, will be very different to a local medical practice, or an affiliate marketing training company.
After you have answered these questions, you will be sent to the website builder interface. This interface is divided into 3 panels:
The top panel allows you to toggle between desktop view and mobile view of your website.
The left panel gives you access to the overall website and pages.
Whereas the right panel gives you flexibility to edit properties and elements of the selected page.
Bring your website to life with one of hundreds of BlueHost website builder templates. Just pick the one that suits your style, and start building.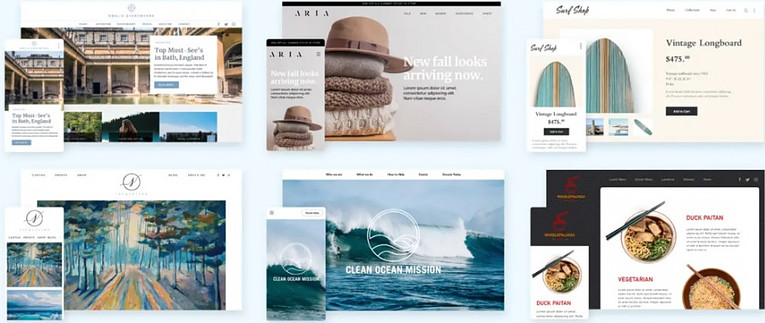 If you want to create a blog, BlueHost website builder has built-in support for blogging.
Adding A Blog To Your Website
In the left-hand sidebar of the builder, you need to click on Blog. A popup screen will tell you what will happen when you add a blog.
Next, click the blue button Add blog to your site. A blog, that matches your existing website, will be added to the backend control panel of your website. Just wait for the builder to complete the process.
If you click on Design my blog page, you can choose a layout for your blog page. Style how the blog posts will look by using the editor. And you are ready to create your first blog post.
You have many customization options, such as how many columns you want the blog page to have and display a featured image. Add any sections to give your blog page the unique look you want.
Create your website with Bluehost, but access everything on your website through WordPress. Bluehost website builder comes with a one-click WordPress login, so you can effortlessly switch back and forth between platforms.
To create blog posts, you will use the regular WordPress dashboard and Gutenberg editor.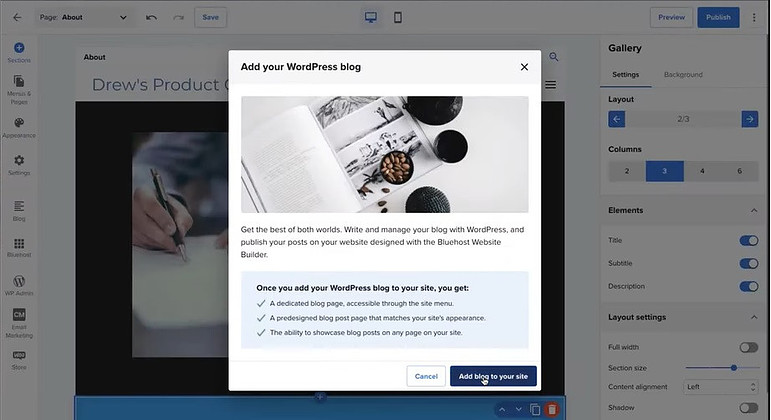 Bluehost Website Builder Reviews: Site Tools
BlueHost doesn't skimp on tools when it comes to designing your website. You will find many elements under Sections that you can add to your site. Before dragging it into your page, each element presents you with a few examples.
Standard options include text forms, video embed and image galleries. More bespoke elements include a countdown timer, map and carve out for HTML / CSS.
You can upload your own images and own logo's, fonts, colors and much more .
All Bluehost website builder templates are optimized for mobile devices, so your website looks fantastic on any device. You can switch between mobile and desktop previews to see how your site looks on different displays.
Grow your website with Bluehost.
Support
Bluehost has excellent uptime and customer support. Support is available via phone, live chat or the vast Knowledge base. There is a huge collection of tutorials, guides, articles and more available in the Knowledge base.
Content in the Knowledge Base is split across 8 broad categories. Quickly find relevant answers by using the search bar. All guides provide detailed step-by-step instructions and are supported by screenshots, which is really helpful.
Telephone support is available 24/7.
You will find this video very helpful to walk you through the entire process of building a website with Bluehost website builder templates. Setting up an eCommerce store, is also covered in the video.

Who Is Bluehost Website Builder Right For?
Bluehost web builder could be right for you if you:
Want to get an awesome looking site up and running quickly.
Have a domain, but no site built on it.
Redesigning an existing site from the beginning.
Want to quickly and easily build a great looking site for a client, making it very cost effective.
Using what is a drag-and-drop website builder gives you a more streamlined way to create professional looking websites. You simply type keywords into the generator, and the builder will create a starting point.
Who Is It NOT Right For?
Now these might change in the future, but BlueHost Website Builder is not a solution if:
You have an existing site.
Want to do a small-scale redesign, or
You have purchased a Premium theme.
The software is talking to a BlueHost server when it comes to technology at the moment. So at the moment won't be able to move to another host, but they are working on it.
Alternatives
Gator website builder from HostGator, provides a similar set of features. Online store capabilities are only available with the Premium plan from BlueHost, whereas Gator offers online stores with all their plans. HostGator has 3 plans with its Gator website builder. Also, offers email marketing tools and a $200 credit for search engine marketing. All plans allow you to build and host an online store.
Build a website with SiteRubix on the Wealthy Affiliate platform. Currently has the Bluehost web builder comes with one theme, with more than a 1000 layout options. With SiteRubix website builder you can change your theme any time you want. SiteRubix is a gem of a tool to create a website.
Verdict: Should You Buy Bluehost Web Builder?
The decision whether you choose to use BlueHost as you website builder, comes down to whether you want to use WordPress. If you do want to use WordPress, BlueHost offers a drag-and-drop WordPress editor with hosting.
Built on top of WordPress to help you quickly install websites. BlueHost provides an easy-to-use intuitive drag-and-drop website builder. It can help you build a website, add different elements and tweak its appearance in almost no time at all.
The platform offers excellent integrated hosting at affordable prices. Read the full BlueHost review and see if this popular website hosting provider is right for you.
BlueHosts's web builder combines the best aspects of WordPress, with a drag-and-drop editor and high quality hosting. So, if you are considering building a WordPress site, it makes sense to choose BlueHost.
By opting for managed WordPress and Woocommerce installations, it eliminates the burden of keeping the infrastructure of your site up to date.
If you would like to explore other website builders before making a decision, you might find this post on the Best Web Builder Software helpful.
Creating your website with Bluehost, is fun and easy. Get started with the Bluehost website builder today.

If you have any questions or suggestions about creating a website with Bluehost website builder templates, then please leave them in the comments below and I will get back to you.