What is Debutify and how does it work? Debutify is a freemium Shopify theme. So, it has a free version, as well as premium plans. It is the best Shopify theme for conversions and extremely fast, even with the Debutify add-ons. Debutify was created to give you the best chance of success at Shopify.
Building an online store can take a long time, having to add dozens of apps to help you convert. The apps end up costing you a small fortune. Debutify will show you how to customize Shopify theme easily. And with the Debutify add-ons, you can further enhance the appearance of your website.
With Debutify, you can build an online store in hours, not weeks. And you do not need additional apps. The theme saves you hundreds of dollars in website maintenance fees. So let's have a closer at Debutify and see if it is the best Shopify theme for conversions.
What Is Debutify?
Debutify is a free Shopify theme, specifically designed to boost conversions and therefore increase your sales. It has a clean and user-friendly interface and does not require any coding.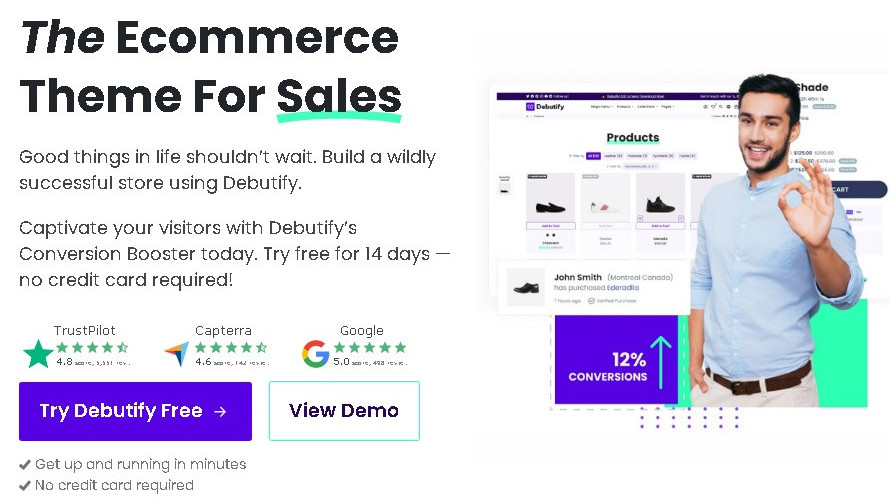 Debutify calls itself the "highest converting free Shopify theme". It has clean code, fast page loading speed and features that matter and make a difference.
Debutify is one of the best options for anyone that wants to start an online store without any hassles. The theme is fast, mobile friendly and responsive, and compatible with different browsers.
The free version includes many features and Facebook support.
Features Of Debutify
The theme comes with a dashboard that allows you to customize the site appearance of your store in real time. Debutify is available in 20 languages and the main features include these: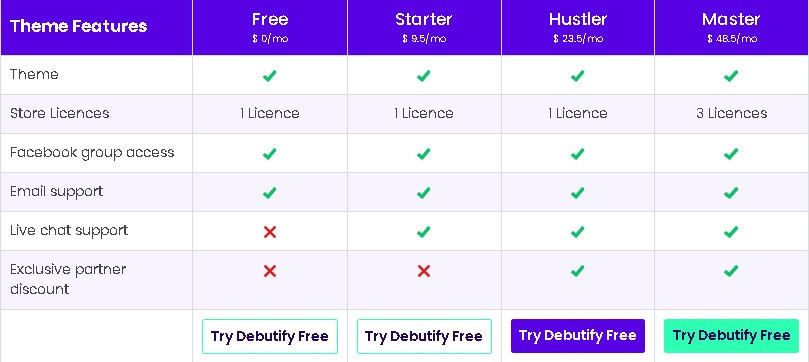 Many Shopify themes target one of two specific niches, whereas Debutify blends seamlessly with different business categories. It is a one-click theme, meaning you can install this theme without the need to be a coding pro.
Whether you have a pet store or are selling organic clothing, Debutify can be your easiest choice. It allows users to customize settings, according to branding needs and the business. Debutify is also the perfect theme for building stores with huge inventories.
Debutify is the smart way to launch your eCommerce business. Build a store in hours, not weeks. Create a conversion friendly store with Debutify, the best Shopify theme for conversions.
Debutify is more than just a traditional Shopify theme. On their app, you can automatically download the free theme in one click, and thus have access to powerful integrated features.
Built-in Features
The theme comes with many built-in features. Debutify theme immediately adds a professional look to your Shopify store. How to customize Shopify theme becomes very easy with Debutify.
Customizable layouts: you have full control over how your store looks and feels. There are many options in the dashboard to personalize your store, including 29 color palettes to choose from. You can create and edit your theme from the dashboard. Debutify will simultaneously show you what your store will look like on desktop and on mobile. That is pretty impressive.
A currency converter automatically detects the country of the buyer and converts your prices into the customer's currency. Currency converter also has a multi-currency checkout, so your customers will have a choice of currencies in which to pay. It also has an auto-translate option to 20 languages.
Product sliders to showcase featured products and help redirect customers to the desired pages. You can choose the number of products to show and decide if you want the auto play option or not, or arrows or dots. The product slider will adapt itself to both desktop and mobile swipe.
Customizable slideshow: animations and videos are replacing traditional image galleries. Customize your product sliders with the fade-in animation feature and change how they appear on your site.
Customizable header and footer: choose between different variations, such as a sticky or transparent header, and how the interface changes when scrolling down the page. Your header can really impact the rest of your web page. The footer also has many options to customize it. You can include contact details, newsletter, links to social media, blogs or other menus.
Guarantee Bar: customers like to see if you offer any guarantees on your products or services. These could be offers on free shipping, your returns policy, or other promotions. There are more than a 1,000 icons to choose from, change the text and decide how they appear.
Product displays and descriptions. Debutify ensures that your products are displayed in the best possible way. To showcase your product collections, there are numerous layout and slider options. Product grids are also interactive, and you can choose between several modes of displaying images.
Product filters: Your customers can sort through products based on different filters. While searching, a row of related products can be featured to encourage them to browse more. Dynamic product recommendations and options to customize make the feature more lively.
Product testimonials: the best way to promote your products, is through reviews. The typical review section can be replaced with unique product testimonials. You can add icons and images and feature real customer testimonials underneath your product pages.
All these excellent features are included in Debutify's free plan. Using Debutify will guarantee that your online store stands out from a typical Shopify free theme.
Unless you upgrade to paid plans, you don't get any of the premium add-ons. The Debutify add-ons come with features such as add-to-cart stickers, countdown timers, discount codes and more, so let's have a closer look.
What Is Debutify Add-ons
Add-ons are additional features that you can activate by taking out a premium plan. The better the plan, the more add-ons you will get. Add-ons are simple, yet powerful features that are integrated in your Debutify theme.
In the Debutify theme manager, add-ons can be added to your store. It automatically matches the style and settings of your theme, and does not affect load speed. It means you do not need the typical Shopify app that affects your page load speed.
Add-ons can be swapped. If you do not like an add-on that you selected, you can uninstall it and choose another one. The premium plan that you choose, will determine the amount of add-ons that you can select:
With the free version, you don't get any add-ons.
Starter plan gives you 5 add-ons that you can choose yourself.
Hustler plan adds a choice of 30 add-ons.
Master plan gives you access to all 47+ add-ons.

The Debutify add-ons can further increase the quality of service you offer your customers.
Premium Feature Add-ons
These are the most notable add-ons from the many that are available on how to customize Shopify theme:
Cart functionality: several add-ons refer to the theme's cart functionality.

Delightful add-to-cart animations inspire customers to continue adding products to their shopping cart. By using micro interaction designs, the purchasing process is more interesting and fun. It improves the way how shoppers interact with the cart by making it more exciting.
Cart countdown timer is displayed every time you add a product to the cart.
A cart discount: while checking out their cart, customers can enter discount codes or product coupons.
Cart favicon: change the page favicon to a secondary image if there is a product in the cart.
Cart goal lets you offer free shipping once a specific cart goal is reached.
With cart savings the total amount of savings in the cart is displayed.
Cart upsell means you can cross sell directly in your cart.
Collection add-to-cart: this features ensures that a cart button appears under each product grid while customers are browsing through a product collection. Thus, customers can add them directly, without having to go to the individual product page.
Sticky add-to-cart display a bar with the price of the product and add-to-cart button when customers are scrolling through the rest of the page.
Skip cart means shoppers can skip the cart page completely and directly go to check-out.
Trust badge can be added to your add-to-cart or check-out pages. An image of a message like "Guaranteed Safe Checkout" can be displayed to give customers extra assurance.
Quick view: create pop-ups of the add-to-cart button, together with product details, so shoppers can include them in their cart.
Live chat box increases user engagement and the best way to reach the support team of a website. Debutify's chat box comes with several customizable features, including animations. You can decide on the position where the chat box must appear on your site.
Wish list is a good way of bookmarking favorite products that you can come back to later.
Upsell products: enable pop-up messages on-screen with specific products or promotional offers to encourage customers to click on them. There is also the option to upsell product bundles, so customers can see which products are frequently bought together.
FAQ Page will save you and your customers time by answering frequently asked questions. You can feature it on your site with any number of questions. Answers will be displayed when somebody clicks on it.
Product Variants and Inventory Quantity: color swatches for products can be included with images, instead of having a separate product page. This also allows you to show how many products are in stock for a particular product. It could nudge a customer to buy it if stocks are low. Products that are out of stock can also be hidden.
Pricing Tables: use this to create a comparison table, showcase multiple products or display "editor's choice".
Product Videos: embed videos in your product pages to further engage with your customers. Several options are available to customize product tabs and offer a life view of how many people are currently viewing the specific product. All the elements is part of how to customize Shopify theme, from icons, images, layout and reviews.
Newsletter pop-up is another add-on to boost conversion and reduce cart abandonment and bounce rates. Leads can also be synced with autoresponders for email marketing.
Mega menus: apart from text, you can also showcase featured products on your menus. Advanced menu layout can include columned navigation, products, images and more.
Shop protect works in the back-end of your theme and is a handy feature. Once you activate it, visitors cannot copy content of images. You can also disable options such as sorting of your products based on best-selling filters.
Debutify theme comes with a cookies pop-up box to notify customers that you are offering them a better experience. This feature is also GDPR compliant for EU visitors, thus protecting data such as store details and customer information, from third parties.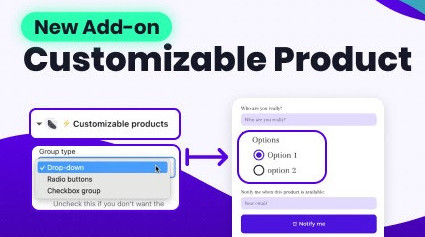 There are many more add-ons available and Debutify is regularly releasing updates and upgrades. Improvements are being made, based on customer feedback.
Several third party integrations, like Loox Review, Afterpay and IO are offered by Debutify.
A product research tool is available in selected premium packages.
Training and group mentoring is also available for Debutify customers. Currently more than 332,900 brands are using the theme. Debutify is good for any niches or category. From art, active lifestyle, eco friendly fashion, beauty and cosmetics, sports equipment, home products, baby, health, fitness, Debutify has you covered.
So how much will the best Shopify theme for conversions cost you?
There are currently 4 pricing plans available, namely Free package, Starter, Hustler and Master. All have different price tags and enable you to install the Debutify add-ons to enhance the functionality of your Shopify store.
Free Plan will give you 1 store license.
Starter: $19 per month or $9.5 per month if you pay annually.
Hustler is the recommended plan and will cost you $47 per month, or $23.50 if you pay annually.
Master plan is $97 per month, or $48.50 per month with annual payments.
The first 14 days you get access to all the premium features, even if you are on the free plan. Premium plans start at $19 per month, but you can save money by paying quarterly or yearly.
Pay quarterly and save 15%.
Save yourself 50% by paying annually.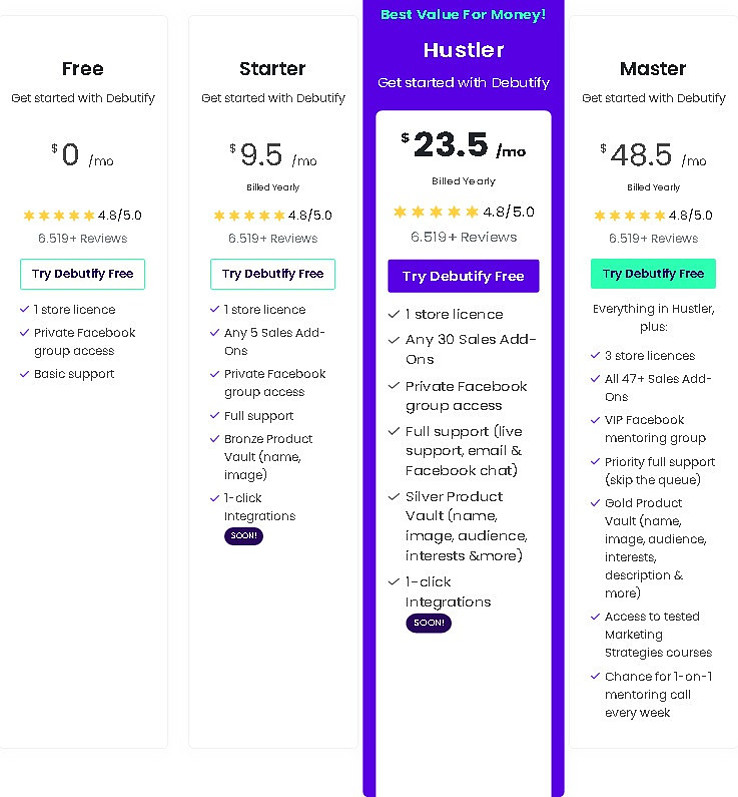 Many Shopify apps are extra, so you can save yourself a lot of money by going with Debutify premium.
You can upgrade or downgrade your plan in the Debutify theme manager at any stage.
Reviews: What Are People Saying About Debutify?
Trustpilot page has more than 5,000 reviews and gives it an average of 4.8. Capterra has over 140 reviews with an average rating of 4.6 while Google has nearly 500 reviews with a rating of 5 stars.

Kamil Sattar, also known as the Ecom king, whom Forbes magazine calls "the most trusted face of dropshipping", is using Debutify in his own stores.
And yes, one will always find negative reviews as well. After all, nobody and nothing is perfect.
Advantages of Debutify
With many themes you also need extra eCommerce apps to launch your business. Debutify already have built-in apps for product research and to boost conversion. You can save yourself a lot of money every month by not using additional apps.
It is a free theme, as well as the lifetime updates. Free trial for 14 days, so no credit card required.
No coding required, so no need for you to struggle with custom code or bugs.
Because of all the tools that are included in the built-in settings of the theme, you don't need as many additional apps. So that alone can save you a lot of money.
One-click installation.
Free unlimited updates, even with the free plan.
Very good customer support. Client support is available 24/7 on live chat, on the phone or by email.
Exclusive training and monitoring.
It is very well reviewed.
Updates are released on a very regular basis and these are some features that are already available.
High level marketing training: masterclass content is rolled out all the time. Thus, you always have the latest tactics that work.
Non-stop UX optimization: Based on the latest data, design is constantly updated to give users a seamless user experience.
Disadvantages of Debutify
The only downside for some could be the pricing if you want more than one store license. Site owners with only one store, should be more than happy with the other plans offered by Debutify. You can start with the free trial, during which time you have access to the add-ons. This should give you the chance to see which add-ons you require, or whether the free plan is sufficient for your needs.
There are no statistics available to prove that it is the highest converting free Shopify theme.
Who Is Debutify Good For?
Anybody who is building a new Shopify online store. If you are just starting out, you might find this post helpful on starting a blog online for free.
Struggling to sell online, Debutify can help with a beautiful online store.
Wanting to make money from your traffic, ie. higher conversions.
So, whether you are a retail owner going online, a drop shipper or an eCommerce brand, Debutify is the best Shopify theme for conversions. So you can grow your business and become a profitable online store owner.
Debutify offers a 30-day money back guarantee on their annual plans.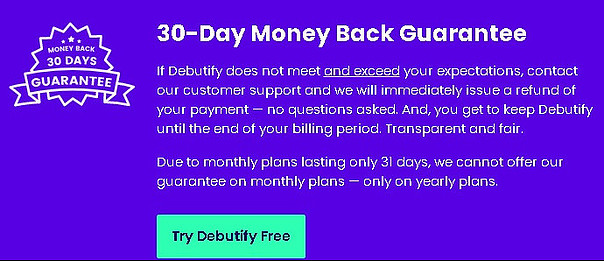 Why Should You Choose Debutify?
Debutify is the choice of theme for both beginners and established eCommerce brand owners. It is extremely fast and mobile optimized and has everything you need right out of the box. Debutify immediately adds a professional look to your online store and website.
There is no doubt that Debutify is one of the best free themes for Shopify stores. It is one of the most user-friendly themes available today. With easily customizable designs and cool animations, you can expect an awesome upgrade to your Shopify store.
Even with the free version, you get valuable features for free, to enhance how customers evaluate your products. Although some add-ons are only available in the premium plans, the free version provides you with more than enough to enhance the look and feel of your online store.
Premium features will take your store to the next level. What is Debutify theme is responsive to use, even for non techies, as they can easily edit and customize the theme. Many other themes will cost you in excess of $100.
Debutify is the ultimate best Shopify theme for conversions.
If you have any experience with the Debutify add-ons, or feel that something can be added to this review, then please leave your comments below and I will get back to you.