You are probably here because you thought to yourself I want to sell Tupperware. And your first question would be can I make money in Tupperware?
If you are looking into Tupperware, it is likely that you want to explore the business opportunity that Tupperware offers. This review is on their business model, rather than the actual Tupperware products. With more people shopping from the comfort of their homes, you will want to know how to sell Tupperware online.
Tupperware Review
Name: Tupperware  
Founder: Earl Tupper
Owners: Tupperware Brands Corporation
Website URL: www.tupperware.com
Price: $79.99 or $119.99 and ongoing
An Overview of Tupperware
Tupperware is an American Multinational, Direct Selling Company that was founded in 1946 by Earl Tupper. Earl Tupper was a chemist that created lightweight, non-breakable plastic containers with airtight lids.
The head office is based in Orlando, Florida, USA.
They produce innovative kitchen products that they sell through home parties, and offer a flexible business opportunity.
If I hear of Tupperware, I think of household plastic storage containers, and I think that is the position with most people. Tupperware is often used generically to refer to plastic storage containers.
In this day and age where plastic recycling and reducing your carbon footprint has become such important players, it is good to see that a company that produces plastic products, do now have eco conscious products that reduce waste.
The reusable and durable products minimize the use of single use plastic and there is a range made from recycled plastic. The products have been free of BPA's since March 2010 and they do have microwave safe options that will not leak or transfer chemicals into food.
The goal of Tupperware is to sell to retail customers, so the business model focuses on making retail sales.
The actual product
Tupperware is a home business opportunity that utilizes Multi Level Marketing strategies to sell their products through an independent network of consultants. To make money will depend on your ability to recruit new team members into your down line.
Tupperware is well-known for their food storage solution products,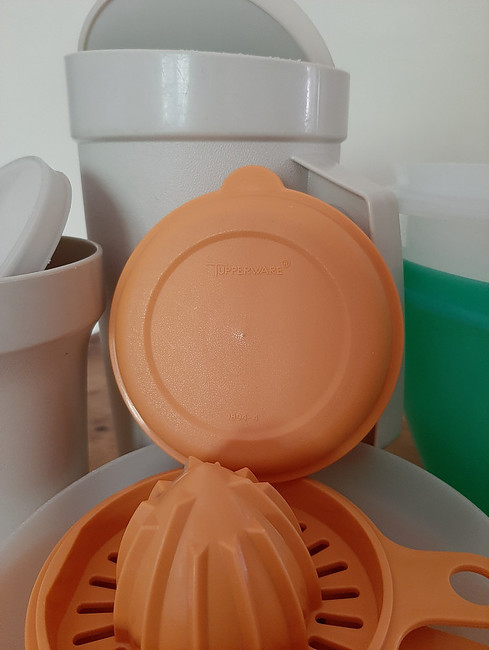 cookware and bake ware, and products for the kitchen and home. It is a product that lasts a long time, so because of the durability, customers don't need to replace products on an ongoing basis. This means you will continuously have to find new customers.
A MLM strategy only benefits those that are at the top of the pyramid, and the company makes huge profits with high margins on their products. Recruitment of new team members plays a very large part in Tupperware. MLM companies will let anybody join. The more your recruit, the more commission you can earn from their sales as well.
So existing consultants have a vested interest to recruit as many new members as possible, which of course means that they are now competing for customers.
Tupperware encourages you to have parties with family and friends, neighbors and business associates. Consultants are trained to pitch their parties for sales and also to recruit new members. With more customers doing virtual shopping, how to sell Tupperware online becomes important.
Tupperware is one of the largest direct selling companies with a presence in more than a 100 countries. If you are looking for an opportunity to earn good money, you are better off looking elsewhere, as you will not find it with Tupperware.
>>>>>>>>>>>Explore a far better option to earn passive income online and you can start for free<<<<<<<<<<
But let's look at the Tupperware compensation plan and find out if it is posisble that I can make money in Tupperware.
Starting out: How much does it cost to join Tupperware?
Two options of consultant starter kits are available:
Business Kit: this has a cost of $79.99 and you get $355 worth of products and promotional material in the kit
Executive Kit: for an outlay of $119.99, you will get a kit with a value of $500 worth of products.
Both kits are full of bestselling products, 2 tote bags, 10 catalogues, 20 brochures, 50 order forms and 3 months paid of the Pro-level my.Tupperware plan. Also a branded planner, 5 host folders, getting started guide and confidant start flyer.
The content of both change periodically to allow for seasonal products. Your consultant can advise you on monthly specials for starter kits so that you can benefit from promotions and discounts.
Three Easy Steps to Join
If you think yes, I want to sell Tupperware, there are three steps to join:
Find a consultant in your area, which is easy as there are millions of consultants all over the world. If you don't know somebody, go on-line and you will find someone in your area.
Get the starter kit.
Attend you first party – Tupperware is primarily a Party Party plan style selling, but it is easy to learn how to sell Tupperware online.
Compensation Plan: How Can I make Money in Tupperware
1. There are flexible opportunities based on personal sales volumes.
Earn 25% commision on personal sales volume and royalty bonuses from sales of the team members that you personally recruit.
Personal sales of $1,200 per month or more, will earn you an additional 5% commission.
Consultants that sell $3,200 per month or more, earn an additional 10% in extra commission. So there is the possibility of earning 35% commission on personal sales.
2. Start building a team by sponsoring new recruits, and you have the possibility to earn bonus override commissions.
If you have at least three recruits and maintain a personal sales volume of $500 per month, plus a group volume of $2,000 per month, you get promoted to managerial level and can get a percentage of the down line's sales.
Depending on the amount of team members that you sponsor and the sales volume of the team, you can earn group royalties of 4% to 8%.
If you have nine sponsored recruits you become a Director. If your commissionable team sales are at least $10,000 per month, you can earn 6% to 12%.
3. More perks when you grow your team:
All expenses paid family holidays.
Top performing Directors and above get monthly rewards and can qualify to drive fancy company cars.
Reward trips to exotic locations as you grow your team.
Consultants can earn discount on their own purchases.
To maintain your commission levels, you have a sales quota of $250 every 4 months that you have to fulfill. If you promote to managerial level, that sales quota jumps to $500 every 4 months.
Hostess Benefits
The party hostess gets free products as a "thank you" for hosting a party and this is what she can "earn":
Sales of $250 to $499: you will get 10% in free Tupperware products, plus she can buy one product at half price.
A party that makes $500 to $999 earns the hostess 15% in free products, plus she can buy two items at half price.
Who is the product for?
Every kitchen and home need reusable storage containers and kitchen products, but because the products are so durable, you will find it hard to get repeat business from customers, unless they are just starting out and building up there stock.
That is when you might benefit from it as you can get products at discounted prices. If you need to earn money from it, that will be very hard though.
Will I get Training?
If you decide I want to sell Tupperware, they will tell you that you don't have to worry about starting on your own, as there is support and training through conferences and training seminars.
The Good and the Bad – What I like about them and what I don't like 
1. What I like :
Tupperware is a quality product that will last you a lifetime.
Party Plan selling means you can demonstrate how the actual product works, which is the best way to then get sales and orders.
Tupperware has a substantial retail market and is a trusted household name.
Parties can be hosted virtually, so you can sell online through social media platforms like Facebook Parties.
2. What I don't like:
If you don't like party plan selling (personally I don't) you will find it difficult to meet sales volume targets.
Tupperware is far more expensive than other similar products, so you might find it dificult to reach your sales quotas.
Repeat business is not a significant part of the business, unlike with beauty products and health supplements.
It is direct selling, so you are constanting having to ask people to host a party for you. When you run out of family and friends to ask, it becomes more difficult.
Final opinion of Tupperware
It's a home products line that includes products for storage, preparation and serving for the kitchen and home. The main focus is on kitchen and household products and in particular plastic containers for food storage and preparation. It is good to see that they have solutions that are made from recycled plastic.
If you are serious about making money with Tupperware, you will need to have an online presence to sell to more people, not just family, friends and neighbors. That means you will need to know how to put the product, and other products you might want to sell, in front of people. For the best way to do that, you will need a website.
I can show you a way to build your own website to market products, and it is FREE to start. You have nothing to loose to explore that option.
Product at a glance:
Website name: Tupperware
Owners: Tupperware Brands Corporation
URL: www.tupperware.com
Price: $79.99 or $119.99 and ongoing to maintain commission levels
Can I make money in Tupperware?
Tupperware is very much a legitimate company that sells a range of high quality products, but it is very difficult to make money with them. Most consultants make less than $250 per year, which is barely $20 per month
Tupperware has a good quality product, but most Tupperware consultants don't make money. Network marketing fails to deliver a profit to the sales team. I still use the Tupperware products that I bought more than thirty years ago. It is a product that is designed to last a lifetime, but it can be recycled.
If you are still thinking I want to sell Tupperware, then you also know how to sell Tupperware online through building your own website for free. If you do have any questions or comments, please leave them below and I will get back to you.