Have you been approached by an Usana independent associate and told it is one of the best home income opportunities? But wondering what is Usana about? Is Usana legit? Or is Usana a pyramid scam? This Usana Health Sciences MLM review is not about the Usana product range, but about the business opportunity that Usana has when you become an Usana independent associate.
Usana Health Sciences MLM: What is Usana About?
Overview Of Usana
Usana Product Line
Usana business opportunity
Ways to join Usana Health Sciences MLM
How to make money with Usana
Usana Compensation plan
How much can I earn with Usana?
Is Usana one of the best home income opportunities?
Is Usana a pyramid scam?
What I like about Usana
What I don't like about Usana
The better alternative to MLM – How I make money online
I can already tell you that if you want to know how to earn passive income online, then Usana is not a smart choice.
The chances of making money with Multi Level Marketing (MLM) are slim. So why chase a narrow and difficult path, when you can work in affiliate marketing and your own business, and see rewards as a successful affiliate marketer.
Overview Of Usana
Usana is a health and wellness Multilevel Marketing (MLM) company that produces high quality nutritional supplements and personal care products. They are based in Utah, home to many MLM companies.
It was started by Dr. Myron Wentz in 1992, so they have a track record of nearly 30 years.
Dr. Wentz had the vision of helping people to live a healthy life, through advanced nutritional products, scientific research and cutting edge medical facilities.
Together with Dr. Wentz, more than 60 experts from sports science, chemistry, nutritional biochemistry, molecular and cellular biology, make up the Research & Development (R&D) team at Usana.
Usana have FDA registered facilities where most of their products are produced. They operate in the USA and 25 other countries around the world.
Usana Product Line
Usana has a very large product range of nutritional products,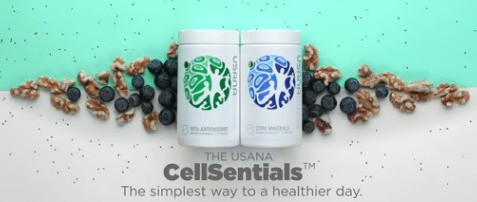 science based skin care and energy support. They are divided into 4 categories:
Nutritionals
Food and energy
Skincare
Healthy living
Usana CellSentials is the flagship product.
It strengthens the immune system, improves digestion and gives you an energy boost to keep you going for the day.
Usana Business Opportunity
The business opportunity is through their MLM business model. To make money with the MLM business model, you have to recruit others to join Usana, and thus build a down line.
When you become an Usana independent associate, you will be selling their products, but without getting any benefits that an employee would get. So, no pension, no paid leave, no medical aid, no sick leave, or any other benefits that are typically enjoyed by employees.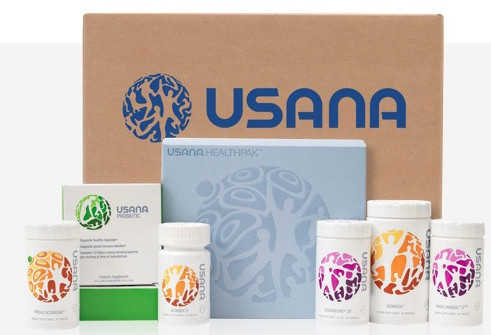 Usana has the same business model as these MLM companies:
I worked for a MLM, Usborne Books at Home, and I know how difficult it is to make money with the MLM model. I left MLM and joined affiliate marketing, which is a far more rewarding and realistic way of earning passive income online.
And remember, you have to cover your own expenses. So what you make is before you have deducted travel costs, telephone and internet bills, stationary, buying products to be "active", or any other expenses and taxes.
It is not what I regard as one of the best home income opportunities.

Ways To Join Usana Health Sciences MLM
You can sign up online, but as with many MLM companies, Usana will ask you for the name of the person that introduced you. This is so that you can be put in that person's team.
If you do not have somebody, then Usana will assign you to a team.
There are 4 ways for you to be part of Usana:
Customer: you can buy Usana products at retail prices, but you cannot sell Usana.
Preferred customer: you need to register with Usana and enjoy 10% discount. You cannot make money selling Usana. As a preferred customer you can get an additional 10% discount if you opt to join the Auto Order program. Products will then be shipped automatically and you will be billed monthly.
Affiliate Partner: you pay a one-time fee of $9.95 for a welcome kit, and you can earn 10% commission on any sales you make.
Associate: pay a one-time fee for the welcome kit of $9.95 + a one-time $200 worth of products + $100 monthly worth of products. So to become an Usana Independant Associate, you have to buy the welcome pack with business information to get you started. Although you are under no obligation to buy products, you are strongly advised to do so. And actually, how else can you promote the products if you are not using it yourself?
If you do want to start a business selling Usana, then it is recommended that you sign up to the Auto Order program. This way you can benefit from a bigger profit margin. (more about this later)
How To Make Money With Usana
Like other MLM companies, there are different ways of making money with Usana:
Sell Usana products and earn commission.

Buy products at wholesale price and make a profit by selling them at retail price.
Refer customers to the Usana website. Usana will pay you the difference between the wholesale price and retail price on any purchases your referral makes on the Usana website.

Recruit people and earn higher commissions and bonuses.
Refer a friend: you can promote your personalized referral link and you will receive 10% of the value of any orders that are placed through your link. This works like affiliate marketing, which is much easier than face-to-face selling.
If you are an Usana independent associate, you can start making money by:
Selling Usana products and make a retail profit.
Sponsor preferred customers and earn commission on their sales.
Encourage others to become an Usana associate. Thus, they join your down line and you earn from their sales.
Step 1 After Joining
Open your first Business Center, which will be called BC1. Usana uses the term Business Center, which really is you at the top, with your recruits in the down line.
Business Centers are the focus of Usana's binary compensation plan. You can look at it as opening a shop for your business.
You need to generate 200 points (about $200) in Personal Sales Volume (PSV) in order to open a Business Center. This can be several orders placed by you, and/or your customers, or it can be one large order you place.
But remember, until you have generated enough Personal Sales Volume, your Business Center will not be open.
Start by setting up 1 Business Center. However, in order to maximize your earnings, you are strongly encouraged to open 3 Business Centers. In order to open BC2 and BC3, you must generate 400 PSV points within your first 6 Fridays, after becoming an Associate.
So, if your initial orders amount to at least 400 PSV points, the points will automatically be distributed to your 3 Business Centers. This is done in a ration of 200 points in BC1, and 100 points each into BC2 and BC3. So, immediately you have the same amounts of points in each side.
If you don't generate 400 points, you will lose BC2 and BC3.
Step 2
Set up an Auto Order. Auto order is a recurring order that is sent you every 4 weeks. You earn an additional 10% commission, so your commission earnings will go up to 20% if you have signed up for auto order.
Step 3
Build your business. So you need to find customers, and also recruit at least 2 new Associates to form the 2 sides of your business. If you only have 1 Business Center, then a 3rd recruit would be placed under one of the other legs. (As illustrated in Fig. A)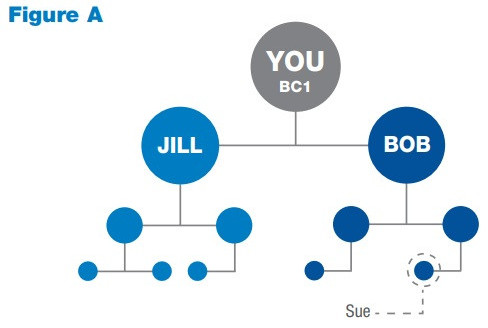 If you start with 3 Business Centers, you can place 4 personally sponsored Associates in the open positions in both BC2 and BC3. (As seen in Fig. B)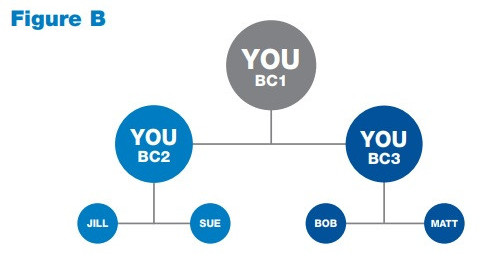 Group sales volume from both BC2 and BC3, will roll up into BC1. At the same time you continue generating your own Personal Sales Volume.
Conditions apply to qualify for payment of override commissions.
If you have 1 Business Center, you must generate 100 points of PSV every 4 weeks.
For 3 Business Centers, you must have 200 PSV points to qualify.
As you business grows and expands, there is the possibility to open additional Business Centers.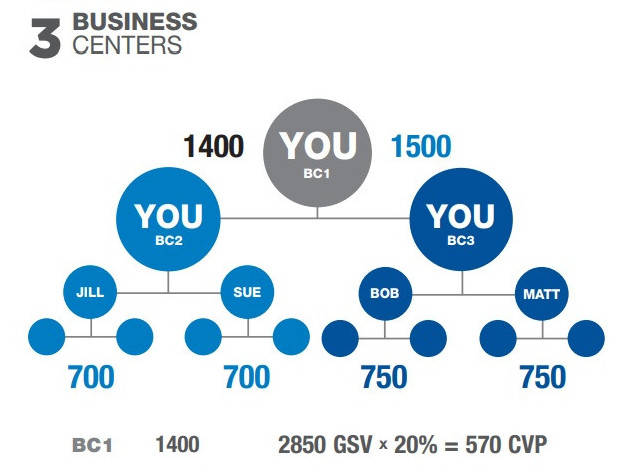 Usana Compensation Plan
Usana has a binary compensation plan. Like most MLM companies, the Usana health sciences MLM compensation plan, is very complicated. To access the full commission plan, you have to generate 200 sales volume points (about $200 worth of product) or place a $200 order yourself.
This will unlock your first Business Center and remain on 100 sales volume points (about $100 worth of products) every month.
According to what is Usana about, there are 7 Ways to earn with them.
Retail Sales
Buy products at wholesale price and sell them at retail price and earn 10%. If you signed up for Auto Order program, you can earn an additional 10%, so increasing your profit to 20%.
Weekly Commissions
Usana's binary compensation plan is all about team work and symmetry. This means that as you build your business, you place team members on both the right side and the left side of your business center. The ideal is for the 2 sides to be as close as possible in sales volume.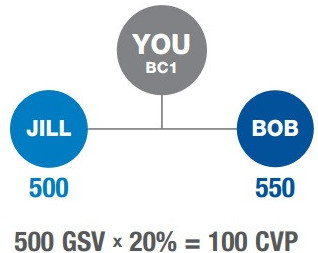 Each product has a point value and points accumulated by your time, is your Group Sales Volume (GSV)???? check this about time.
Weekly commissions are calculated on your Group Sales Volume (GSV). In order to receive these weekly commissions, each side must achieve a minimum of 125 GSV points. This will earn you 25 Commission Volume Points (CVP).
The weekly commissions are based on the smaller GSV of the 2 sides. So, if the right side had 400 GSV points, but the left side only had 140 GSV points, the commission will be calculated on the 140 GSV points.
Remember, you get paid on the small side of your business. So it is important to try to match the 2 sides as evenly as possible. Which in reality, is almost impossible.
Lifetime Matching Bonus
If one of your Associates become a Premier Platinum Pacesetter, you receive up to 15% of their commission volume. The percentage you receive will depend on your own status.
Pacesetter Program: You can maximize your potential lifetime matching bonus, if you qualify for the Pacesetter Program. The status is determined by the number of Preferred Consultants or Associates you sponsor, as well as the sales volume points (SVP) they generate during their first 8 weeks.
Requirements for Premier Pacesetter: Generate 800 SVP from 2 or more personally recruited Associates or Preferred Consultants with a minimum of 100 SVP, withing the first 8 weeks after joining.
Requirements for Premier Platinum Pacesetter: Within your first 8 weeks, generate 1600 SVP from 4 or more of your personally recruited Associates or Preferred Consultants who have at least 100 SVP.
Premier status offer lifetime benefits.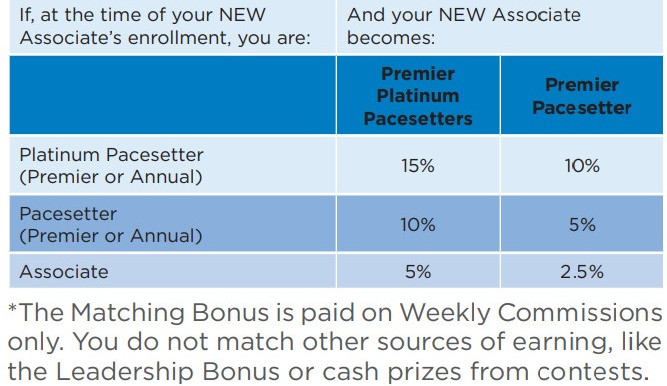 If you don't achieve Premier status within your first 8 weeks, there is an annual opportunity on the anniversary of your enrollment, to qualify within 8 weeks.
Incentives
Usana has incentive programs and contests where you can be awarded with luxury travel, prizes and privileges.
Leadership Bonus
3% of the total company commissionable sales volume, is shared among the top achievers every week. To qualify, an Associate needs to be a Gold Director, or higher.
Your share will depend on your own rank, as well as the number of business centers you maximize during the current week. It is also taken into consideration if those same Business Centers were maximized the previous week.
Elite Bonus
To qualify for Elite bonus, you have to be one of the top 60 income earners during the previous quarter. Every quarter, 1% of the commissionable sales volume of the total company, is divided among the top 60 achievers.
Your rank within the top 60 during the previous quarter, will determine your share. Other factors that are taken into consideration, is your actual earnings for the current quarter, as well as the growth in your Commission Volume Points (CVP) over the corresponding quarter in the previous year.
Celavive Product Bonus
Earn 25% bonus on the tax exclusive price of all Celavive products sold to personally sponsored Preferred Customers. This is applicable on their initial Celavive product order.
But when it comes to what is Usana about and their compensation plan. It gets very complicated. You can read more about the compensation calculations here.
How Much Can I Earn With Usana?
As you can see, bonuses are based on the amount of personal recruits you have, as well as their performance. So how much can you expect to make with Usana? Is it one of the best home income opportunities?
Here is Usana's income disclosure statement for 2020.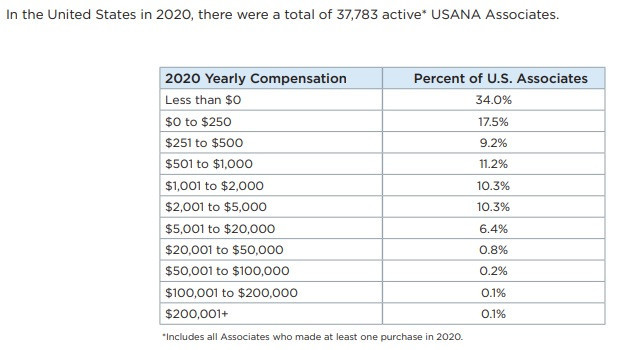 Let's have a look at some shocking truths:
Just over a third of Associates in the USA made NO money, yes, a full round $0. Not exactly what I would call a good way how to earn passive income online!
92.5% made an average of $5,000 or less. That is an average monthly earning of $417.70, and that is before covering any expenses.
The top 0.4% made more than $50,000 in the year. But how likely is it that you will achieve that in your first year?
125 GSV points will earn you 25 Commission Volume Points. Commissions are awarded in Commission Volume Points and converted to your local currency.
You will only earn additional commissions if both sides of your business have each generated at least 125 Group Sales Volume points.
If one side generates 300 points, but the other side only 120 points, you get nothing.
So, Is Usana a good way to make money? I don't think so.
Is Usana Legit Or Is Usana a Pyramid Scam?
Usana is very much a legitimate company with quality products. They are not one of the best home income opportunities, and would not recommend that you become an Usana independent associate.
Usana might not be a pyramid scheme in the true sense of the words. But, if you can only advance if you recruit, then I have my doubts.
The compensation plan rewards the top few associates. Something which is typical in MLMs and pyramid schemes. Usana does make it clear that Associates can only earn commission when products are sold. So, there is no direct compensation for recruiting.
But, you are encouraged to recruit and build a team, in order to qualify for bonuses and additional payments.
Most MLMs hide behind products they promote, but in reality, many is a pyramid in disguise. MLM is not an ethical way of doing business.
What I Like About Usana
The high quality health and wellness products are safe and effective.
A+ rating from the Better Business Bureau (BBB)
Good track record, Usana has been going for nearly 30 years at the time of writing.
Usana is trusted by hundreds of world-class athletes for their top quality nutritional supplements.
What I Don't Like About Usana
The only way you can advance, is through recruitment. If you are not recruiting and building a team, you won't be earning anything that you can call worthwhile.
Your success with Usana hinges not only on your ability to sell the products, but very importantly, the performance of your down line.
You have to put in monthly orders of 100 PSV points (around $100), to maintain your status. If you don't have the minimum 100 PSV points, you won't qualify for any commission payments. And remember, the Group Sales Volume of your down line, doesn't count towards your PSV.
Usana products are expensive compared with other similar health and wellness products. They are also available on Amazon, thus, making it even harder for you to sell the products.
They've had several complaints and lawsuits filed against them, including a class action suit filed by RM Law.
Usana health sciences MLM is a typical MLM company that expects you to recruit, recruit, recruit. You will be expected to sell to your family, friends and acquaintances, and try to recruit them.
It is possible to make money with Usana health sciences MLM, but improbable.
The Better Alternative To MLM
The MLM business model is flawed in many ways. You are restricted to selling expensive products from one company.
If you want to know how to earn passive income online, do it through affiliate marketing. You can promote products from numerous companies, and not just health and wellness. So you can promote anything you want.
This is how I make money online.

If you have any questions or experience with what is Usana about, then please leave your comments below.