Do you feel stuck because you are not sure what is niche picking, or what is a niche for affiliate marketing? Maybe you want to know how to narrow down a niche? or perhaps you want to find out how to define a niche market?
The foundation of any website, is the niche. A big benefit of a niche website is that it is easier to stay focused on the topic. The fear of selecting a wrong niche often results in analysis paralysis, but remember, it is still better to choose the wrong niche, than no niche at all. Even if you choose the wrong niche, at least you are taking action and moving forward and it will then point you in the right direction.
Finding a niche can be confusing and many beginners quit then. Don't quit! Trial and error is part of the process and you will be learning and gaining experience.
The first step that is needed to start as an affiliate marketer, and to build an affiliate marketing business, is to pick a niche. So let's have a look at what is niche picking all about.
What is a Niche for Affiliate Marketing?
A niche is the topic of a website and it is what the website will focus on for content and the audience. A niche creates an immediate connection with the reader and followers.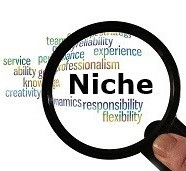 A niche refers to a group of people with a common interest. It is a segment or subcategory of a market and it focuses on providing solutions for a particular need. It could be a product or a service or even a digital course.
Every niche represents a want or a need that somebody has, and you become the one that provides the solution.
Niche marketing is a targeted marketing strategy that is aimed at a small, specific and well-defined portion of the population. Marketing efforts are channeled towards this niche. Niche marketing is also known as targeted or focused marketing.
How to Define a Niche Market
You need to be specific if you want people to regard you as an expert in your niche. So establish which area of your overall market, is your specialty. The clearer you are about your expertise and your niche, the easier it will be for your audience to make a decision. Ask yourself these three questions:
What are you interested in or passionate about? What do you truly love working on.
Do people spend money in that niche? or are lots of people interested in that niche?
Are there products in that niche that you can promote?
Why is picking a niche important for your website?
How to Find an Affiliate Marketing Niche
An essential part of building a successful business, is to pick a niche. If you know who your audience is, you will be able to speak to them and provide them with valuable content and offers that they cannot refuse.
Choosing your niche is your first step to become a successful affiliate marketer. These are the steps you can use to find your niche:
Identify your interests and passions.
How to narrow down a niche and get specific.
Identify problems you can solve.
Check out the competition and do market research.
Can you monetize your niche.
The higher the demand for a niche, the more competition there will be, but the more profitable the niche will be.
Choosing a niche can be scary and might make you feel confused, so let's have a closer look at what is a niche for affiliate marketing and what is niche picking and the steps involved.
1. Identify Your Passions and Interests
It is best to choose a niche that you have an interest in, or are passionate about, then writing content will not feel like a chore that you have to do. If you have knowledge about your niche, then you can sound authoritative about your topic.
If you have not yet done this, then make a list of at least ten hobbies, topical interests and passion areas. Start off by going through your list of hobbies and interests and what you are good at, and pick the one that you can tirelessly write about and promote on a long term basis.
You want a niche that you love, feel passionate about, or at least care about and are interested in.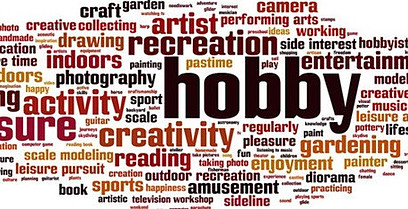 Hobbies – could be sewing, fishing, gardening, reading etc. basically what you do during your spare time.
Interests – is a topic that you are knowledgeable about and can talk about at length. It could be the same as your hobbies, but often different, so for instance geography, politics, astronomy etc.
Look at your list and decide which one are you feeling the most excited about.
When you are starting off with how to define a niche market, you need to identify your overall market. The overall market would be the broad spectrum or field. Examples of these would be Health, Wellness and Beauty, Lifestyle, Arts and Crafts, Education etc. These would be examples:
If you are an interior designer, your overall market would be lifestyle.
If you are a university lecturer, your overall market would be education.
If you are a mortgage adviser, then your overall market would be finance.
2. How to Narrow Down a Niche and get Specific
You need to narrow down your area of interest within your niche. If you are too general and try to attract everyone, you end up attracting no one. If you are more specific with a niche, it will reduce your competition and make it easier to reach a specific audience.
If your overall market is lifestyle, then gardening, fashion, architecture are all niches that will fall under that. With your list of topics, you are ready to narrow down your options. A niche should not be confused with a field. A field can still be broken down into sub-categories.
Take insurance for instance, which can be broken down into car insurance, house or property insurance, health insurance, pet insurance, travel insurance and many more.
Then take health insurance and you have health insurance for ex-pats, health insurance for the elderly, health insurance for families, health insurance for students etc. Each of these would be a niche.
In the same way take gardening, it is a very broad field, which can be split into many sub-categories like gardening for beginners, container gardening, gardening on a budget, suburban gardening, gardening in the tropics etc.
When it comes down to picking a niche, it needs to be evergreen, so don't choose a current fad. Ask yourself if it will still be around in five, or ten or twenty years time. You also need demand throughout the year, so avoid a seasonal niche like jackets for dogs, as these would only sell during the winter months.
I am sure this gives you a good idea of what is niche picking and how to narrow down a niche. So narrow down your niche!
3. Identify Problems you can solve
Affiliate marketing is about identifying the need of your audience and offering solutions. If you can solve their problems and fulfill a need, you will gain the trust of your audience.
So think about the areas that people ask you questions about or want your advice. Write down a list of specific things that friends and family ask your guidance on. You can also use Google Trends to see what is trending in searches.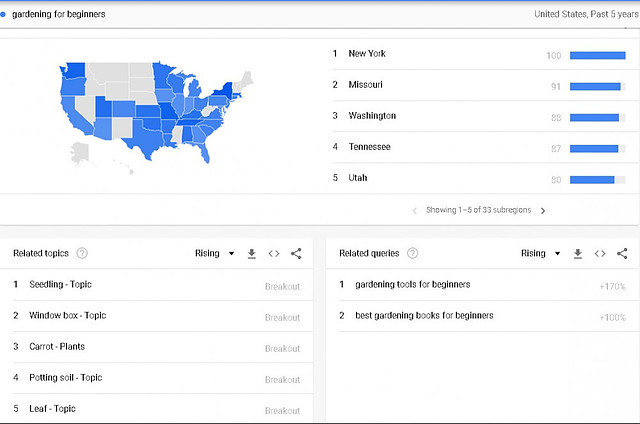 Here I used gardening for beginners and you can see some of the related topics and queries.
Find related topics and queries – you can use Google Trends to see what people are searching for.
Get ideas from social media like Pinterest or Facebook where people ask questions in groups.
Newbie affiliate marketers often have a fear of competition. They are afraid of entering a niche because of the stiff competition that they might face. They are afraid that there are too many other marketers already in the niche. But in fact, it is actually a good thing, as it often means it is a profitable niche and you should therefore go for it.
So do not be afraid of competition, it invariably means that there is a need in that niche, that you can help in solving problems for people in that niche. Remember that competition is healthy.
4. Check out the Competition and do Market Research
Doing market research will show you if there is a demand for your niche or not. You can get an idea of how profitable a niche can be, by doing keyword research. Use some of the words and phrases that you find to determine what your niche will be. So go to Google and type in your niche specification into the search bar and make a note of what comes up.
I used the keyword "best eco friendly fashion brands" and these are some of the results.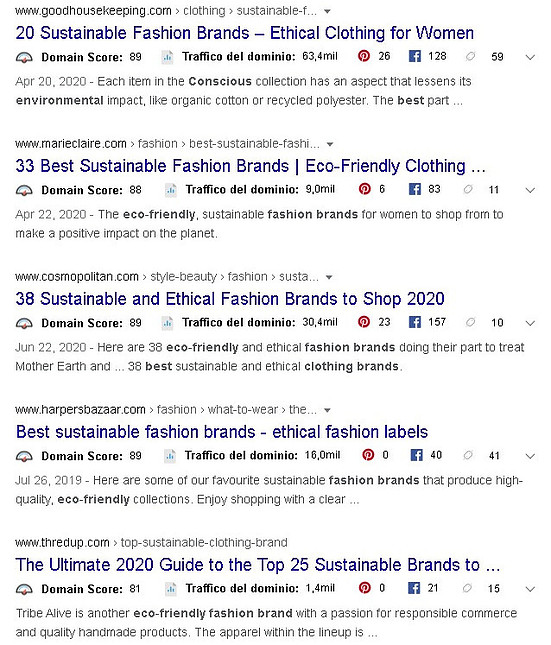 You will also see a section that is related to the search that you have just done.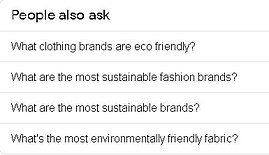 So make a note of the words and patterns that you see and that are repeated. Here you can see that sustainable and ethical are two words that also come up a lot, together with environmentally friendly.
Popular trends and profitable niches where you can get an idea on what is trending, can be found on Twitter, Google Trends, Clickbank, Yahoo's "Trending". You can also check out the competition on Ahrefs and SEMrush.
Do you research and also brainstorm, as it will all help with deciding what is a niche for affiliate marketing and how to narrow down a niche. You can brainstorm on Quantcast.
In Google Trends you change Geo location if you want a specific region, or you can also go for worldwide. You can compare niches and other keywords, which all helps with how to define a niche market.
Related post: The Top Keywords Research Tool
5. Monetizing your Niche
When you start a blog, you need to check that you can monetize your niche. So is it profitable and are there a variety of products and services that you can promote. You want high and low ticket products. Finding affiliate programs Are there affiliate programs you can join
There are many affiliate programs to join like Amazon Affiliates, ShareASale, Clickbank, which is good for digital products, Rakuten or Wealthy Affiliate.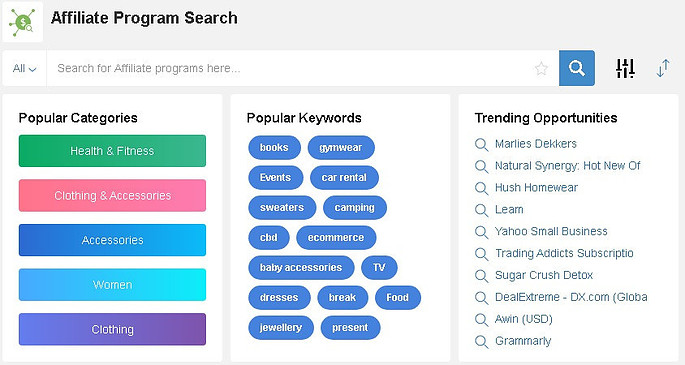 Look for affiliate programs that have software, courses or eBooks within your niche as these pay a higher percentage commission. Ideally, you want recurring commissions and you would get those from a monthly or annual renewal or subscription fee.
An easy way of finding affiliate programs within your niche, is to search Google. Type in [your niche] + affiliate programs, and it should come up with options of affiliate programs that you can join.
Features of a Well Established Niche
Good competition with a variety of products that are for sale.
Several social media groups and forums with a large audience that are talking about the niche.
If there is a high demand, there will a track record of patronage.
Trying to find something that no one else is already doing, is almost impossible. It could be that if there are only a few people in a niche, that there is not really a demand or need for it.
A niche at the end of the day is a group of people that share an interest in a particular topic.
Final Thoughts on What is a Niche for Affiliate Marketing
As an affiliate marketer, you will on a regular basis be involved in these activities:
Write content about the products or services of a niche for your website.
Do research and select products or services to promote.
Answer questions in the niche that your audience might have.
Provide recommendations and suggestions about products or services that will assist your audience.
If you can easily and happily do these activities for a topic or niche that you have selected as your favorite, then dive in.
Remember, you don't have to be stuck with your niche and you do not need to know it all before you start. You do not need to be an expert in a niche, you just need to know more about it than your target audience.
You want moderate competition, so your niche must not be generic as it is too wide, but you also don't want it to be too small that nobody looks for it. You can also double check your niche on Adwords.
When you create your value articulator statement, which Mel Abrahams created, it helps tremendously for you to identify your niche. It is just really a clear and concise statement and it will help you to state the problem you are solving, who you are serving and how you will help them to achieve the desired results.
Related Post: How to build a website for free
Please share this with somebody else that you think would benefit from the content. If you have any comments, questions or suggestions about what is niche picking or how to narrow down a niche, then please leave them below and I will get back to you.