If you are an affiliate marketer, then the chances are quite good that you have already come across Wealthy Affiliate. It is an online platform and community that provides training for newbie and experienced affiliate marketers. Wealthy Affiliate has made many changes and updates to the platform recently, and with that came the introduction of a new advanced membership bundle, namely Premium Plus.
Wealthy Affiliate has different levels of membership, and training form part of each level. You can join Wealthy Affiliate as a free member, Premium member, and now the newly launched membership level of Premium Plus.
In this review I will concentrate on Premium Plus, but please read the related post on Wealthy Affiliate, an honest review from the inside, to see what the free starter membership and Premium level entail.
What is Inside Wealthy Affiliate Premium Plus?
The educational tools and resources that you have access to include blogs, video training, webinars, live video training, website building, live chat and many more. The training with the free starter and Premium membership is enough to launch your website and build a business, but what is inside Wealthy Affiliate Premium Plus gives you even more.
As technology evolves, it is essential for a platform like Wealthy Affiliate to keep up to date and stay competitive. The new interface is still very familiar and much of the old layout has been kept, but it is easy to navigate, and it is intuitive and it is fast.
So let's have a more detailed look at what the new level includes, and how Premium Plus compares with the other levels.
What is Included in Premium Plus Membership?
In addition to the training that you get with the other two levels, below is an image that shows you the impressive array of tools and training of what is inside Wealthy Affiliate Premium Plus.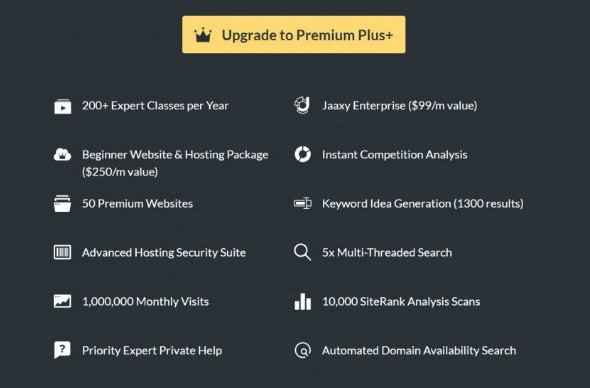 The detailed training will provide you with step by step directions to build your own website and business that you can scale. This is an overview of the training that is included in the Premium Plus membership package:
Certification Core Training: Levels 1 to 5 (50 lessons)
Bootcamp Training: Levels 1 to 7 (70 lessons)
1000+ Training Modules
All Levels Core Training
200+ Expert classes per year.
Premium Plus Membership Features
What is inside Wealthy Affiliate Premium Plus The package include these: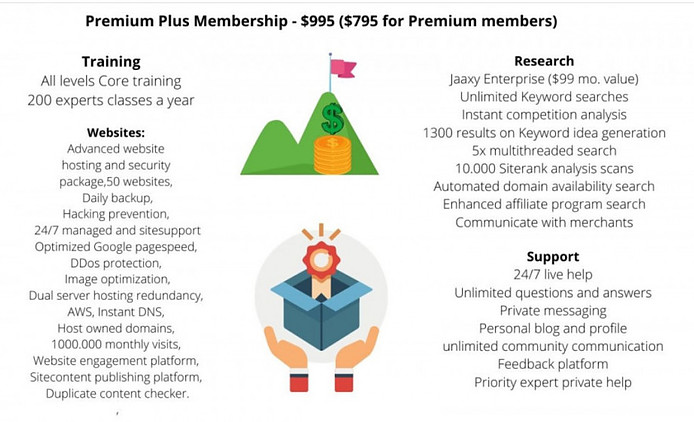 Let's have a closer look at some of these features:
Websites
You can have up to 50 Premium Plus websites.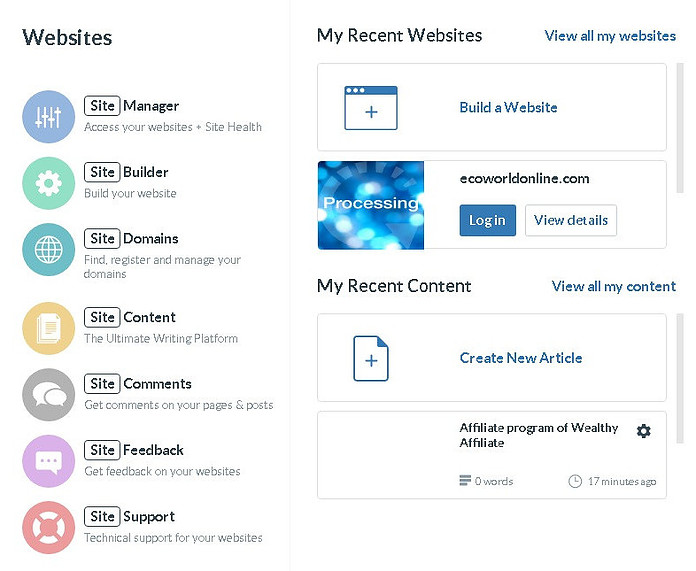 The advanced website and hosting package of Premium Plus allows you to create and host up to 50 websites on the Wealthy Affiliate platform. If you are already a member, you can log in and go to your Settings, and then Account, and it will indicate what you already have access to.
Premium and Premium Plus have a lot in common, so we will have a look at just how much. My current membership gives me this list on the left below, and on the right it shows you what I will get if I upgrade to Premium Plus.: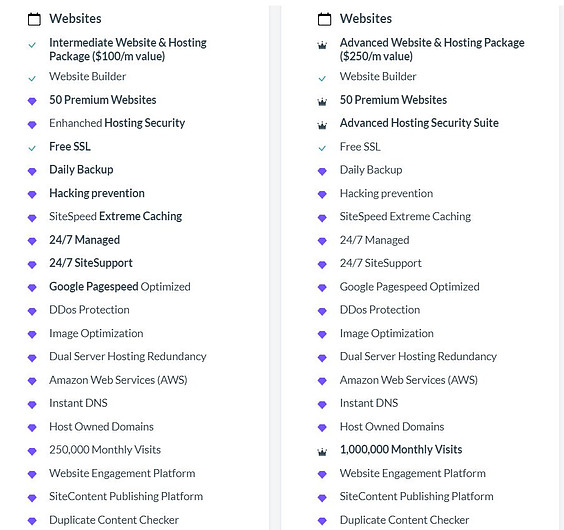 Premium Plus is only $49 for the first month, so try it for one month at the same price as standard Premium. If you don't like it, or find it is not what you were expecting, you can always downgrade again.
You will not loose any of the benefits that you have already acquired. So if you are locked in at $359 / year for Premium membership, you will not loose that plan if you downgrade.
Support with Premium Plus
My personal experience with Wealthy Affiliate is that the level of support that you get is pretty impressive. I hardly ever have problems, and if I get any issues with the platform and need support, I have always had a response within a couple of minutes. Any issues have always been resolved within an hour, and that is only with a standard premium account.
With the new Wealthy Affiliate Premium Plus membership, they are offering even faster and prioritized support, which includes the following.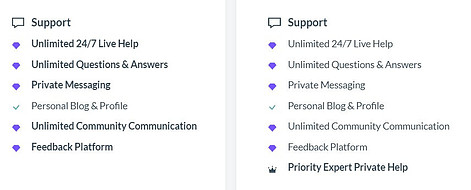 Unlimited live help available 24/7
Private messaging for support function
Personal profile and blog
Unlimited community communication and support from the thousands involved in the community.
Feedback Platform
Priority Expert Private Help
Jaaxy and Jaaxy Enterprise
If you are not familiar with Jaaxy yet, it is an extremely popular keyword research tool and you can read more about it in this post Jaaxy Review – the Top Keywords Research Tool.
Some of the awesome features of what is inside Wealthy Affiliate Premium Plus membership, include these:
Find low competition keywords that can immediately get your blog posts ranked.
Learn how competitive different keywords are.
Understand how much traffic you can expect if you rank for a specific keyword.
Analyze the sites that are competing for your niche and target keywords.
Find brand new keywords.
Discover untapped niches with high traffic potential.
Alphabet soup technique gives you instant results and automation.
Brainstorm new niche ideas and keywords.
You can build to-do lists for your projects.
Provides you with the metrics that you can access and what action you can take to improve your site ranking.
Learn where your site ranks for keywords.
Based on topics, you can save and manage keyword lists.
If you have a potential site, it helps you find relevant domain names.
Search and buy domain names with the purpose to "flip" them later.
Establish the potential profitability of a specific niche.
Help you decide whether you should proceed with a particular niche.
Find affiliate networks that are related to your niche.
Find out what is currently popular and trending online.
With Premium Plus you get the Enterprise version of Jaaxy which includes the following additional features:
Jaaxy is pretty fast, but the Enterprise version is 5 times faster.
You get instant competition analysis.
Instant information on domain availability.
You can have up to 5 tabbed searches, so you can run 5 searches simultaneously.
Alphabet soup shows you up to 50 results, as opposed to 15 on the premium level.
Jaaxy will simplify and speed up the process of deciding on your niche, SEO keyword research for new blogs and generally improve your rankings. It will reduce your keyword research time. Jaaxy Enterprise as a stand alone product costs $49 per month or $499 per annum. You get this included in your Premium Plus membership, which represents great value for money.
Jaaxy collects data from the three major search engines Google, Bing and Yahoo, so puts them a step ahead of the competition.
How Wealthy Affiliate Premium Plus Differs To The Other Wealthy Affiliate Membership levels
With Premium Plus, you get 4 times more expert classes than you do with the premium membership (there are no expert classes with free package, but you get the first ten training lessons).
More advanced website hosting and features.
More advanced site security.
Supports 4 times as many monthly website visitors, namely up to a million.
Jaaxy Enterprise is included.
Instant Competition Analysis with Jaaxy enterprise.
You get up to 1,300 keyword idea generation results, as opposed to 390 results with Jaaxy lite that is part of the standard premium and free version.
Run 5 tabbed searches at once on Jaaxy enterprise, maximum of 2 on Jaaxy Lite.
5 times as many site analysis scans with Jaaxy enterprise.
Automated Domain Availability Search with Jaaxy enterprise.
Does Wealthy Affiliate Premium Plus Represent Good Value for Money?
Is what is inside Wealthy Affiliate Premium Plus value for money? When you look at the different systems, training and tools that you get included, I would say that $995 per year or $99 per month is a bargain!
If you were to look at how much it costs to buy Jaaxy Enterprise as a solo product, it is $499 per year or $49 per month. If you look at website hosting services, you would probably be looking at a minimum of $100 per month.
So if you look at all the features and benefits of Premium Plus, then I regard it as a good investment. The annual fee always gives you a saving, so you will be getting it at $999 for the year, saving you $200 on the monthly fee of $99 per month. No matter which way you look at it, the annual price is always the best value for money.
Website hosting and benefits and Jaaxy Enterprise combined, are worth more than what you are paying. There is immense value attached to the all the support and additional training as well. So for me, I think the Wealthy Affiliate Premium Plus membership represents excellent value for money and is a great option.
Who will Benefit from Premium Plus Membership?
Not everybody will need or want Premium Plus, but it can help anybody who is:
Anybody new to affiliate marketing
A free member of Wealthy Affiliate and want to take your business to the next level.
Already a Premium member of Wealthy Affiliate and want the superior website, superior Jaaxy and support functions.
An experienced affiliate marketer who wants access to more training.
An experienced affiliate marketer who wants access to more tools.
>>>>>Sign up to Wealthy Affiliate Premium Plus here<<<<<
Final Thoughts on Premium Plus Membership
Remember, if you are new to Wealthy Affiliate or affiliate marketing, you don't have to go straight for the Premium Plus bundle. You can start with the free starter membership, then upgrade to Premium, and Premium Plus could be the final step when you are ready for it.
Related posts: What is Affiliate Marketing? and What do I need to become a successful affiliate marketer.
If you are stuck on choosing a niche for your website, then you might find this post helpful: What is a Niche for Affiliate Marketing?
If you would like to  know what is the best affiliate program, you can read about it in this post.
I believe the Wealthy Affiliate Premium Plus plan to be a good investment. Hopefully this has helped you understand why I believe that or what you get as part of the Wealthy Affiliate Premium Plus plan.
If you have any questions about what is inside Wealthy Affiliate Premium Plus, then please them below and I will get back to you. If you have any experience using the Premium Plus bundle, I would love to hear about your experience as well.