I was recently approached by a family member who became a NuSkin brand affiliate, to join her team. Her first words were "they are not a pyramid scheme", but as I worked for a multi level marketing company, Usborne Book at Home, before, I wanted to find out what is Nu Skin business model all about and can you earn money as a Nu Skin Brand Affiliate, or is it a waste of time?
I did my own research on the company that makes some of the best anti aging skin products, and this is what I found: This review is about the NuSkin business opportunity, and not about the actual products. These are the aspects that I will cover
Overview of Nu Skin
What is the Nu Skin business model?
Nu Skin products
What is the Nu Skin business opportunity?
How much does it cost to join Nu Skin?
How do I make money selling Nu Skin products?
The Nu Skin compensation plan
How much can I earn with Nu Skin?
Do I get training with Nu Skin?
What I like about Nu Skin
What I don't like about Nu Skin
Is it a pyramid scheme? is it legit?
Is this a good way to make money and final thoughts
My recommendation – click here if you want to see it now.
Overview of Nu Skin
Nu Skin Enterprises is an American Multi Level Marketing (MLM) company. They develop and sell personal care products, including some of the best anti aging skin products, and dietary supplements under the brand NuSkin and Pharmanex.
NuSkin was founded in 1984 in Provo, Utah, United States, by a group of friends who wanted to bring innovation to the world of skin care, while helping people at the same time. The founders are Blake Roney, Sandie Tillotson, Nedra Roney, Steve Lund and Sandie N. Tillotson.
Nu Skin has spent more than thirty years doing research to bring you the best in nature to your beauty regime. They combine powerful ingredients with innovative science and technology to make world-class products that deliver real benefits. The top rated anti aging skin products are backed by science.
What is the Nu Skin Business Model?
Nu Skin is a Multi Level Marketing (MLM) company. Multi level marketing is also known as network marketing, and it basically means that the company has a direct contract with independent distributors to sell and promote their products. At the same time the distributors are encouraged to recruit new distributors to join their team, and also sell the company's products.
You can then earn from the sales of your own recruits and team. With any MLM business, you are limited to selling the range of products that the company produce and offer.
Evidence shows that 99.6% of people who join a Multi Level Marketing company will lose money. Network Marketers are switching from MLM to Affiliate Marketing and this is the platform they are switching to.
What is the Nu Skin Product Range?
Product categories are body care, nutritionals, Ageloc, face care and Epoch. Shop from beauty devices, to the best anti aging skin products, to nutritional supplements and weight management products. Nutritional products consist of comprehensive supplements to provide the body with optimal levels of anti-oxidants, vitamins and minerals.
Nutricentials is their new bioadaptive skin care system which provides you with a better balanced skin every day. Bioadaptive skin care helps your skin to adapt to environmental stressors like pollution, late nights and protects against Ultra Violet rays and blue light rays.
The system is made with sustainable packaging and clean formulas, so you do not need to worry about the ingredients that you are putting on your skin. Products in the Nu Skin portfolio is formulated to 6S Quality Standards, which include the safety of all ingredients. None of these ingredients below are in the Nutricential formulas.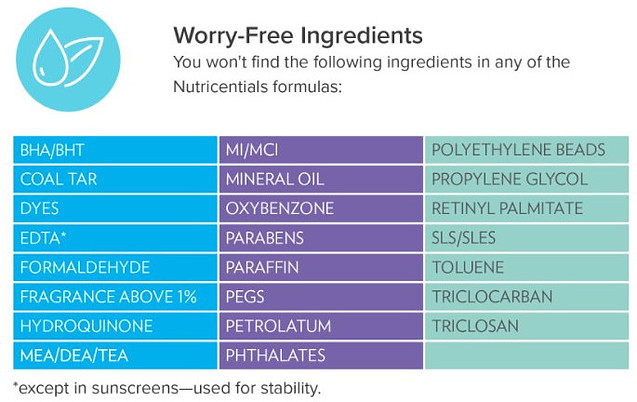 90% of the palm oil that is used in the Nutricentials Bioadaptive skin care, is sourced from Roundtable on Sustainable Palm Oil (RSPO). They provide transparency on the ingredients.
Beauty devices like hair care and hair removal, body shavers, oral care appliances and the very popular Nu Skin galvanic spa are all available.
What is Nu Skin Business Opportunity?
The Nu Skin business opportunity gives you the option to start your own business by connecting with others, or just a fun way to earn a little extra cash. NuSkin distributors are called Brand Affiliates.
Some people become a NuSkin brand affiliate to enjoy the products at discounted prices, whereas others want to build and manage their own business. According to NuSkin, you will be "exclusively authorized to sell unique innovations", so how exclusive is it if you can buy it on Amazon, often at better prices?
With MLM you are limited to selling the products of only the one company that you joined as a distributor, so at the end of the day you are just a sales rep. So instead of relying on 1 company or product to make a living, and having to sell to family and friends, I do this.
How much does it cost to join NuSkin?
There is no cost to become a Nu Skin brand affiliate and there is no requirement to purchase products or kits. You receive commission only when products have been sold, and on any products that are returned, the commission is immediately reversed.
But if you join without paying anything, you do not have any samples or products to demonstrate to potential customers. So how will you sell? Distributors must buy products from the range of hair, spa and top rated anti aging skin products to resell to potential customers.
How do You Make Money Selling Nu Skin Products?
NuSkin distributors, also called a Nu Skin Brand Affiliate, can earn commission in different ways:
Retail Profit is the difference between your costs, including member price, taxes, shipping etc. and the price you sell products for. So you are selling products with a retail markup after buying it at wholesale prices.
Retailing Bonus is when your retail customers purchase products directly from Nu Skin, you earn the difference between the member price and the price that the retail customer paid, excluding taxes and delivery costs. You will normally see the retailing bonus in your V&G account within 1 business day.
Shared Bonus can be earned when you personally enroll others as retail customers or brand affiliates. When they purchase products directly from Nu Skin, you earn a sharing bonus on most of their product purchases, and also others on your team. Depending on the product, the range is between 5% and 20%. You should see the sharing bonuses in your Velocity account within 1 business day. Velocity account is an app and you can transfer funds daily to your account, but you will be charged by NuSkin. If you opt to transfer funds on a weekly basis, it will be free.
NuSkin Compensation Plan
A NuSkin Brand affiliate makes money through selling the NuSkin products, and also by recruiting others. If you help your fellow brand representatives to succeed with their own customers, Nu Skin will pay you a leading bonus, based on the monthly sales of your entire team.
Monthly you can earn 2.5%, 5% or 10% commission on the commissionable sales of your team.
Your titles determines the number of generations that you can be paid for.
If you direct customers to the NuSkin website, you can earn up to 30% commission on the retail sales price. The company will keep a retail processing fee, but does not disclose how much. So what is the Nu Skin Leader Levels:
Brand Affiliate (Non-brand representative)
Qualifying Brand Representative
Brand Representative
Gold Partner
Lapis Partner
Ruby Partner
Emerald Director
Diamond Director
Blue Diamond Director
Commission earned varies considerably depending on the goals, ambition, commitment and time of the brand affiliate.
Like most MLM companies, NuSkin has a complex compensation plan. This includes levels like Active Requirements, Executive Status and Leadership Bonus Pool. You have to maintain a minimum sales volume to qualify for bonuses and extra commissions.

To qualify for bonuses, this is what you will find in the small print on the compensation plan.

So you have to maintain rank, to qualify for any bonuses.
How Much Can You Earn with Nu Skin?
As with most MLM's, Nu Skin uses a point system with terms such as Personal Sales Volumes (PSV) and Group Sales Volumes (GSV), rather than the actual currency amounts. This makes it very difficult to understand exactly how much you need to sell.
According to the 2019 NuSkin Brand Affiliate compensation summary, the average sales compensation paid to affiliates in the USA in 2019, was a miserable $123.96 per month. 85% of NuSkin distributors earned ZERO commission. It is only the top tiny percentage that earn real money. You must be in the top 0.8% of NuSkin brand affiliates to earn more than $5,000 per month.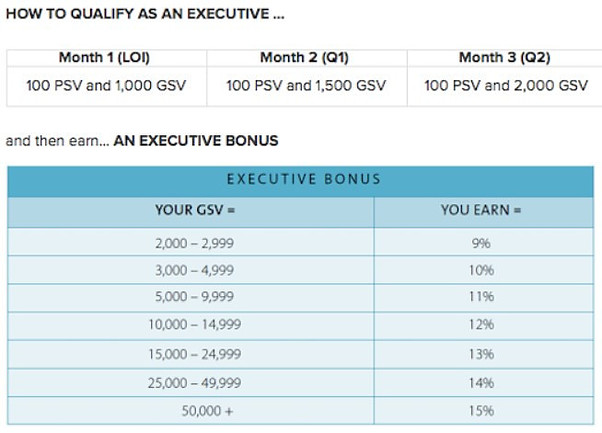 You need to hit your monthly Nu Skin sales targets to be paid commission. To achieve that, NuSkin advises and encourages you to set up an Automated Delivery Rewards as the easiest way to maintain your personal sales volume and eligibility for commissions. This means you are committed to receive a Nu Skin parcel every month, and you are billed for it.
You do not get compensated for any expenses like travel, petrol, stationary, telephone costs or any other business expenses that you might incur. So figures published by NuSkin do not represent the profit that the Nu Skin brand affiliate made, as expenses are not included.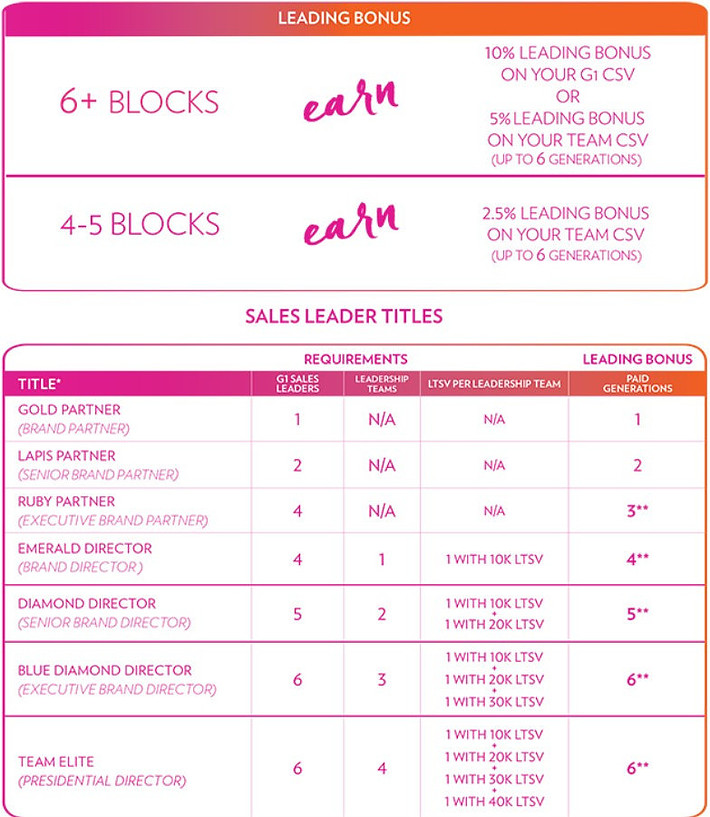 Some people do make money, but without a lead generation strategy, you can not expect to earn much from NuSkin. The big earners are unfortunately always the distributors that have large teams and big down lines that they have built up over several years.
If you want to promote the best anti aging skin products or beauty products without any inventory and without selling to family and friends, you can do so through affiliate marketing.
Start an affiliate website today and you can promote the products that you love and believe in. There is no need to recruit anybody and you can promote any products from any company.
Training
The company provides brochures and training tutorials to all the new distributors.
Best-in-Class business tools that allow you to track, manage and power your gig with digital tools that are easy to use. It includes a comprehensive account dashboard, customer friendly apps and a detailed known-how learning suite.
What I like about Nu Skin
Nu Skin is getting very good reviews for their top rated anti aging skin products. You can always look at Amazon for honest reviews about products.
The have sustainability commitments, which include:
By 2023 they want to improve the environmental impact score of all their Nu Skin products.
By 2030 changing all packaging to be recycled, recyclable, reusable, renewable or reduced, but why wait ten years to do this?
What I don't like about Nu Skin
The Nu Skin MLM business model is an outdated business model, especially with so many other online opportunities available these days. Operating a MLM business can be far more expensive and time-consuming than most people anticipate and realize.
I worked for a MLM company, Usborne Books at Home, and I understand the frustration that many distributors face when they no longer have family and friends that they can sell to and end up not knowing who to sell to. If you build a website to generate sales, you can sell to people that are already interested in the products that you are selling.
Escape the MLM Rat Race. Multi Level Marketing (MLM) is not the only way of making money from home, so do not be limited by only looking at MLM. An alternative to MLM is affiliate marketing.
Is NuSkin a Pyramid Scheme?
Throughout the forty-year history of the company, it has been subject to several investigations and received fines for wrongdoings. The company has a history of being sued by the Financial Trade Commission (FTC), US states and even China, for making deceptive claims about earnings and their products.
The Chinese government announced in January 2014 that they were investigating NuSkin, after a report in the People's Daily Newspaper that called it a "suspected illegal pyramid scheme". NuSkin was then sued by China in a Utah federal court. A $47 million settlement was paid by NuSkin in 2016 for operating a pyramid scheme.
Final Thoughts – is Nu Skin a Good Way to Make Money?
The beauty and anti-aging is a huge industry and is growing all the time. Selling top rated anti-aging skin products like NuSkin can be a fun hobby or even a business if you enjoy helping people look and feel younger. The products are frightfully expensive, but many of the best anti aging skin products are, so it is a product that could survive in the market.
Yes, I worked for a multi level marketing company for nearly ten years, before switching to affiliate marketing. With MLM I was encouraged to ask family and friends to host a party, and then the neighbor and the lady living down the road. And it was not long before my mentor started telling me that I needed to recruit and build a team if I wanted to earn more.
You can sell top rated anti aging skin products through affiliate marketing, without being limited to the products of just one company. And you do not have to place monthly minimum orders to qualify for overriding commission.
I do not think that selling Nu Skin products as a Brand Affiliate, is a good way to make money.
My #1 Recommendation
You can read my personal review about Wealthy Affiliate here and see why I recommend them.
If you have any suggestions or questions about what is the Nu Skin business opportunity, then please leave your comments below and I will get back to you.