If you have a website or want to start your own blog, you want to find the best website hosting service providers. Which might make you wonder what is website hosting services costing? Or what is the top web hosting services offering?
What makes the best website hosting providers awesome? With so many options available, do you know which one is right for you?
When people compare hosting providers, they often focus on price and ease of use. But, in reality, there is a lot more that should go into your decision.
Cyber security is super important and you certainly don't want to lose traffic and potential customers, because your website was hacked. Thousands of websites get hacked every day, and lousy web hosting providers are partly to blame for it. Ultimately you want a safe and secure site.
Choose your web hosting provider carefully, so that you can lay down a solid foundation for your website. A website that you might even sell.
This post contains affiliate links and I will be compensated if you make a purchase after clicking on my links, with no additional cost to yourself.
What Is Website Hosting Services?
You need a server to launch a website, and web hosting is the easiest way to get it. According to Wikipedia, "a web hosting service is a type of internet hosting service, that allows individuals and organizations to make their website accessible via the World Wide Web".
Thus, a web host is a company that provides space on a server that clients can use. The host service also provides internet connectivity, which is normally in a data center.
So, the web host provides the infrastructure that is required to operate a website. As a website owner, you need access to a server to be able to publish to the web. The web host provides that server.
You will need a web hosting service if you are building your own website. Web hosting is the web space on the server of your hosting provider, where your website lives.
When looking at what is the top web hosting services, these are the considerations that I used.
Factors to Consider When Choosing Website Hosting Service Providers
Price is the biggest concern for most people, but what other factors should you prioritize? You want web hosting providers that have fast servers, offer outstanding customer support and incredible security. You also need to consider the type of services they provide and if they have a user-friendly interface.
When you compare hosting providers, these are the most important factors to consider:
Uptime is one of the most important aspects when choosing a website hosting service. Users cannot access a site when it is down, so you should place uptime as the most important factor.
Load speed of your page can be make or break for the success of your site. If it is too slow in loading, people click away and go elsewhere.
Price should suit your budget and requirements.
Technical support: the web host takes care of all the technical stuff, which means you can spend time creating content.
Add-ons: these are features that they provide that other's do not have. This will have to be compared to the cost of it, to see if it is worth your while adding it.
Hardware.
Privacy and security: web hosting security is extremely important. Any website can be the target of spammers.
Ease of use, functionality and performance.
Content delivery network (CDN) delivers content faster and block of malicious attacks. It is essential that your web host provides this.
Look at the renewal rates after the initial low introductory offer.
A popular product does not necessarily mean it is the right one for YOU. What are the different types of web hosting?
Types of Web Hosting Services
When you see the different types of web hosting, it can be confusing. So let's have a look at each type of web hosting:
Shared Web hosting: Several websites are hosted on the same server, so you share a server with other websites. It is the most affordable type and is the best choice for sites that have minimal requirements.
Virtual Private Server (VPS) hosting: When you have outgrown shared hosting, a VPS hosting is a solution. You still share a server with other sites, but there are far fewer. You get a dedicated segment of shared server resources, so other website on the server will not impact the performance of your website. It is similar to dedicated hosting, but at a far more affordable price.
WordPress hosting: If you are using WordPress as your Content Management System, then dedicated WordPress hosting is recommended. You can have a shared WordPress plan, or a managed WordPress account. Shared WordPress hosting works like traditional web hosting. But with dedicated WordPress hosting, your host provider can deal with back end operations, such as updating your WordPress and keeping it secure. In general WordPress hosting are faster than shared hosting. The best WordPress website hosting is provided by Wealthy Affiliate.
Dedicated hosting: You do not share any resources with any other sites, as you get an entire server to yourself. This can get very expensive. If you have a very big business with 6-figure monthly site visitors, you might need it. Otherwise, not.
Cloud hosting: Here your website is stored on multiple servers, not just one. So, if one server goes down, the others will take over. Cloud hosting makes on-demand scaling possible when you have fluctuating site traffic.
Reseller web hosting: Developers or digital agencies can resell white labeled hosting on packages that they own. Reseller hosting is buying a web host package at wholesale prices, and then selling them to clients at a profit.
eCommerce hosting: If you are running an online store, then eCommerce hosting is best for you. Features that can help you to manage your online store better, are included. These features include payment gateway, SSL certification, security, server scaling and more. If you have an eCommerce site and want to increase your conversions, then take a look at the review on Debutify high converting theme. Some host providers offer specific WooCommerce hosting if you are using WooCommerce to run your online store.
What About Free Plans?
Although there are some free hosting services available, none of them come even close to the cheapest paid plan in terms of features.
Free plans will restrict your options of what you can do.
The free version is normally to attract new users, but you will have to upgrade to a paid plan to get the benefits.
Free hosting often has non-existent security integrations.
Major limitations of storage and resources.
Adverts imposed on your site.
Only get very basic customer support.
Thus, when we compare hosting providers, we will look at paid plans and what is website hosting services costing.
Best Website Hosting Service Providers
Let's have a look at what is the top web hosting services available. These providers are in no particular order. Depending on your needs, you will be able to make an informed decision.
Not all web hosting solutions are the same, so finding the web host with the right balance, is key.
All prices mentioned are current at the time of writing.
HostGator
HostGator provides an excellent web hosting service that is simple to use. It offers an array of plans for bloggers and small businesses.
HostGator is a great affordable web host with a website builder option. Design your own website by using the drag-and-drop website builder. You do not need to learn a single line of code.
They also have the usual web hosting solutions like Shared and WordPress hosting. It has 99.99% uptime, so you can rely on HostGator that it will be highly unlikely for your site to experience downtime.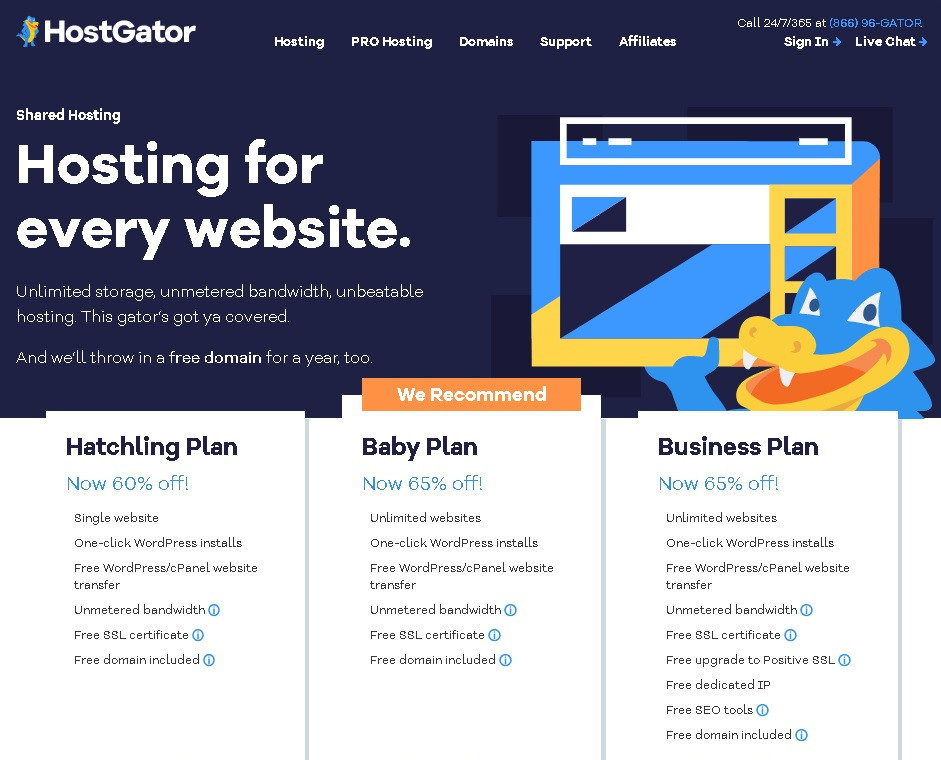 Key Features:
Free domain.
Free site transfers.
Unmetered bandwidth.
Guaranteed 99.9% uptime.
SSL certification.
24/7 customer support via phone, email or live chat.
Pricing:
Shared Hosting: Hatchling is $2.75 / month, Baby is $3.95 / month and Business $5.25 / month.
Gator Website Builder: Express start is $3.48 / month, Express Site is $5.99 / month and Express Store $9.22 / month.
WordPress Hosting: Starter is $5.95 / month, Standard is $7.95 / month and Business $9.95 / month.
VPS Hosting: Snappy 2000 is $19.95 / month, Snappy 4000 is $29.95 / month and Snappy 8000 $39.95 / month.
Dedicated Hosting: Value Server is $89.95 / month, Power Server is $119.89 / month and Enterprise Server $139.99 / month
Reseller Hosting: Aluminium Plans is $19.95 / month, Copper Plan is $24.95 7 month and Silver plans is also currently $24.95 / month which includes a 64% discount.
Read the full review on HostGator here.

BlueHost
BlueHost is a well-known, reputable web hosting company. Its interface is easy to use and it is well-balanced as far as features are concerned. BlueHost is on the list for its high performance and varied range of hosting packages.
They are one the largest providers of what is website hosting services. BlueHost offers WordPress, shared and dedicated hosting, VPS and more. They provide secure and reliable hosting services and powering more than 2 million websites globally.
Very fast and average time to load a website is less than half a second. Hardware and software comply with all the modern standards. Popular for WordPress blogs, SEO services, content creation, business sites and minor eCommerce stores.
Over and above the web hosting services that they provide, they also offer web marketing, web design services and security. They have recently launched the BlueHost website builder with WordPress as the backbone.
They provide comprehensive tools to millions of users worldwide. Whether you are a newbie or a professional, you can get on the web and build your own website.
They have been in partnership with WordPress for more than 10 years and have a dedicated team to support WordPress. Therefore, they are one of the best WordPress website hosting providers.

Key Features:
Comes with a free domain.
Secure Socket Layer (SSL) certification.
Unmetered bandwidth usage
1-click WordPress installation.
Shared, Cloud and Virtual Private Server (VPS) hosting plans.
30-day money back guarantee.
WordPress recommended.
24/7 support.
In-house analytics.
Pricing:
Shared Hosting: Basic at $3.95 / month, Plus at $5.96 / month, Choice Plus at $6.95 / month and Pro for $13.95 / month.
Managed WordPress Hosting: Build is $19.95 / month, Grow at $29.95 / month and Scale is $49.95 / month.
Next Gen VPS Hosting: Standard is $19.99 / month, Enhanced at $29.99 / month and Ultimate is $59.99 / month.
Dedicated Hosting: Standard is $79.99 / month, Enhanced is $99.99 / month and Premium is $119.99 / month.
WooCommerce: Standard plan is $13.99 and Premium $29.99.
There is a very steep price increase after the first term and is not the most customizable service in the market.
Read the full review on BlueHost here.

Green Geeks
Green Geeks is an eco-minded, green energy, web host and is the best eco-friendly web hosting provider. They put back 3 times the power they consume, in the form of renewable energy. So you are helping the environment, at the same time as getting what is website hosting services that are eco-friendly.
Green Geeks invest in renewable energy, thus, keeping their operations carbon neutral. It has great shared hosting options, which allows you to have top quality hosting, while also benefiting the environment. A Weebly website builder is available. It also offers WordPress hosting packages, as well as VPS and resellers.
Green Geeks use SSD storage so sites load faster, and LiteSpeed Cache so the read/write speed is very impressive. It has CDN that speeds up load time, by saving a copy of your page on the server that is closest to your customer.

Key Features:
Unlimited web storage space.
Unmetered traffic count.
Unlimited websites (except for the Lite Plan)
300% energy match.
SSD storage.
SSL certification.
Free domain for the first year.
Free website migration.
Zero day vulnerability fixes.
Built-in scaleability.
24/7 support.
30-day money back guarantee.
Free CDN and LiteSpeed Cache.
Pricing:
Web Hosting: Lite is $2.49 / month, Pro $4.95 / month and Premium $8.95 / month.
WordPress Hosting: Lite is $2.49 / month, Pro $4.95 / month and Premium $8.95 / month.
Managed VPS Hosting: 2GB is $39.95 / month, 4GB $59.95 / month and 8 GB $109.95 / month.
Reseller Hosting: RH25 is $19.95 / month, RH50 is $24.95 / month and RH80 $34.95 / month.
Read the full review on GreenGeeks here.

These providers offer you awesome hosting solutions, but without any training to get you started. If you are looking for dedicated WordPress hosting, combined with training in affiliate marketing, then I recommend that you look at the Wealthy Affiliate all-inclusive platform.
Wealthy Affiliate
Wealthy Affiliate has one of the best WordPress website hosting services, and with them you also get training. This includes building your website, affiliate marketing and wonderful support from the community and site support. With Wealthy Affiliate you are effectively part of a big online family.
They have the latest and most powerful servers in the world through Amazon hosting.
With SiteRubix, Wealthy Affiliate has developed the most sophisticated and secure website platform in the industry. SiteRubix leverages the WordPress framework.
Site speed is one of the core focal points with SiteRubix hosting platform at Wealthy Affiliate. Average page load time is 1.3 seconds.
There are several layers of security that shield your websites, thus, they can prevent hacking and spam even before it happens. Have "double" hosting, so they run a "mirror" of your website. They are the only website hosting platform that offers that feature.
Wealthy Affiliate is beginner friendly and is an awesome solution for building and managing WordPress sites.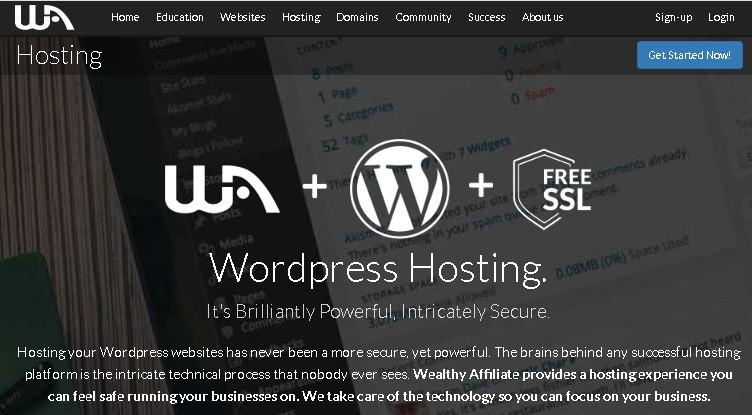 With Wealthy Affiliate Premium membership, you get the ability to build and host WordPress websites. You can also set up an email address for every domain that is hosted at Wealthy Affiliate.
Key Features:
10 Managed WordPress websites are included.
SSL and spam protection.
Instant DNS set-up
Free domain transfer.
Hosting speed is optimized for faster website loading.
Bandwidth of 500,000 visitors per month.
Unlimited data transfer
24/7 support.
Pricing: Premium Membership: $49 / month, which includes hosting, training and Jaaxy keyword research tool.
With Wealthy Affiliate you will be learning, while they manage the technical side. You can read my full review on Wealthy Affiliate here.
So, if you want more than just what is website hosting services, but also training, then choose Wealthy Affiliate. You will learn from the best marketers at Wealthy Affiliate.

What Is The Top Web Hosting Services?
Website hosting service providers need to offer sufficient scaleability to allow your site to grow as your business expands. At the same time it needs to provide excellent support to help you navigate through potentially challenging situations.
Wealthy Affiliate is the best WordPress website hosting provider. They offer all-inclusive web hosting, together with affiliate marketing training.
HostGator is best for newbie bloggers that want a cheap plan and no training. They offer an affordable plan for those starting a blog online and start-up businesses .
BlueHost offers great shared web hosting solutions, which are tailored for anybody who is new to website building. It is affordable and even beginners should have no problems using it. .
Green Geeks is best for eco-friendly hosting that gives back to the environment. They offer an eco-friendly web solution with superb support.
If you have any experience with these website hosting providers, or want to add to what is the top web hosting services offering, then please share your comments below.