I can hear you think – what is a keyword search tool? Why do I need a keyword tool? Where does SEO (Search Engine Optimization) fit in? Why is SEO important to your website? I will answer these questions and many more and also look at the best keyword tool for free.

What is a keyword?
A keyword is a word or phrase that best describes the content on your page or post.
It is the search term that you want to rank for with a certain page. So when people search for that keyword or phrase in Google or other search engines, they should find that page on your website. Your keywords should reflect what your audience is looking for.
Keywords range from single words to complex phrases. It is used within the content for blogs and websites to attract visitors and relevant organic search traffic. Keywords act as a conduit for your target audience to find the most relevant content on your site.
Keywords are important, but it needs to be used appropriately and in context. The relevance to the reader, and the content that supports the keywords, are most important. Keywords need to be used in natural context.
Content is of great significance when Google, Bing and Yahoo look at your website and page to rank it. Content which is rich with information, is more meaningful. Valuable content, that is useful to readers, is very important to Google and other search engines.
Finding Keywords and Keyword research
Bulls eye keywords are the things that people would be searching for on-line. It represents the process or transformation that you help people through, in their business. They represent words that people type into a search engine. What they need help with, should represent what you help people with in your business.
You have to know what people are looking for and that you can find through keyword research. Discover the way your audience thinks and the questions they are asking, and then create the content that will bring visitors to your website and posts. One of the best free resources is Google themselves.
As you type into Google, auto suggestions are provided. These suggestions are based on what other people are actually searching for and the questions they are asking. This provides you with a multitude of ideas for your content.
For example. I took the keyword recycling and started typing the word into Google. These are the automatic suggestions that Google gave me.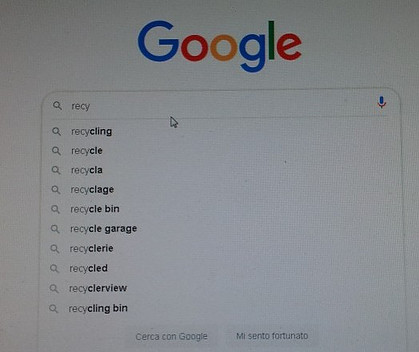 I then added another letter, and it auto suggested a whole range of new words and phrases. In the same way you can run through the entire alphabet and get ideas for your content.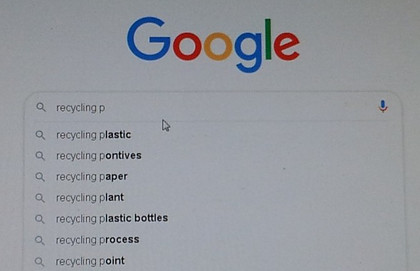 Why don't you try it with your own keyword to find suggestions.
What about SEO and why is SEO important to your website?
Keywords and SEO (Search Engine Optimization) are directly related. If you use too many keywords, then Google will penalize you. Use too few, and nobody will find you. The foundation of SEO is to target the right keyword. Good SEO will improve your visibility in search engines.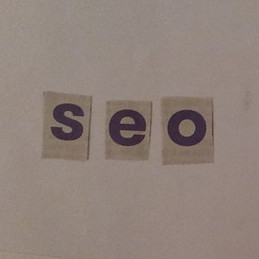 Keyword stuffing will be picked up by Google and regarded as an attempt to manipulate the ranking of the site. Keyword stuffing include lists of cities and states, long lists of keywords which is not in context and repetition of phrases and words that sounds unnatural.
Content needs to be organized in a way that Google robots will find it. Pictures and visuals are engaging and makes your posts more interesting. Remember to add meta tags and descriptions to your images as well.
Other factors that are important for rankings are site visits, the time spent on the site, bounce rate, back links and the length of the content.
At the end of the day you are creating content for real people and your readers, but you do want to be found as well!
There Are Three Essential Parts to SEO:
Technical SEO – website must be easy for the google crawler bots to read it. They read from left to right so images should be displayed on the right, rather than the left, although central is also okay.
On page SEO – create intentional content on your website that people want to read, or listen to, if it is audio or watch, if it is a video.
Off page SEO – use promotional strategy to acquire back links which will boost the credibility and authority of your site.
How To Make Sure That Your Site is SEO Friendly
The most important aspects of technical SEO, is to make sure that the health of your site is optimum. To make sure that your site is at it's best, these are important aspects that you must have:
Submit a sitemap to Google Search Console
Get a SSL certificate which is a security measure for your website and also for personal details of your readers. I can hear you ask : How can you check this? If your URL starts with https://,then you already have it. If it is only http://, then you need to get SSL. For WordPress websites you can ask your host to add it and to move you to https://
Make sure your site is mobile friendly.
Make sure your site loads quickly – ideally it needs to load within three seconds. If it is slow, you can compress images and the easiest way is to use a plugin like EWWW Image Compressor.
Even if your site is technically perfect, you don't want to write stuff that people are not interested in. Or that it is so boring your readers fall asleep.
Competition is very fierce these days, so you want keywords with low competition, but with high search volume. The topic with the biggest search volume doesn't always mean that it will bring the best audience to your content. It is more important to be found by fewer people, than not to be found at all because of too much competition.
And that is where a keyword search tool comes in.
So what is a Keyword Search Tool?
You need superior tools to beat your competition when it comes to keyword research. Having a keyword tool, will put you ahead of the competition.
The idea with a keyword search tool is that you enter a topic or keyword to find out about the competition and the potential amount of traffic.
A keyword search tool will take the hard work off your hands and make it much easier to decide which keywords to use. These three are what I regard as the best keyword tool for free: Jaaxy, AnswerThePublic and UberSuggest.
1. Jaaxy
Jaaxy is an online application so there is no software to download and install. It was developed by affiliate marketers for affiliate marketers.
Within Jaaxy you will have access to not only keyword searches, but also Alphabet Soup, Saved Lists, Search Analysis, Brainstorm, Affiliate Search and much more. You can also read my review on Jaaxy here.
You can create your own lists of saved keywords and phrases and uncover niches.
Site Rank enables you to track and monitor rankings for any website in Google, Yahoo and Bing.
Jaaxy provides not only important information about competitive keywords, but also has many other useful features.
How Jaaxy works
Jaaxy has features that makes the keyword search process faster and more accurate, while at the same time fun.
You can try your own keyword search on Jaaxy for free. Jaaxy gives you thirty free searches with no time limit. That gives you the opportunity to test it for free and see if it is for you, so go ahead and try it for free.
Jaaxy allows you to research specific keywords and understand their popularity in the search. Ideally you want to have a QSR of less than 100 and Avg of more than 40.
Below you will see the sample that I put into the keyword search "what is the best keyword tools for free". So let's look at the categories and results that this keyword gave me:
Keyword: this is the phrase that people type into the search engine to find what they are looking for. The metric gives you examples of longtail keywords and phrases when you put in your keyword.
Avg. is the number of searches for that keyword, that is conducted by individuals each month.
Traffic: the estimated number of visitors to your website, that you might get, if you rank on the first page within Google.
QSR: basically your competition – who else is ranking for your keyword.
KQI: Keyword Quality Indicator. This is to help you decide which keywords are good to target and which ones are not. green = great, yellow = normal and red = poor (but there is no indication as to how this is calculated)
SEO: the metric that scores the keyword based on traffic and competition. It measures the difficulty to rank for a keyword. This is very useful to understand why is SEO important to your website.
Domains: is the availability of website domain names for that keyword or related keywords.

So when I analyze my keyword, is gives me a QSR of "0" and Avg of <10, which means zero competition but less than 10 people per month would search for that keyword.
So I will be better off using "what is the best keyword tool for free", which has competition of 10 and 262 searches per month. As I mentioned previously, it is better to have low competition, but you still want to be found, so to have less than 10 searches per month, is not good.
So in this instance I would choose "the best keyword tool for free" as it has a QSR (competition) of 10, average searches of 313 per month, estimated traffic of 54 and SEO of 91.
More unique Jaaxy features
But Jaaxy gives you much more than just keyword searches. You also get Alphabet Soup, Saved Lists, Search History, Search Analysis, Affiliate Programs and Brainstorm.
Jaaxy through Alphabet Soup offers unique keywords. It is a special tool that helps you to find thousands of related keywords and phrases for your research. The technique is that you type in your keyword and add any letter from the alphabet, either before or after your keyword, and hundreds of suggestions will be revealed.
So for instance I put in recycling + a, and these are some of the suggestions: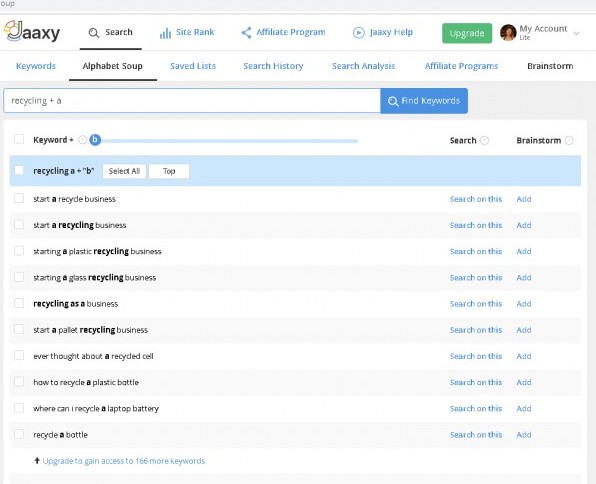 If I then click on "search on this" for start a recycle business, these are some of the suggestions.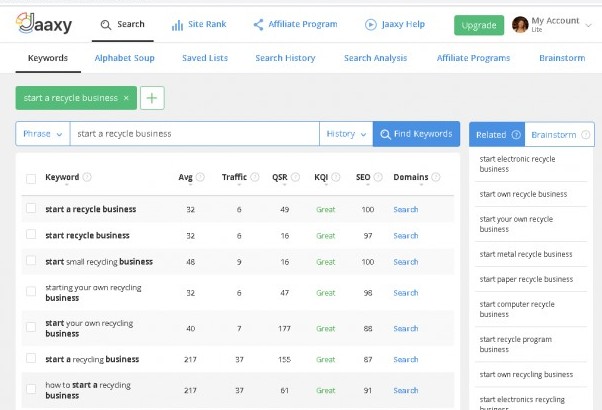 Alphabet Soup is increasingly important to find longtail keywords with high buying intent.
Saved Lists and Search History means I can save keywords and revisit my searches.
Search Analysis is where you can research what your competition is ranking for. If I put in upcycling (that I want to rank for), I can see what is on page one of Google and what those websites rank for.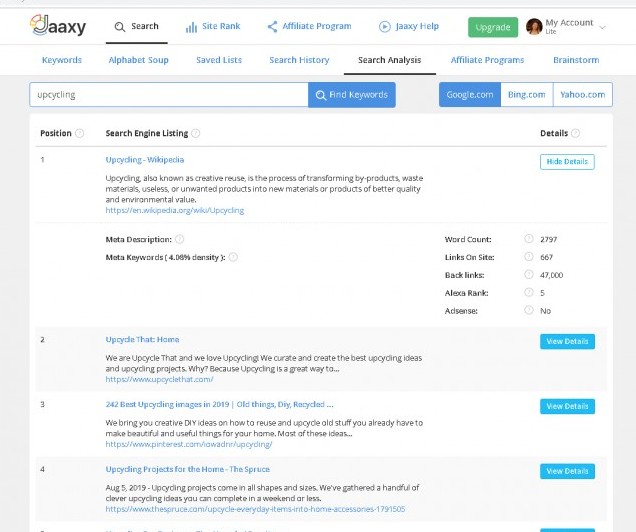 What is the Cost of Jaaxy?
Jaaxy is priced at three levels: Free (or Starter Plan), Pro and Enterprise and this is what is included in each plan.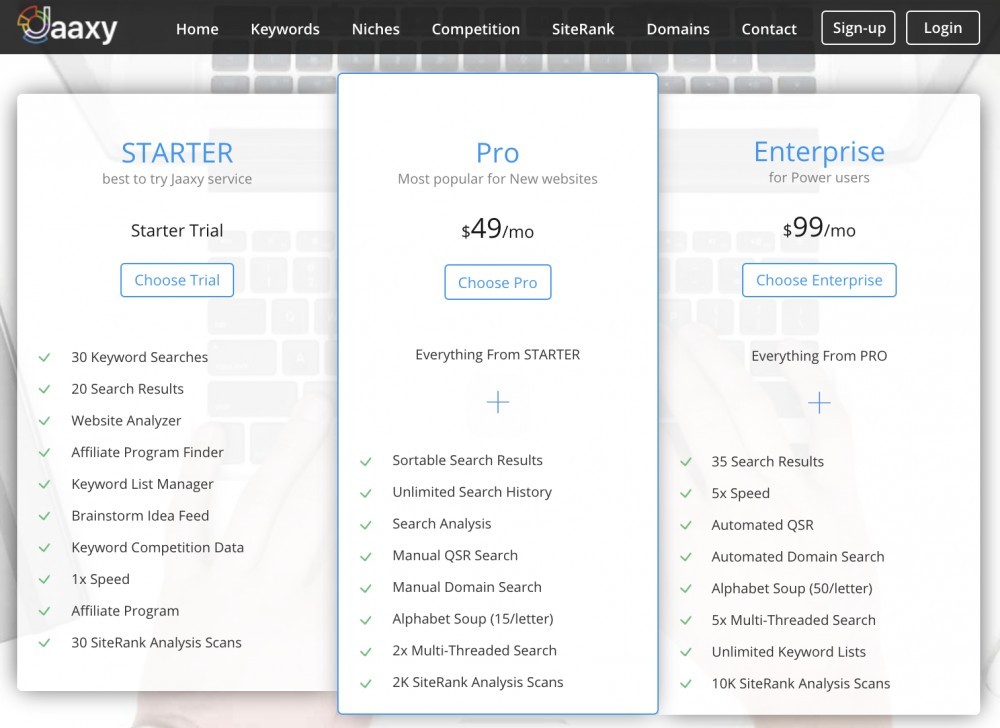 You do however have a different option if you are a member of Wealthy Affiliate. Jaaxy is available as part of Wealthy Affiliate, as the owners of Wealthy Affiliate and Jaaxy are the same. Jaaxy complements the tools that are offered and available within Wealthy Affiliate.
Please read my review about Wealthy Affiliate if you would like to learn more and save yourself some money.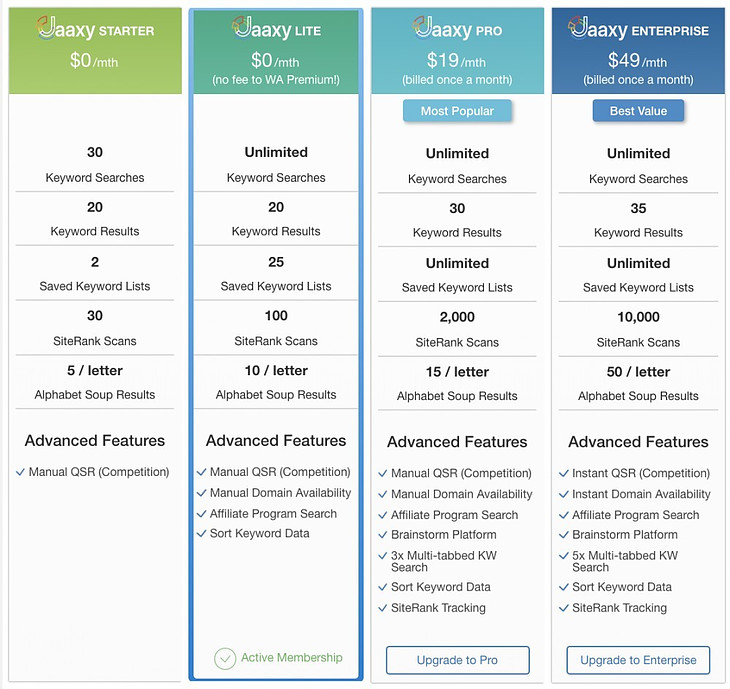 You can always upgrade to a paid plan if you feel that your business requires it.
What I like about Jaaxy:
There are may things that I like about Jaaxy, which is why I use it on a daily basis.
Jaaxy is easy to use.
It offers a huge amount of training materials and videos.
Free training is available with Jaaxy.
Save yourself some money and join Wealthy Affiliates and get Jaaxy as part of your membership.
2. AnswerThePublic
The AnswerThePublic tool was developed by the team behind Coverage Book. Enter your keyword, click on "Get Questions" and the funny guy will come up with lots of suggestions. It gives you suggestions under the headers of Questions, Prepositions, Comparisons, Alphabeticals and Related.
The quality of what you put into AnswerThePublic will dictate the quality of what you get back.
It is based on a wheel and you can view it in either Visualisation or Data mode: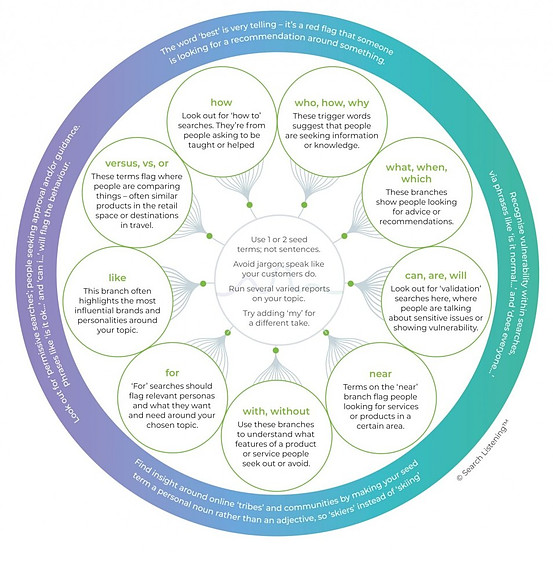 Once again I did a search for recycling plastic, and these are some of the suggestions: Here you can see it in the Visualisation mode:

There are different spokes or branches on the wheel and you can delve down deeper into each one of them. Below is the "questions" section that you can see in the Data mode.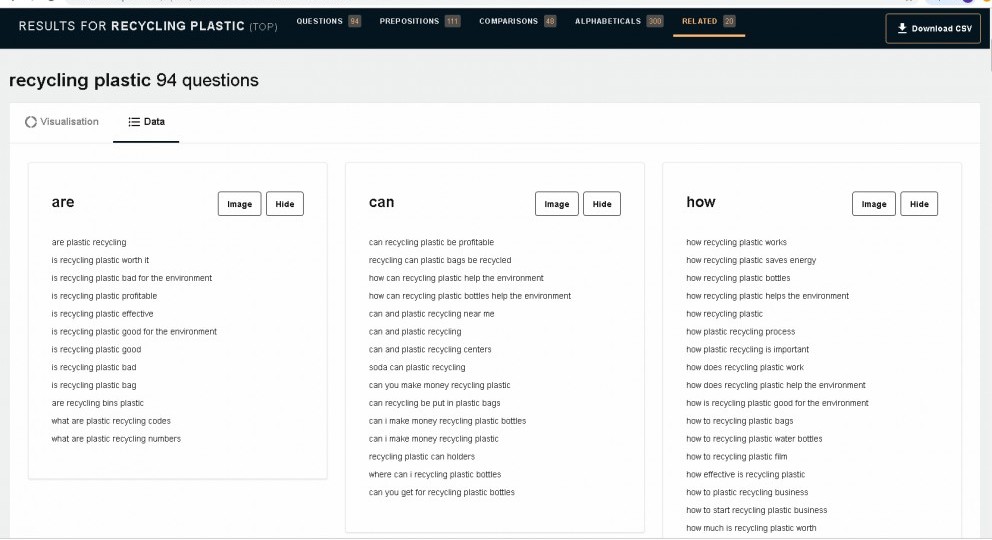 Questions: suggestions with words like how, when why, who, is/are, can, where, which, will, what
Prepositions: suggestions with words like with, without, for, to, near, can, is
Comparisons: suggestions with words like vs, like, and, versus, or
Alphabeticals: these give you lists of your keyword together with all the letter in the alphabet. This is the same idea as Alphabet Soup that you get with Jaaxy.
The suggestions at the top of the list is in bright green and are the most popular, with the light green at the bottom of the list the least popular.
And then there is a Related where you get suggestions with words or phrases that are related to your keyword.
Is there a Cost to AnswerThePublic?
You can get AnswerThePublic for free, or upgrade to the Pro version for $99 per month.
The free version will give you three free searches per day.
The Pro version has many features that are not available with the free version. Pro-plan gives you:
Unlimited daily searches
Language or location based results and you can choose the region and language for your search results.
You can compare the results for the same term or section between dates, so can see what is seasonal and trending.
Export higher resolution images of the wheel.
Delete irrelevant terms and sections.
Reports can be saved.
Unlimited team members.
You receive priority customer support.
Pros and Cons of AnswerThePublic
I like the fact that you get a huge amount of suggestions with your keyword. But if you only have the free version, you cannot save it. So you will have to make notes all along.
I don't like the guy on the home page, I personally find him creepy. You can however get rid of him if you have the Pro version. I tend to type in my keyword VERY quickly, so that I don't have to look at him.
You get an idea as to which keywords are popular, but I prefer Jaaxy that tells me exactly how many people are searching for my keyword and the amount of competition that my keyword has.
So although AnswerThePublic indicates which keywords are more popular, you don't know how many people are searching for it or how big your competition is. This brings me to the next free keyword search tool namely UberSuggest.
3. UberSuggest
The brand UberSuggest was bought by Neil Patel, so sometimes you will see it under his name. UberSuggest helps you generate keyword ideas for creating content. It generates an unlimited amount of suggestions for free.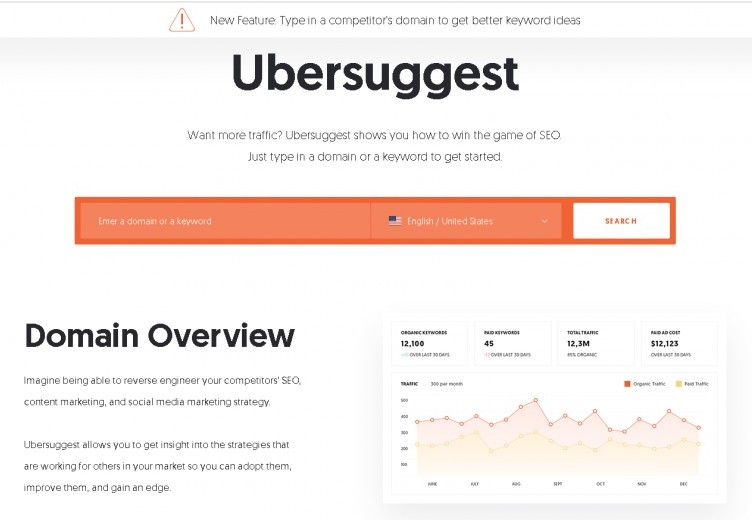 With UberSuggest you can track up to five websites and up to twenty five keywords per website. Although UberSuggest does not have all the features that you get with Jaaxy, it is one of the best keyword tools for free.
You can do a variety of keyword research-related activities such as, understand estimated monthly searches for a keyword, estimate website traffic potential, find other keyword ideas, see other websites that rank for those keywords, etc. So this is very good to see what your competition is doing and why is SEO important to your website.
Please remember though that the UberSuggest features are limited, so there is only so much research you can accomplish with this tool. There are also no features for saving, so you will have to manually track your keyword research in other tools.
What is The Best Keyword Tool for Free?
My first choice would be Jaaxy as it is the most comprehensive keyword tool.
AnswerThePublic gives you some great longtail keywords, but you will still need a tool to find out how many people are searching for your keywords and how much competition you have.
If you are going to use a completely free keyword tool, UberSuggest is the one that I would recommend, but remember you have many limitations with it.
I hope this has answered your question about the best keyword search tool for free and also why is SEO important to your website, but if you have any questions or comments, please leave them below and I will get back to you.