Isagenix is one of the latest diet fads, but can you make money with an Isagenix Business? Isagenix is a Multi Level Marketing (MLM) company that sells dietary supplements and personal care products. This is not an Isagenix product review. Instead, we will look at what is Isagenix MLM and how to make money with Isagenix. If you become an Isagenix distributor, can you earn an income with an Isagenix compensation plan?
You may be wondering will Isagenix be your escape from the 9 to 5 grind? I can already tell you that an Isagenix business is not a good way to earn passive income. You can see my top recommendation as an alternative and where I will help you get started.
If you are looking to make a stable income, then Isagenix is probably not a smart choice.
What Is Isagenix MLM?
Isagenix International LLC was launched by John Anderson, Jim Coover and Kathy Coover in 2002. Their home base is in Gilbert, Arizona.
It is a private company that sells dietary and energy boosting supplements through Multilevel Marketing (MLM). So, if you were wondering is Isagenix an MLM company, yes they are an MLM in the health and wellness niche.
The products can be used to lose weight, build muscle, improve your health and live a healthier lifestyle. Their biggest market sector is weight loss.
The MLM business model is built on recruiting people, who will almost inevitably lose money. If you like health and wellness products, you can promote it through affiliate marketing where you are not limited to selling and promoting the products from just one company.
Should You Start An Isagenix Business?
MLM is an outdated business model, especially with so many other online opportunities available these days.
Operating a MLM business can be far more time-consuming and expensive, than most people realize.
Evidence shows that 99.6% of people that join a MLM company, will actually lose money.
A MLM strategy only benefit those at the top of the pyramid. MLM companies let anybody join and then encourage you to recruit more. You constantly have to recruit and sell or use the products.
MLM's cost you money and damage relationships. If a friend recruited you and you end up leaving, it affects their earnings.
I worked for a MLM company, Usborne Books, and I know how difficult it is to make money if you are not continuously recruiting. And the stress and anxiety associated with override commissions that you need, is not worth it.
I switched from MLM to affiliate marketing and I can help you with starting free.
Isagenix Product Review
Dietary and energy boosting products are available in a wide range of protein shakes, meal replacement shakes, snacks, meals and anti-aging skincare.
The meal replacement shakes claim to help your muscles grow and lose weight. Also, have supplements and shakes to "cleanse"
The official company website says their ingredients and products are backed by science and research.
However, we had trouble finding scientific evidence that their products are safe and effective on people. All the trials they have done, appear to have been in vitro, or on mice, not on people.
Most popular product is their 30-day system, called their starter pack. Weight loss basic pack starts at US$269. On top of that, you pay sales tax. Shipping is an additional charge, and on average it is $14 extra.
Isagenix is available on Amazon, thus making it even harder for you to sell the products. There are natural products, like CBD, that can be used for losing weight, while also combatting stress associated with weight loss.
Isagenix products are not FDA approved. But as we said, this is not an Isagenic product review. Instead, we will look at an Isagenix compensation plan and see if it is worth the effort to become an Isagenix distributor and build an Isagenix business.
Become An Isagenix Distributor
Before you can become an Isagenix distributor, you have to become a customer. You can buy Isagenix products through an Isagenix associate and pay full retail price. However, you are encouraged to open your own account and enjoy discounts of up to 15% off suggested retail prices.
To become part of what is Isagenic MLM network, you need to register as a preferred customer. You have to build a network of people that are buying, using and reordering Isagenix products. Below you have the options.
Preferred customers do not participate in an Isagenix compensation plan. In order to become an Isagenix distributor, you need to buy a pack and prices start at US$269.
Before we explore an Isagenix compensation plan and how to make money with Isagenix, we will clarify terminology used by Isagenix.
Isagenix Terminology
As with many other MLM companies, like Herbalife, Amway, Avon, Young Living and Pampered Chef, there are terms associated with the compensation plan and earning calculations.
Business Volume (BV): Each commissionable Isagenix product has a point value assigned to it. BV is used to track and measure product sales, as well as calculate commissions.
Personal Volume (PV): This is the combined BV of

Your personal orders, purchased directly from Isagenix. These products can be for personal use, or resold to retail customers.
An associate's retail customers can purchase through the associate's personal website, and it will count towards the personal volume.

Group Volume (GV): This is the total business volume of all purchases in an associate's downline.
Personally enrolled members are customers or associates that you have helped to open an account with Isagenix. They are assigned a place on either the left sales team, or the right sales team of your Team Placement Tree. (as illustrated below)
Team Placement Tree: This is the organization structure that Isagenix uses to track enrollments and orders of all customers and associates. It is used to collect and pay commissions and bonuses. It is also used to determine rank qualifications within an Isagenix compensation plan.
Paid As Rank: Based on the associate's PV, the BV of personally enrolled team members and the number of personally enrolled team members, the associate qualifies for a rank on a given day.
Active status: You must remain active to receive commission payments, other than retail profits and product introduction bonuses. Your active status is determined by you meeting the qualification requirements in the 30-day period immediately preceding.
To be considered active, you must personally generate a minimum of 100 Personal Volume (PV) in the 30 days prior. This can be through placing personal orders, or through orders on your personal Isagenix website.
If you do not remain active, you don't receive any commissions or bonuses. So in order to remain active and get paid, many Isagenix reps place personal orders in the hope to sell it later.
Overview Of An Isagenix Compensation Plan
What is Isagenix MLM has a binary structure, similar to that of Usana health sciences MLM, meaning you build two legs. New recruits are placed either in the right, or the left sales team.
The main compensation is through purchases from those in your team or marketing organization. There are five ranks that you can strive for when you become an Isagenix distributor.
Associate.
Consultant.
Manager.
Director.
Executive.
Each rank comes with certain privileges and benefits.
If you are looking for an opportunity to earn good money, it is unlikely you will find it with Isagenix. You are better of looking elsewhere and this is my no.1 recommendation.
But let's have a closer look at the steps in building an Isagenix business and see if it is a good opportunity to earn a living.
Build An Isagenix Business
These are the rank qualifications and benefits of what is Isagenix MLM:
Step 1 Become an Associate: If you are not yet a customer, you will have to contact an Isagenix associate to get you started. Once you are a customer, you follow the instructions online to become an associate. As an associate, you get your own personal website, where customers can place orders. You can earn retail profit, retail direct profit, product introduction bonuses and accumulate group volume. However, you need to qualify as a paid-as consultant, before you will generate team bonus cycles. More about this below. Your earn a rank advancement bonus.
Step 2 Become a Consultant: You have to recruit and build a team, to become a consultant. To become a consultant, you need to have 100PV, as well as maintain a minimum of 100BV from your personal recruits on both the right and left sales teams. This needs to be in the 30 days prior as illustrated below:
You earn a rank advancement bonus of US$50/CA$55. If you help your personal recruits to become a consultant, you can earn US$100/CA$110, for up to 20 personally enrolled associates. This is where you can start earning team bonuses (or cycles). To earn a team bonus (or cycle), you need to accumulate a minimum of 600BV on one side of your team sales, and at least 300BV on the other. A cycle equates to about US$54/CA$60. Cycles are calculated daily and paid weekly. You could earn multiple cycles every day, up to 250 cycles in a week.
Step 3 Become a Manager: To qualify as a manager, you need to maintain your own status of paid-as consultant. At the same, during the prior 30 days, you need at least 2 personal recruits who are also paid-as consultants. Once again, you can earn a promotional bonus.
Step 4 Become a Director: You need at least 6 personally enrolled associates, before you can become a director. During the prior 30 days, you have to maintain your status as a paid-as consultant. At the same time, at least 6 personal recruits, also need a status of paid-as consultant. Again you can earn a promotional bonus and are eligible for the director pool promotion.
Step 5 Become an Executive: To qualify as an executive, you need a minimum of 10 personal recruits, who were paid-as consultants in the 30 days prior. You need a minimum of 5 personal recruits in each of your sales teams. And as always, you have to maintain a status of paid-as consultant yourself. You have the chance to earn promotional bonuses, and benefits and earning options are available to directors. It then gets very complicated with re-entries and matching team bonuses. If you are curious to know more, it will help you to look at an Isagenix compensation plan on the company website.
Step 6 Platinum Rank: If you are an executive that qualifies for re-entry, you are awarded platinum recognition rank. This is the top rank and comes with additional benefits.
Special incentives and promotions are offered and include free products, travel awards, cash bonuses and more. Bonuses do change.
So, let's have a closer look at an Isagenix compensation plan and see how you can make money with them.
How To Make Money With Isagenix
Isagenix, like other MLM companies, offer you several ways to earn money:
Retail profits: Order products directly from Isagenix at a discounted price. The discount is approximately 15%, which is one of the lowest in the industry. This can be for personal use, or for reselling. You get the difference between what you paid for the product, and what you sell it for.
Retail direct profits: If you direct customers to order products directly from Isagenix through your personal website, you will earn the retail profit. These retail profits are paid weekly and is calculated by subtracting the wholesale price, as well as an admin fee. Excuse me please. You brought them the sale, and now you have to forfeit some of your earnings through an admin fee?! I would not be happy with that. Although the business volume is treated as your personal volume, any volume that is more than 100 PV, will be credited to the minor volume sales team. Additional team business volume will then be generate. It may help you to read more details on the company website.
Product introduction bonuses (PIBS): This is a bonus that can be earned by sharing qualified "packs" with new members and encouraging them to add it to their first order.
Team bonuses: Isagenix calls this the foundation on an Isagenix compensation plan. Through sales in your team, you can earn team bonuses. You need to be a consultant or above, to be eligible to earn team bonuses. To qualify, you need to accumulate at least 900 BV in group volume (GV). But, this needs to come from both sides of the sales teams, not just the one. So, a minimum of 300GV must come from one side (called the minor volume sales team) and 600 GV from the major volume sales team. You can then earn a team bonus, also called a cycle. As an associate, you can earn up to 250 cycles per week.
Executive matching bonuses: If you are an active executive, you may be eligible for a 10% matching team bonus.
Incentives and promotions: From time to time, Isagenix may offer additional incentives and promotions. This is to encourage and reward you for sharing Isagenix products with others.
Some popular incentives and promotions include rank advancement bonuses, leadership pools, IsaBody challenges and the IsaDerby contest.
How Much Can You Earn With Isagenix?
Most distributors earn very little according to the company's income disclosure. Their compensation plan is so convoluted and confusing, that it is almost impossible to work out how much you can earn.
As with most MLM companies, your earning potential is pretty dismal. According to the earnings disclosure statement, average annual earnings during 2020 was $843, before any expenses.
Although they don't make any promises of income, like many MLM's they make it appear to be easy and possible, to earn good money.
Many MLM companies try to hide the real earnings (or loss) potential of their recruits. Most recruits actually end up losing money if they factor in their expenses.
As you can see below, Isagenix do warn that "even Associates who dedicate a significant amount of time, effort and personal funds, may not achieve a meaningful level of success".
Isagenix has what they call an Isawallet, which is automatically set up when you earn your first commission. You have to pay £5.99 for their own "online wallet", so you have to pay Isagenix, to get paid.
What I like About Isagenix
Varied product range.
They have an A+ rating from the BBB.
Flexible working schedule. You decide how much or how little you want to do. It can be part-time or full-time, weekends or evenings only.
Advancement opportunities. You can advance to higher positions by recruiting people to join your team and selling more.
Commissions are paid weekly.
What I Don't Like About Isagenix
Statistics do not lie. Less than 1% of people make a full-time income with a MLM company.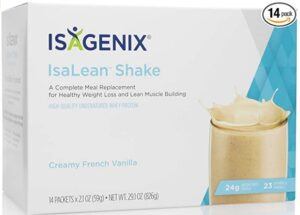 People are selling "health" products without any health or nutritional knowledge.
An Isagenix class action lawsuit has been filed by about 500 associates. Because of a secret Amazon and eBay sales racket, participants paid more than the fair market value for Isagenix products. Thus, they lost money.
Lousy commission rates.
You pay your own expenses. If you subtract your phone bills, internet costs, travel expenses and other costs, your commission can quickly shrink to nothing. Or even leave you with a loss.
You pay a fee for your associate application and pay $29 per year to be part of Isagenix.
Is Isagenix A Good Way To Make Money?
No, I do not think it is. If you want to promote dietary supplements and beauty products, you can do it with affiliate marketing. You will not be tied to just one company, but instead can promote several brands.
MLM is old school tactic. You are advised to sell to and recruit family members, friends, acquaintances, neighbors, parents at school etc. And eventually you run out of contacts, or they are so fed-up with you flogging Isagenix, that they don't want to see you.
Most associates earn very little according to the company's income disclosure.
Best Alternative To MLM
What is Isagenix MLM is a legitimate company offering income opportunities, but don't expect to earn passive income.
My no.1 recommendation for starting your own business, where you'll get great training, 24/7 support, a website, hosting and incredible tools. Plus I am here to help you.
Create a free starter account to see if it is a good fit for you.
If you have any experience with how to make money with Isagenix, please leave your comments below.