Do you want to attract more customers via social media? Or do you want to grow your online following? Streamline your social media needs with the best social media manager software. Simplify your social management and manage all your social accounts from one place with Crowdfire social media tool.
Since the advent of social platforms, every individual, product, brand and business has at least one social media account. It has become the main channel for many businesses to connect with customers and engage with your targeted audience.
You need a reliable and easy-to-use social media management tool if you want a better ROI on your social media marketing campaigns. You can get social media manager software free, so we will look at free social scheduling tools, as well as paid plans. Crowdfire is a tool that can help you to manage and automate your social media marketing tasks.
But, do you know the best way to manage your social accounts? Do you know the secret to creating engaging posts to get followers and conversion? This is where Crowdfire can help you. But what is Crowdfire about?
What Is Crowdfire About?
Crowdfire is a good social media management tool that can help you manage and schedule social network content. The social media scheduling app helps you to share content in an easy and robust way. It allows you to schedule your social media posts across all major social platforms.
Boost seamless integrations with Facebook, Instagram, Pinterest, Twitter and YouTube. Crowdfire also integrates with WordPress and Twitch.
Crowdfire is the first social media management app that supports posting to TikTok. With the rapid increase in the popularity of TikTok, it is great to see that the platform is included.

You can use Crowdfire to post to virtually every major social network, as well as sharing material from a surprisingly large selection of blogging platforms, online shops and YouTube and Twitch video site.
So, if you want to grow your online presence, Crowdfire will most likely have the tools you need. Crowdfire is good for social media managers, brands and agencies, enterprises, startups and individuals.
Crowdfire has a strong emphasis on scheduling content across your social channels, at the most suitable times. One of the greatest benefits is the ease with which you can post a wide range of content across all your social sites.
It also curates content, which makes it a no-brainer when sharing content specific to your niche.
Apart from handling the scheduling and posting, Crowdfire also produces reports and analytics, to get a better idea as to which content types and campaigns do the best. These are features that are not available with free social media managing software.
Watch this video to see what is Crowdfire about.

Now that you have seen what is Crowdfire about, let's take you inside the best social media manager software.
Inside Crowdfire Best Social Media Manager Software
The process to sign up is similar to other social media marketing platforms and you can use your social media accounts to make it easy and simple.
Once you are logged in, you start by setting up your social profiles. You also have a second group of connections to connect to your blogs, online shops, YouTube and Twitch channels.
These are the places where you will want to share content.

If you have a WordPress blog that is operated as a WordPress.com site, you choose the "WordPress Blog" option. But, if your website is hosted by another website host, like BlueHost, Hostgator or GreenGeeks, simply select the "Blog" option.
Content creation is one of the strengths of Crowdfire and you will find it as the first item in the top menu, together with Content Creation, Scheduling, Analytics, Mentions and Accounts as the sequence.
Within Content creation there are 4 options: Articles, Images, My Posts and RSS and are shown in the left-hand menu. You can select to share content from a series of articles, images, posts and RSS feeds. It can be either your own, including YouTube videos, or curate content.
Your own content is under My Posts and other people's content is under Articles, Images and RSS. You can use all of these to create social posts.
The My Posts section searches for any recent content on your connected blog, online shop and YouTube or Twitch channels. Crowdfire then creates potential social posts for each of your connected social accounts.
The Articles and Images sections are used by Crowdfire to suggest suitable content for you to share. Images can be shared to Pinterest and Instagram. What is awesome here is that you have lots of opportunities to refine your article and recommended images.

The 5th option is to download the Crowdfire Chrome extension, thus enabling you to share virtually any web page that you come across. When you select content you want to share, Crowdfire will recommend articles to you and you can easily modify and customize the topics you want to receive content on.
Crowdfire is not only a platform, they also offer an app, which makes it a powerful tool to attract followers. Now that you've had a broad look at what is inside the Crowdfire dashboard, let's have a closer look at the more specific features of Crowdfire. 

Features Of Crowdfire Social MediaTool
This is how the key features of the social media manager software free and paid plans can help you. Crowdfire boasts a huge list of features and these are the most noteworthy.
Get tailored posts for every social network. Crowdfire automatically customizes your posts for all your social profiles. This takes away the headache of creating separate posts for every individual social network.
Publish content from your own blogs and sites. Quickly create beautiful posts for every update, to easily share on all your social profiles.
Pre-schedule all your content: Queue and schedule all your content in advance and publish them automatically at the best times, thus saving you tons of time and effort. Or you can choose your own times.
You can link to loads of different social media accounts, track mentions and your private messages, all from one place.
Discover relevant content based on your topics of interest. Automatically discover articles and images you can share on your social profiles.
Up your content curation game with tools to help you find relevant and engaging third-party content.
You can track the success of your social media strategies with advanced analytics and reporting.
At the higher subscription levels it has competitor analysis and social listening.
Support for multiple users that need access to one account. This is particularly useful for agencies and teams.
Spy on your competition with tools to help you monitor their performance.
Android and IOS apps are both available. Thus, manage your social media accounts from wherever you are, so great if you are on the go.
As with most social media manager software free plans, these features are not all available at all the pricing tiers. These are the details of features that are not available with free social media managing software.
Features Not Available With Social Media Manager Software Free Plan
Crowdfire will select the optimal posting times for your audience. You simply add your scheduled posts to your queue. However, if you know your social audience well, you may want to select your times for each social network.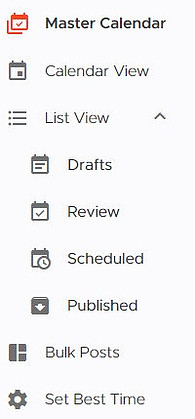 Thus, you have the option to manually set your own best times. This can be done day by day and for each network. Your Queue Meter tells you the number of posts you can make in the following 7 days.
You can select the amount of daily posts you prefer on each social channel. If your Queue Meter shows a positive number, you know you have additional posts you can share.
The Unified Calendar of your upcoming posts is only available with the higher price plans. It will show if you haven't created content for particular days.
The Bulk Scheduling feature is a great benefit if you make many posts that aren't just links to existing content.
Analytics: this gives you a clear indication of your social success. Depending on the plan you select, stats for yesterday, the last 7 days or the previous 30 days can be shown. However, the overview is fairly basic.
The Advanced Analytics section gives you more options for setting dates, as well as a broader range of stats. It also shows graphs of some key statistics.
Competitor Analysis and Custom Report building are not available with the free social media managing software. If you want to understand the performance of your posts, custom reports could be useful for you.
Mentions is a social listening tool that helps you keep track of the amount of times your business or account is mentioned in social postings. It is also only available with the higher plans. Although it is not as in-depth as some other tools, it is helpful if you want to keep an eye on things.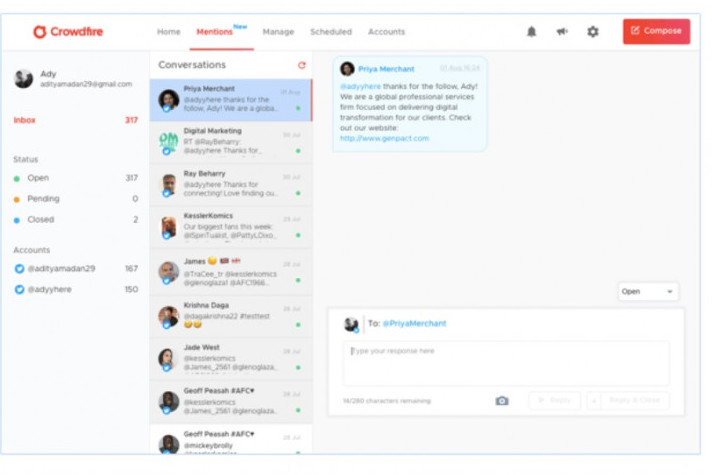 So, let's find out what the best social media manager software from Crowdfire will cost you.
Price Plans
Crowdfire has undergone a complete overhaul and only offers features and services that are compliant with standards set by social media networks. The suite of features are impressive and reasonably priced.
As a SaaS platform, plans are sold on a monthly or annual basis. There are discounts for annual payments.
There are several price plans, including a social media management software free plan, for you to choose from. So, depending on your budget and needs, let's find the package that will best fit your business.

The Free Plan
You will be pleased to hear that there is a social media management software free version available. Using the free social scheduling tools is a good way to get a feel for the software. It is a handy tool for sharing small bursts of content across multiple social networks.
The free version is quite limited, but it does give you the opportunity to try the core features. If you want to use it on a regular basis, it is better to opt for a paid plan.
Unfortunately the free version doesn't give you the full suite of features, so could be limited for your needs. You can for instance only link 3 social media accounts and schedule 10 posts per account. With Missinglettr, you can schedule 50 posts with their free social media managing software.
To access more features, you will need to upgrade to a paid plan.

The Plus Package
The lowest paid plan is $9.99/month or $7.48/month with the annual plan. This is what you get in the Plus package:
You can link 5 accounts per social media network.
Schedule 100 posts per account and have a custom posting schedule.
Access to a Chrome extension to share articles.
Support for video posts.
Recommended hashtags.
You can connect up to 5 RSS feeds.
Support for posts containing multiple images.
Auto tailored posts for each network and you can preview them before posting.
Have an ad-free experience on mobile devices.
Social analytics display 30 days worth of data.
A content curation tool recommends an unlimited number of articles for topics relevant to your audience.
Grow your Instagram and Pinterest profiles with an unlimited number of recommended images.
The Premium Plan
The most popular plan is available at $49.99/ month or $37.48/month, if paid annually. It is best suited for medium-sized businesses and includes everything in the Plus plan, as well as:
Link 10 accounts per social media network.
You can bulk schedule posts and use a calendar view to plan your content.
Connect up to 15 RSS feeds.
Track mentions inside your team inbox for both Facebook and Twitter accounts. You can reply with images and gifs.
Advanced analytics enable you to compare critical metrics for up to 2 competitors per social account.
Create up to 3 custom reports.
You can add and manage one profile.
Add and manage one team member.
The VIP Plan
The next tier of the best social media manager software will cost you $99.99/month, or $74.98/month if billed annually. This is best for agencies and larger businesses. You get everything in the Plus and Premium packages, as well as:
Link up to 25 accounts for each social media network.
You can schedule 800 posts per account. (with Missinglettr you can schedule up to 3,000 posts)
Connect up to 25 RSS feeds.
Access to competitor analysis for up to 20 competitors for each social media account.
Add and manage up to 2 profiles.
You can add and manage 2 team members per profile.
Create up to 5 custom reports.
Access to priority email support.
The Business Plan
This is the most expensive plan at a cost of $399/month or $299.24/month if paid annually. It is best for very large agencies and businesses. You get everything from the Plus, Premium and VIP plans, plus these:
Link up to 50 accounts for each social media network.
Add and manage up to 5 profiles.
You can add and manage 5 team members per profile.
Have access to listening projects, keywords, mentions, and many more listening analytics.
Each plan has a 14-day free trial, to see if it suits your needs. So how can you benefit from the best social media manager software?
What Is Crowdfire About? Advantages
Crowdfire can help you even if you are a social accounts manager. The Crowdfire social media tool can ease your workflow and focus on better strategies.
A social media management software free version is available, as well as a 14-day free trial for all the paid plans.
The plans are reasonable priced compared with some of the competition. The 14-day free trial will help you decide whether it suits your needs to warrant the additional cost.
Automated scheduling suggestions.
Tailor posts in one view for every platform.
The Plus plan is an affordable entry level.
Manage multiple accounts in one place.
Crowdfire social media tool is an excellent piece of software, but there are areas where it can be improved.
Drawbacks Of Crowdfire Social Media Tool
These are the most notable shortfalls and downsides:
It can be a very steep learning curve.
Difficult to link accounts.
Some processes can get unnecessarily lengthy to set up.
Some negative reviews have come from the fact that Crowdfire evolved from a product called JustUnfollow. The main purpose of JustUnfollow was to easily let you follow and unfollow Twitter followers in bulk.
In 2018, Twitter cracked down on the industry and removed access to their API to most of those apps. At that point JustUnfollow changed direction and became Crowdfire, and expanded on their social media management capabilities.
They also broadened their coverage to include other social networks. Thus, although it doesn't pretend to have as many features as some of their competitors, it does its core business well.
Help And Support
Crowdfire has an online knowledge base where you can search for any topic on which you need help.
You can also contact them via email with any queries.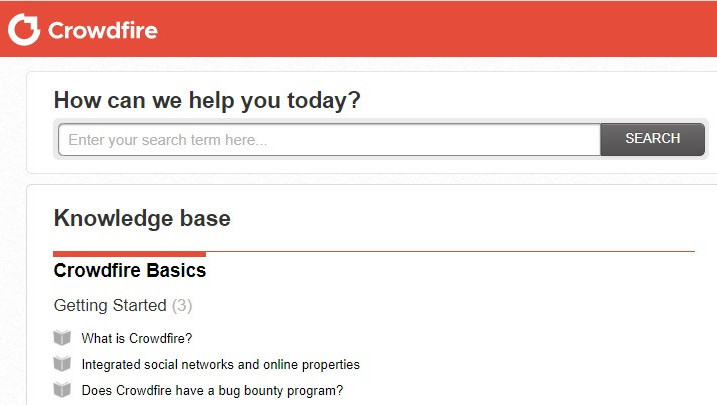 Final Thoughts On What Is Crowdfire About
Crowdfire is a smart social media manager that helps you grow online. Save tons of time by managing all your social accounts from one place. Content is Crowdfire's strong point. Crowdfire does the hard work of finding and sharing content, so you can spend more time creating content and doing better things.
Although Crowdfire lacks some of the details of larger apps, it performs very well with the features they cover. You can connect virtually all of your content channels, including websites, blogs, online stores, YouTube channels, Twitch streams and more.
Crowdfire is continuously looking for new content on these channels and creates posts, suitable for each social channel. I very much like the way you can set optimal posting times for each social account.
You can keep adding content and Crowdfire will distribute posts across your selected times. Other curated content can be intermingled with your own content.
Crowdfire recognizes the importance of images and Pinterest and Instagram are clearly provided for. It has also widened its networks to include newer social platforms, such as TikTok.
Although free social media managing software doesn't include certain features like, social listening and competitor analysis, it is available with the higher plans.

I hope this review has clarified the importance of social media and why you should invest in the best social media manager software that can automate your social presence. If you want to explore alternatives before making a decision, you might find this review on Missinglettr helpful.
If you have any experience with Crowdfire social media manager software free, or paid plans, please leave your comment or questions below.