If you are passionate about wanting to create and sell your own digital products, then Clinkbank University 2.0 is perfect for you. Even though ClickBank is a reputable business, it is only natural that you want to do your own research on ClickBank University 2.0, before you invest your money and time in it. You want to know the pros and cons of the company.
By the time you have read to the end of a ClickBank University 2.0 review, you will know what to expect of this product. It will give you the opportunity to make an informed decision. If you follow the training in ClickBank University 2.0, you will learn how to make money in ClickBank.
A ClickBank University 2.0 Review
Name: ClickBank University 2.0
Owners: Matt Hulett, Justin Atlan and Adam Horwitz
Website URL: www.clickbank.com
Price: $47 / month and $594 upsells + more
Product: a Digital Product and Marketing Training Course
Overall Rank: 90 / 100
What is ClickBank?
ClickBank is an e-commerce marketplace where physical and digital products are sold. It also enables affiliate marketers to find products that they can promote on their own websites or through other marketing techniques.
It is a legitimate company that offers training and courses for those that want to create and promote their own digital products. They have been in business for more than 22 years and have an accreditation with Better Business Bureau with an A+ rating.
ClickBank University was created to provide you with a reliable and trustworthy source to launch a ClickBank based business. ClickBank University was first launched in 2013 and in 2016 it was updated to ClickBank University 2.0. ClickBank is a popular platform for both affiliates and vendors, where you can create and grow an online business.
Version 2.0 is a major upgrade and includes the latest up to date strategies, methods and tactics to build your ClickBank business.
ClickBank University 2.0 at a Glance
In a nutshell, this is what you get when you join ClickBank University 2.0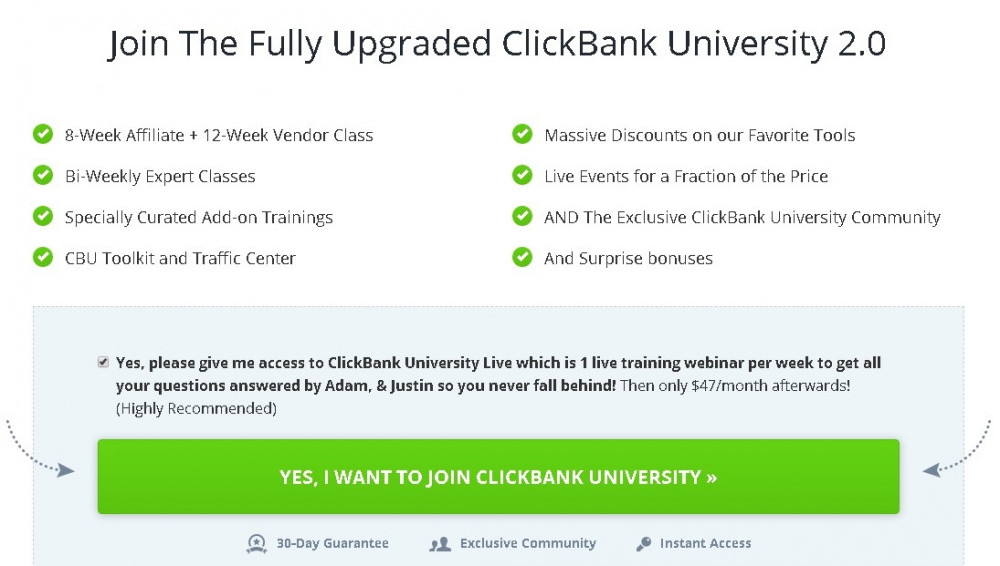 8 week Affiliate training course
12 week Vendor training class
Bi-weekly expert classes
Specially curated add-on trainings
ClickBank University toolkit and traffic centre
An exclusive ClickBank University community
Massive discounts on Tools
Pay a fraction of the cost to attend life events
Surprise bonusses
A more in depth look at ClickBank University 2.0
ClickBank University 2.0 consists of video courses, that step-by-step, take you through the training. Through the training, you can become an affiliate marketer or learn how to create your own digital products. You will also learn how to make money in ClickBank.
There are two separate training tracks, namely
ClickBank Affiliate Mastery for Affiliate Marketing which gives you the opportunity to promote other people's products
ClickBank Product Publishing for Vendor Training which will teach you how to make money by creating your own products and promote them on ClickBank.
Both these tracks can be lucrative. You can combine the two routes to make a passive income, or just follow one of the routes.
1. ClickBank Affiliate Mastery
8 weeks Affiliate Track training for Affiliate Marketing –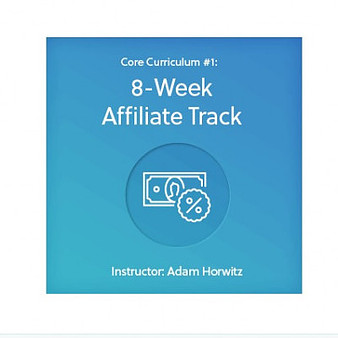 this is for people that want to make a passive income promoting other people's products.
This course is being taught by Adam Horwitz and is being advertised as the quickest path to initial success. It is great for those that are:
just starting the journey to make money online,
haven't generated loads of money on the internet yet,
don't want to create a website or a product
Adam was only 20 years old when he made his first 6-fugure amount of money. He was promoting products by using other people's videos on You Tube.
He will show you how to leverage the power of the internet and generate millions as an affiliate on ClickBank.
So training for Affiliate Marketing is available, although the coursers and materials on this is limited. There is a high-ticket upsell that is not made clear to you at the start, so beware of that. My top recommendation for creating an Affiliate Marketing Business, is Wealthy Affiliate. This is where you can read my review on them.
2. ClickBank Product Publishing
12 week course for Vendor Training. This is a detailed course and is presented by Justin Atlan. The topics that are covered here include:
How to research a profitable niche in which to create products.
How to create digital products that are in demand.
How to create profitable landing pages,
How to create great customer avatars,
How to create a profitable sales funnel,
Learn how to drive traffic to your landing page through marketing techniques,
Getting traffic to your money making landing page,
How to get Affiliate Marketers to promote your products,
Continue to scale your ClickBank business,
and much more .
ClickBank Product Publishing is perfect for those that want to:
run a full-blown information publishing business,
ratchet up your success to the next level,
leverage ClickBank's massive affiliate network.
The step-by-step training is presented on a weekly basis through videos and PDF files. The PDF's mean that you can read the training while you are following the videos.
My personal opinion is that this program seems to be overpriced for what it is.
Additional Products
These products are all upsells and have different levels of pricing.
ClickBank Builder 2.0
If you want to create websites and blogs that look great, then this is a valuable tool. It consists of a multitude of templates which you can drag and drop.
Cost is $594, which you could do in two payments of $297 each. This gives you lifetime access to ClickBank Builder 2.0
Because this is a tool that was specifically created for ClickBank, it makes it easy to integrate and customize with your ClickBank products and offers.
ClickBank Builder is the main focus of the ClickBank University 2.0 training. Without this tool it would e difficult to follow the training. So although this is not compulsory, as a beginner you will have to buy it.
You have to use ClickBank to host your website if you use ClickBank Builder. This means an additional annual cost. It is also then difficult to move your website to a different hosting platform.
ClickBank Toolkit
Extra tools that you will have to buy include, e-mail service provider, website domains, tools for social media and more. Each of these resources have an additional cost and many are essential for creating and running an on-line business.
This consists of "how to" PDF's, videos, stater guides and checklists for technical providers, essential services and special deals.
You'll be learning all the tricks and short-cuts, thereby saving money and time.
Traffic Centre
Learn how to generate almost unlimited traffic and clicks.
Inside ClickBank University 2.0 are easy to follow video tutorials that teaches you all the latest in traffic training.
You will learn how to get traffic to your own offers and those that you promote.
Whether you choose to become and Affiliate or a Publisher (vendor), this is essential for you to success.
Exclusive ClickBank Community
A private ClickBank University 2.0 Facebook community connects you with like-minded people. 
They are there to inspire and encourage you to reach your financial goals.
Bi-weekly Expert Classes – every fortnight ClickBank will bring in successful people that are role models, to show you how the training works in action. This is to inspire and encourage you.
Special Curated Add-on Training – this is to help you in a specific marketing area. Training in targeted strategies are available. This ranges from copy writing to video marketing to Facebook marketing. Experts in specific areas are brought in to present these trainings.
Live Events – As a ClickBank University 2.0 student you can attend private live events. These events are reserved for those people that have a special relationship with ClickBank.
Developing and building a Mailing List is the most expensive part of getting started as a ClickBank Affiliate. Although it is not essential, it will certainly help you in the long run. That way you can stay in touch with people and send them updates about your products and brands.
Who is the product for?
This product is perfect if you want to create and market your own digital products. By selling your digital products on the ClickBank platform, you can make a passive income.
Weekly webinars taking the form of a Question and Answer session provides you with further support and training. There is also a private Facebook Page which is active and provides you with another forum for support.
Their mission is to grow you into a highly successful ClickBank Marketer.
The Good and the Bad –
What I like about them
ClickBank is a reputable and legitimate platform that is used by thousands of on-line marketers.
It is possible to make a good income.
ClickBank University 2.0 offers great training and the best place is directly with ClickBank. The founders, who are the owners, have themselves made millions with ClickBank, so get training from the experts.
There is a 30-day money back guarantee. This makes it a risk-free investment. Although there is not a free trial available, if you are not happy within thirty days, then a full refund is available.
Great support is available through a private Facebook page.
Weekly live webinars with Adam and Justin offers more support and training.
The weekly webinars focus on Questions and Answers, and it is recorded so that you can watch later and always return to it.
What I don't like:
Building a website with authority is not a priority. If you are promoting your own digital products, it is important to have a solid foundation in order to build a strong brand.
ClickBank University 2.0 is an expensive platform.
The training is sometimes locked, so it can be difficult to go through the training at your own pace, as you have to wait until the modules have been unlocked by ClickBank University 2.0
You only get training about Paid Traffic. How to get Free Traffic is not covered in the training.
The platform is primarily focused on vendors, so if you are interested in Affiliate Marketing and getting training on that, then join Wealthy Affiliate.
Final thoughts on ClickBank University 2.0
If you are interested in creating your own digital products, then this platform gives you the training and tools to succeed. I would certainly recommend it for that. ClickBank University 2.0 is NOT a scam. It is very much a legitimate and reputable business. It is not the best platform though if you want training for Affiliate Marketing.
ClickBank stands 100% behind ClickBank University and they are confident that you will be thrilled with the training. In the unlikely event that you are not satisfied with the training, you can request your money back.
I would highly recommend Wealthy Affiliate for Affiliate Marketing training and it will cost you far less than ClickBank University 2.0. Wealthy Affiliate will provide you with successful training and support, website hosting, SEO training and tools and much more.
If you want to know more about the platform and community that I am personally active in, then read my review about Wealthy Affiliate here.
ClickBank at a glance:
Name: ClickBank University 2.0
Owners: Matt Hulett, Justin Atlan and Adam Horwitz
Website URL: www.clickbank.com
Price: $47 / month and $594 up sells + more
Product: a Digital Product and Marketing Training Course
Overall Rank: 90 / 100 – the only reason why I don't give it more, is because of the cost and the inadequate affiliate marketing training.
Verdict
I hope that a ClickBank University 2.0 review has proved to you that it is certainly NOT a scam. If you join ClickBank University 2.0 you will also learn how to make money in ClickBank. You can feel confident that when you invest in the training, you will be rewarded with good results.
ClickBank supports Pencils of Promise, which runs programs to educate more children. A percentage of each purchase is donated to Pencils of Promise.
This is a fabulous site where you can pay less to learn all about affiliate marketing.
If you have any questions about a ClickBnk University 2.0 review, or suggestions of how to make money in ClickBank, then please leave them below.