I was invited to join Prosperity of Life, but alarm bells started ringing for me when I investigated them further. I was dubious that they are actually a pyramid scheme, which made me feel very uncomfortable about signing up.
In this brutal review of Prosperity of Life: is it a scam or real, I will break down the company, their products and costs and your compensation plan. I will also look at what I like about them and what I don't like, so that you can make an informed decision for yourself whether it is a scam or real.
Name: Prosperity of Life
Owners: Shane and Rachel Krider
Website: https://www.prosperityoflife.com
Price: nearly $28,000 in total with upsells, plus $153 ongoing monthly costs
Prosperity of Life – who are they?
Prosperity of Life is a network marketing company involved in self-improvement, personal development and wealth creation. They talk about life coaching that will transform your life, together with team building. If you join them, they promise that you are getting a complete business in a box.
The owners are Shane and Rachel Krider (a husband and wife team) and the co-founder is Gregory Strom. The business is now based in Phuket, Thailand.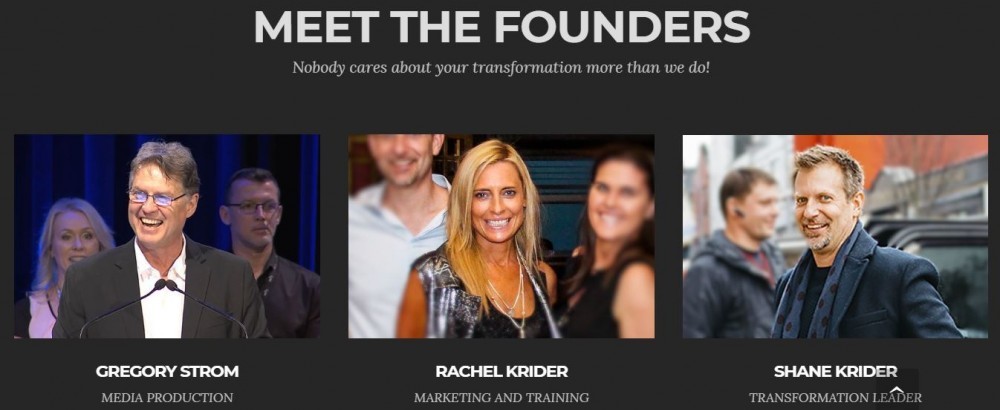 Shane is the lead transformation coach, Gregory is the media and content producer and Rachel is the business building coach.
Shane Krider also started Liberty League International, which in 2009 was declared a pyramid scheme. When he was forced to close Liberty League International, he started Prosperity of Life, which is almost exactly the same as Liberty Leaugue International was.
====> Click here if you want to see my personal recommendation for the best alternative now <====
But let's take a look at their products and compensation plan that you can decide for yourself if you want to join this pyramid scheme in disguise.
Their Products – master of destinies coaching training
The 17 Day Personal Prosperity System is described as being an intensive crash course, whereas the Master of Destinies is the plan that will give you the "bigger picture".
Master of Destinies is the backbone of Prosperity of Life education and comes in four modules or packages: M1, M2, M3 and M7.
So let's have a closer look at what each module consists of:
M1 is the first module and includes the first four stages namely 1) Know for yourself, 2) Departure, 3) Decision and 4) Action, together with recordings from the first three live seminars. M1 is a robust, twelve months, home-based digital course that is supposed to lead you to greater success and higher achievements throughout your life. It is regarded as a course to be taken over a full year. The cost: $2,285. 
M2 Sovereignty Live is an intensive wealth creation masterclass which is now a five day seminar (it used to be a three day event). Currently two live events are held per year and the cost is $7,950.
M3 Influence Live is an intensive masterclass on concepts of advanced personal development and coaching techniques. It is now an eight day seminar (previously five days) and is also held twice per year at the astronomical cost of $12,950.
M7 is the recorded content from additional M2 Sovereignty Live and M3 Influence Live seminars which will set you back $4,590.
Then, apart from the ridiculously expensive products that you need to buy yourself, you also need a Starter Kit at $49.95.
In addition, there is a monthly cost of $153 that you have to pay. This gives you access to Lead Manager, Conference Call System, Lead Vortex Pro and Online Business Manager.
Other far more well respected personal development coaches sell their training for far less, than these over-priced events.
If you want to have 7 days FREE access to on-line training to build your own website and learn how to make a passive income, then click here.
Three ways to participate:
Lead by being a Network Director: This has the potential for maximum earnings by doing three things:

Selling courses or training and seminars.
Recruit new members to your network to also sell.
Enrolling business or life coaches.

Teach by being a Life or Business Coach will concentrate on person-to-person transformation.
Learn by being a Student or Client where your priority is your own transformation.
So what is Your Compensation?
There are three profit centers:
Big upfront profits and bonuses.
Leveraged income.
Residual income.
Profits and bonuses range from $500 to $8,000 per sale. These are the commissions that you could potentially earn
M1 Master of Destinies – $1,828 commission
M2 Sovereignty Live – $5,000 commission
M3 Influence Live – $8,000 commission
M7 Recordings – $3,672 commission
M7 Fast track – $5,000 commission
Wow, that is a huge amount of commission that you can earn with each sale.
But, there is a TRICK!
To be able to get these commissions, you have to fulfill certain criteria.
You need a "recruiter" or "sponsor" that introduces you to Prosperity of Life. When you request "more Information", you have to provide a telephone number and a time that you can be contacted. It is only after a telephone "interview", and if you have "passed the test", that you will be sent any information.
After joining Prosperity of Life, you need to start recruiting and get more people to join at these hugely inflated prices. The commission from the first two sales that you make, will be passed up to your sponsor. These two sales are your qualifiers and you have to qualify at every level with every product.
So yes, at every level or stage, the first two courses that you sell, that commission will go to your recruiter.
If you don't buy the products yourself, your recruiter will earn the huge commissions. To advance in the company, you will have to attend the events, at a cost of several thousand dollars to yourself for each seminar or event. Every member has to qualify at every stage.
So say for example that somebody that you have recruited, buys M1 (and you have already passed up two sales), then you will get $1,828 commission. If that person continues and buys M2 before you have bought it, then the commission of $5,000 will go to your sponsor.  Yes, you HAVE to buy the product yourself and pass up two sales, before you will earn the commission for the product. Prosperity of Life, is it a scam or real? It is certainly a rip-off in my eyes.
Who is the product for?
Anybody that has several thousand dollars just sitting in your account or burning a hole in your back pocket.
What I like about Prosperity of Life
Personal development and well-being are very closely linked to wealth creation and financial prosperity. The programs will give you ideas about self-development.
Prosperity of Life do give you useful training on advertising, both free channels and paid strategies like Facebook and YouTube.
What I don't like about Prosperity of Life
It is almost impossible to sell the products because of the high costs involved. So who makes the money ? THE OWNERS.
The only way you will make money with Prosperity of Life is to continuously recruit new people to also buy their over-priced products.
You have to buy the products that you want or need to sell yourself.
The products are extremely expensive.
They are not "upfront" with their product or information – so what are they trying to hide?
I was told that I will have to spend a minimum of €600 per month on advertising, but realistically it would be more than a thousand euro's per month to have any effect.
You need to spend a lot of time on the telephone to follow up the leads that you then get from your advertisements.
So more costs for all the international calls you will be making.
Very pushy and overly positive sales videos.
Behind the Scenes is their publicity material and it includes a lot of case studies, showcasing exotic locations, people telling you how much they are making, and flashy lifestyles to entice you to join.
My Personal Opinion
Personal development is beneficial, but it is the way in which Prosperity of Life is doing it, that had alarm bells ringing for me. They do have a product – on-line courses and events, but the only way in which you can earn with them, is to continuously recruit and bring new people into the company. Personally, to me, that is pyramid selling in disguise. 

The secrecy surrounding it all when you respond to the "Learn More", they don't send you the customary email with information. No, you have to give them a time that they can call you and discuss it all. It made me very suspicious about the product and I was wondering what are they trying to hide.
You almost get "interviewed" to establish whether you are "good" enough for them and if you will "fit in". You have to answer the questions correctly before they send you more information.
It worried me when Shane said in one of the videos that this is his third business. He was quite vague about the reasons why the first two were closed or dissolved. The closure of the second business had something to do with splitting from his business partner. What he wasn't truthful about, was that Liberty League International was closed down because it was pyramid selling.
Would you join a company whose owner has run a pyramid scheme? I certainly wouldn't and that is why I joined Wealthy Affiliate and I recommend you look at my review about them.
Another question that Shane skirted around was – why does Prosperity of Life not really have a presence in the USA? It was not actually answered, but a vague response about the countries that they are in. Personally I think it's because it is bordering on being a pyramid scheme, which is illegal in many countries, including the USA.
My Verdict
So Prosperity of Life: is it a scam or real? I don't believe that it is a legitimate and sustainable business opportunity. If you don't feel comfortable with something, then don't do it. I investigated further with Prosperity of Life because it didn't sound right and true to me.
If you want to join a legitimate on-line business, then click here.
If you do have any questions or comments, then please leave them below and I will get back to you.