How good is this popular Web Hosting Company? The Bluehost web hosting review will tell you what you can expect from Bluehost and what not. We will look at the Bluehost web hosting plans and the main benefits of choosing Bluehost website design.
Website hosting is not a one-size-fits-all scenario, but specific plans will fulfill specific needs.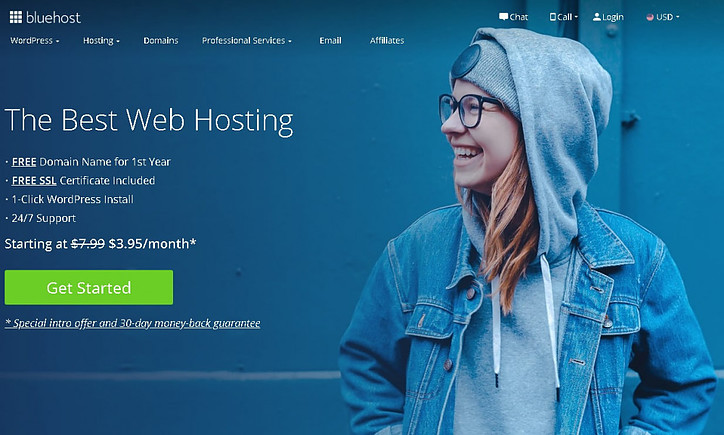 Name: Bluehost
Owners: Endurance International Group
Website URL: www.bluehost.com
Price: Starting at $2.95/month for the Bluehost web hosting plans, see the details below
Overall Rank: 97 / 100
Disclosure : I do have affiliate links on this site. If you click on any and make a purchase, it will not cost you anything more and will help me to bring you more reviews. These are my own opinions based on my experience and research.
Overview of Bluehost
Bluehost is a very popular choice for website hosting. Bluehost is a web hosting service company that was founded in 2003 and is based on Orem, Utah. Their parent company is Endurance International group, so they are part of a bigger family.
They are one the largest providers of website hosting services and offer shared and dedicated hosting, as well as WordPress, Virtual Private Servers (VPS) and eCommerce Cloud hosting. They are constantly driven to be the top web solution provider.
BlueHost provides secure and reliable hosting services and are powering more than 2 million websites globally.
Very fast and average time to load a website is less than half a second.
Hardware and software comply with all the modern standards.
Popular for WordPress blogs,
SEO services,
content creation,
business sites and
minor eCommerce stores.
All Bluehost plans offer customers 24/7 live chat, unmetered band width and 5 email accounts. Over and above the web hosting services that they provide, they also offer web marketing, web design services and security. They provide comprehensive tools to millions of users worldwide.
Whether you are a newbie just starting online or a professional, the Bluehost web hosting review will show you that you can get on the web and build your own website, with a beautiful Bluehost website design.
If you still need to build your website, you can start here for FREE.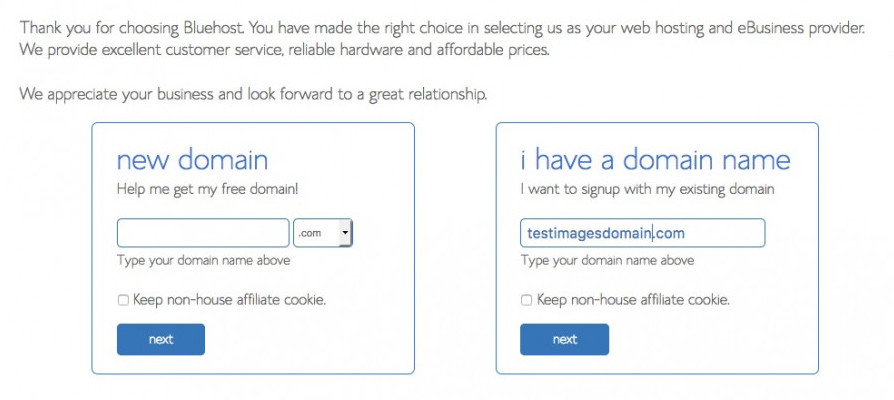 What I like about Bluehost – the Pros:
Bluehost has the best uptime (99.99%). Uptime is one of the most important aspects when choosing a website hosting service. Users cannot access a site when it is down, so you should place up time as the most important factor. Bluehost is rated as the top performer for up time.
Load speed of your page can be make or break for the success of our site. If it is too slow in loading, people click away and go elsewhere. Bluehost is very fast with an average load time of 405 ms. 
A wide range of hosting services are available.
BlueHost has just announced in October 2020 that WordPress sites can be transferred for FREE.
Host multiple domains under one account, which is super convenient.
Very low introductory offer and you can save on the Bluehost web hosting plans by paying annually.
Very good security features including free SSL certificates. Domain privacy feature is included in all plans, which prevents hackers from finding and using your personal information for phishing schemes. SiteLocks protection helps to prevent attacks by malware. CodeGuard is another form of protection, which provides daily backups. The final security tool is Postini from Google, which provides spam protection for your email. Security features like SSL, Sitelock protection and IP addresses are included in the different plans.
Hosts more than 2 million websites globally with Bluehost website design as a feature.
Unmetered bandwidth.
Domains are free for the first year in all the plans.
eCommerce feature (WooCommerce) is available with multiple shopping carts.
Bluehost is an economical choice for eCommerce sites and you get loads of great features to help you sell on-line.
Many other apps, integration and eCommerce features are available.
Customer support offers everything from a knowledge base, from phone support, to live chat to email support.
WordPress recommends Bluehost as the no. 1 Hosting platform and has been doing so since 2005.
1 click to install websites.
Very easy for beginners to use, and at the same time many features that are perfect for advanced users.
30 day money back guarantee. This will be for the web hosting cost, but not the domain name, which is an actual purchase you make, OT any other add ones.
What I don't like about Bluehost – the Cons:
There are some up sells during the sign-up, which is a common occurrence in the web hosting industry, and most services that you sign up for.
Special rates are only available for the first year. But this is normal with most special rates and discounts, as it is there to attract new customers. Price goes up with renewal, but you can do more than one year in advance to lock in the special price.
Let's have a closer look at the many Bluehost website designs and plans that are offered by Bluehost.
To compare BlueHost with other web hosting providers, please read this post on the 3 Best website hosting providers.
The Bluehost Web Hosting Plans
Bluehost offers different products and hosting plans: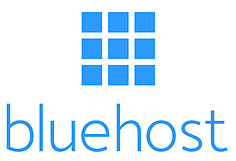 Shared Hosting
Virtual Private Servers (VPS) hosting
Dedicated Hosting
WordPress Hosting
eCommerce Cloud hosting
They have recently launched the Bluehost Website Builder, so you can now build your unique WordPress Website with Bluehost. The drag-and-drop website builder means you can easily and quickly create a website, without needing any coding or technical know-how.
1. What is Shared Hosting?
Shared hosting is the cheapest and most common form of web hosting. Beginners are normally looking for a simple and affordable plan. Bluehost is one of the fastest shared hosting services on the market.
Basic Plan: 1 website, 50 GB SSD storage, free SSL certificate, unmetered bandwidth, Standard performance, 1 Domain is included and also 5 Parked Domains and 25 Subdomains.
Plus Plan: unlimited websites, unlimited SSD storage, free SSL certificate, unmetered bandwidth, Standard performance, unlimited Domains, unlimited Parked Domains, unlimited Subdomains, Spam Experts and 1 Office 365 Mailbox free for 30 days.
Choice Plus Plan: you get everything that is in the Plus Plan, and in addition you get, Domain Privacy plus Protection and CodeGuard Basic site backup.
Pro Plan: you get everything that is in the Choice Plus Plan, plus in addition you have High Performance, 2 Spam Experts and Dedicated IP.
All these plans include:
Domains: A domain manager makes it easy to transfer or purchase domains, and also track, update and administer all your domains in one place. Plus Plan, Choice Plus Plan and Pro Plan support unlimited add-on and parked domains, sub domains, and even domestic and international domains.
Resource Protection: when websites are using excessive resources, the Bluehost technology identifies it and temporarily reassigns them to an isolated system. Website performance is thereby defended and mitigates the risk that is normally associated with shared servers.
SSL Certificates are powered by Let's Encrypt. It helps to keep personal information, eCommerce transactions and other sensitive data between your customers and your website secure and safe.
Scalability: you can start with a basic plan and as your websites grow, you can upgrade to more powerful options.
Verification on Google My Business: local businesses can list online and quickly connect with local customers by allowing Google Maps to show your location and hours.
Marketing Credits: when you spend your first $25 on a new Google Ads account or Microsoft advertising, you will receive a $100 for Google Ads and also $100 for Microsoft Advertising.
Advanced Plans and Add-ons have these additional features:
Multi server management: shared, VPS or even dedicated services can easily be added to your account, allowing you to manage all your shared hosting services in one place.
Advanced Capabilities: you can use advanced capabilities like web-based managers for files, databases and email, Secure Shell (SSH) access, log file access and server-side includes, and customize your own .htaccess files, cron jobs and php.ini files.
Site Lock: by detecting and fixing threats and vulnerabilities, websites can be defended against attacks and threats before they happen.
Access Control: restrict access to different parts of your website by creating unique passwords. Apart from a master password for the entire account, also have a separate password for billing and ownership information and another for cPanel and dedicated server access.
Domain Privacy and Protection: mask the personal information that is associated with your domain to prevent identity theft, phishing attacks and spam.
Spam Protection: Postini is powered by Google and filters out unwanted and harmful content before it even reaches your inbox and isolates quarantined messages that you then review.
Content Delivery Network: CloudFare is directly built into your account and you can enable it instantly, without coding changes or additional costs.
CodeGuard works behind the scenes and makes daily backups and saves each one as a separate version, which means it is easy to go back and retrieve previous versions if needs be.
Unique IPs: by securing an IP address which is exclusively assigned to your website, it further protects your account.
The biggest benefit of Shared Hosting is the affordability. It is also managed, which means Bluehost looks after things like server management and platform patches. WordPress can be utilized on a Shared Hosting platform and WordPress hosting is often synonymous with Shared Website Hosting.
When it comes to the Bluehost web hosting plans, you cannot go wrong if you select a Shared Website Hosting Plan. WordPress will automatically be installed, so you can quickly get started building with your Bluehost website design.
2. What is VPS Hosting?
Virtual Private Servers are built from the ground up, using all SSD storage, which gives you more flexibility, power and control for your website. VPS allows for resources like RAM and CPU to be dedicated to your account. A dedicated server is virtualized and splits the resources amongst the users on the server. Three plans are available:
Standard Plan: you get 2 cores, 30 GB SSD storage, 2 GB Ram, 1TB Bandwidth and 1 IP Address.
Enhanced Plan: here you get 2 cores, 60 GB SSD storage, 4 GB Ram, 2TB Bandwidth and 2 IP Address.
Ultimate Plan: here you get 4 cores, 120 GB SSD storage, 8 GB Ram, 2TB Bandwidth and 2 IP Address.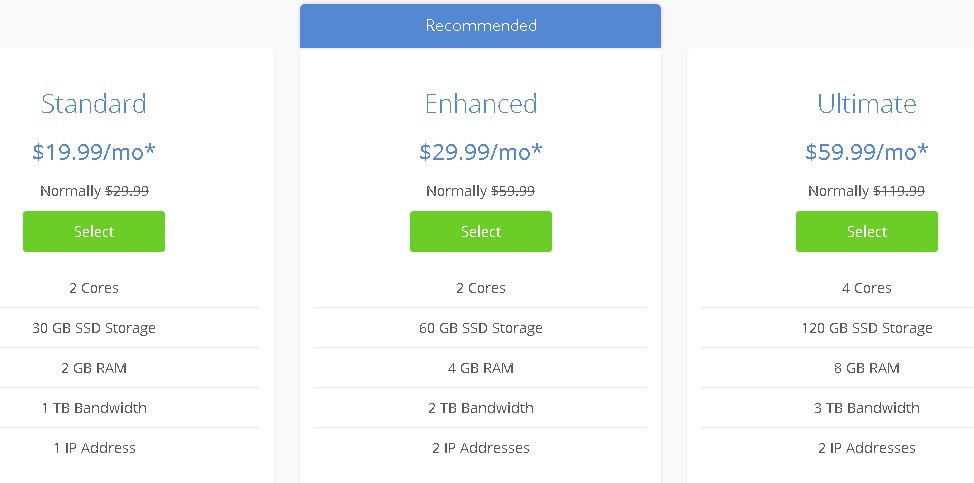 Features of VPS Hosting:
Domain name is free for the first year with VPS. After that, the domain name can be renewed at market price at the end of the first year.
30 Day money back guarantee if you are not happy.
Support is available 24/7 for technical issues and all aspects of getting online.
Free SSL Certificate
Root Access – enhanced cPanel control panel gives you full access to CentOS, giving advanced users complete control of your server.
Extreme Performance – open source technology like OpenStack and KVM is used, which means Bluehost can offer VPS that is easy to use, but also powerful.
Instant Provisioning – VPS servers are designed to provision immediately, so you are up and running in a matter of seconds. Most other VPS hosting services take hours or even days before you are activated.
Enhance Control Panel – the improved cPanel interface is included in every VPS configuration. It has the same features that you have in the shared solution, together with special tools for VPS management and WHM control.
Guaranteed Resources – websites perform at optimum levels by utilizing high-performance components. Implementation of KVM hyper visor, guarantees that resources are available at all times.
Dynamic Resources – additional storage can be added and server expansions are competitively priced.
Choose your VPS Plan according to the amount of resources that you need. The recommended plan to start with, is the Enhanced, and you can always upgrade later.
Benefits of VPS hosting – resources are guaranteed, meaning regardless of what other users are doing on the server, your account will always get the set amount of disk space, RAM and CPU. These give better security for your website files and greater performance and stability to your website.
Resources such as RAM and CPU can be dedicated to your account. If you need VPS hosting, the Bluehost web hosting plans have you covered.
3. What is Dedicated Hosting?
Dedicated Website Hosting provides complete customization and improved security. These are the plans that are available:
Standard Plan: you get 4 cores @ 2.3 GHz, 500 GB (Mirrored) storage, 4 GB RAM, 5 TB Bandwidth and 3 IP Addresses.
Enhanced Plan: you get 4 cores @ 2.5 GHz, 1 TB (Mirrored) storage, 8 GB RAM, 10 TB Bandwidth and 4 IP Addresses.
Premium Plan: you get 4 cores @ 3.3 GHz, 1 TB (Mirrored) storage, 16 GB RAM, 15 TB Bandwidth and 5 IP Addresses.
Benefits of dedicated website hosting service is:
Great for websites with high traffic.
Perfect for resource-intensive needs.
Ultimate for control, performance and security.
4. WordPress Web Hosting
Bluehost is considered to be the best if you can afford WordPress hosting. You have a choice of three plans for WordPress when it comes to the Bluehost web hosting plans:
Basic Plan: 1 Website, Free SSL certificate, 50GD SDD Storage, Free Domain for 1 year, 5 Parked Domains, 25 Subdomains, $200 Marketing Credit.
Plus Plan: Unlimited Websites, Free SSL certificate, Unmetered SDD Storage, Free Domain for 1 year, Unlimited Parked Domains, Unlimited Subdomains, $200 Marketing Credit plus 1 Office 365 Mailbox free 30 days.
Choice Plan: Unlimited Websites, Free SSL certificate, Unmetered SDD Storage, Free Domain for 1 year, Unlimited Parked Domains, Unlimited Subdomains, $200 Marketing Credit plus 1 Office 365 Mailbox free 30 days plus CodeGuard Basic Back-up.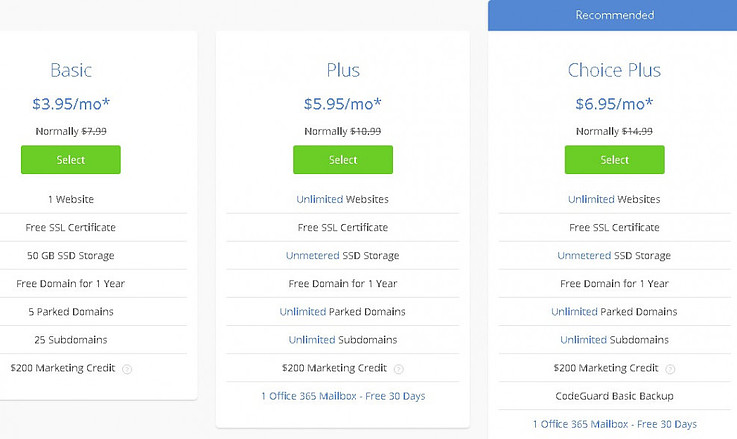 All WordPress plans include these features:
Automatic WordPress installation enables you to build a website in minutes.
Automatic WordPress Updates.
Microsoft Office 365 allows you to access your emails anywhere and brand your email account with your domain name.
Free domain name for 1 year.
Secure configuration of login credentials. When you create your website, you can change the standard WordPress password to something of your choice.
Verification on Google My Business. List your business online and connect with local customers. Google Maps will allow them to see your location and business hours.
With an automatic WordPress installation, you can build a Bluehost website design in minutes.  With hundreds of WordPress themes available for you to create your own unique website. WordPress hosting is affordable and plans start at only $3.95 per month for the Basic plan.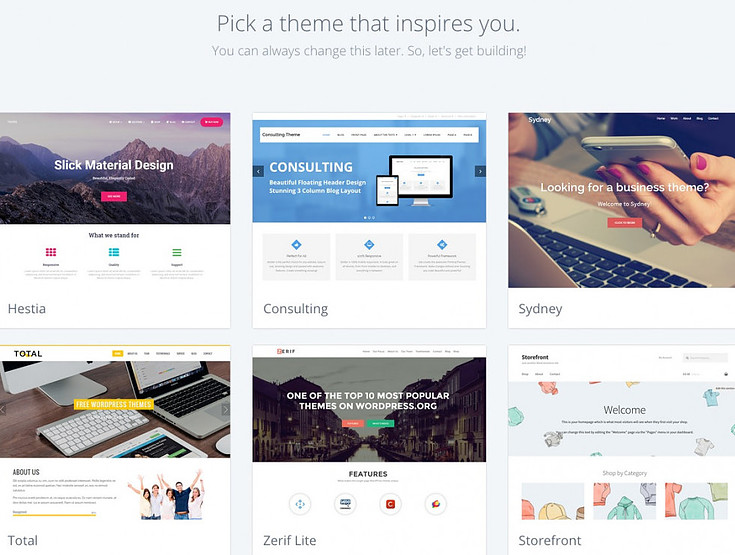 Themes: free and premium themes are easy and quick to install and if you want to change themes, it is completed in seconds. Read more about 9 Best free themes for Shopify in this post.
WordPress Pro is a new Bluehost tool that gives you the best managed WordPress hosting, where you build and grow the perfect WP website.
WordPress Pro Starts at $19.95 per month and your all in one marketing center (this is in Pro) gives you:
All in one marketing center and single dashboard allows you to review and control your SEO,
social media and traffic sources including keyword selection, recommendation to improve content and can automatically share to Facebook and Twitter. SEO, email marketing and social media tools included.
Optimized performance for blazing site speeds.
WP Pro features advanced security, analytics and social media integration – ideal for your WordPress website. They have been in partnership with WordPress for more than 10 years and have a dedicated team to support WordPress.
5. eCommerce Web Hosting – Powered by WooCommerce
Scale the WordPress plan to having advanced features for running an eCommerce WordPress website. Online stores are powered by Woo Commerce which is great for selling online. Online stores can be fully customized and secure payment gateways are provided.
If you have an eCommerce site, the Bluehost web hosting plans that you can, get are these .
Starter Plan: 1 online store, 100 GB SSD Storage, Store front theme installed, Free SSL, Domain privacy and protection, Free set-up call, 1 Office 365 Mailbox free for 30 days.
Plus Plan: 1 online store, 100 GB SSD Storage, Store front theme installed, Free SSL, Domain privacy and protection, Free set-up call, 1 Office 365 Mailbox free for 30 days and CodeGuard Backup Basic.
One Free Domain.
Unmetered Bandwidth.
Verification on Google My Business.
Automatic installation of WooCommerce.
Free SSL.
Marketing credits for advertising.
If you are looking for a high converting theme for eCommerce, then you might find this review on Debutify, helpful.
Build it for me – Another Bluehost Website Design Service
This is a professional marketing service from Bluehost. It means you can focus on your business and Bluehost will help with the Bluehost website design and marketing needs and build and manage your websites. Services that are available include:
Full Service Website:

ongoing design and marketing assistance. Professional designers will build a new, mobile-friendly website for you.
Bluehost will keep your website optimized with keywords for top search engines.
Get found on local listings like Yelp, Google, Yahoo etc.
They post website blogs and articles and also post on Facebook and Twitter on your behalf.

SEO Services:

Bluehost will to target relevant and viable keywords to improve your visibility on search engines such as Google Bing and Yahoo.

Pay Per Click Services:

By using the best practices in the industry, PPC services will help you to target potential customers within search results.

Website Migration: Bluehost will look after the migration at an additional cost.
You can request a consultation for any of these services.
Money Back Guarantee
If you cancel within 30 days, you get your money back, less the cost of domains (if canceled after 3 days).
You can cancel without any penalty at any other time and get a pro-rated refund.
Who will Benefit from choosing Bluehost?
Bluehost has been around for many years and have earned the trust of customers. If you want a reliable and trustworthy web hosting service with a strong reputation, then Bluehost is the perfect choice.
It is perfect for newbies, but also big businesses and corporations. Just be aware of up sells if you are on a tight budget.
Anyone who is using WordPress, will benefit from being with Bluehost. WordPress customers can pay extra and have access to a dedicated WP support team and additional features.
Product support
Bluehost support includes telephone support, Live Chat and email support.
How do I sign up?
It is a breeze to set up your account and website and manage it. The first step is to select the plan that you would like to use. You sign up in two easy pages. The Bluehost dashboard is very simple and easy to use. Installation of apps like WordPress, Joamla, etc. is easy and quick with Mojo Marketplace.
This is what the customer dashboard looks like: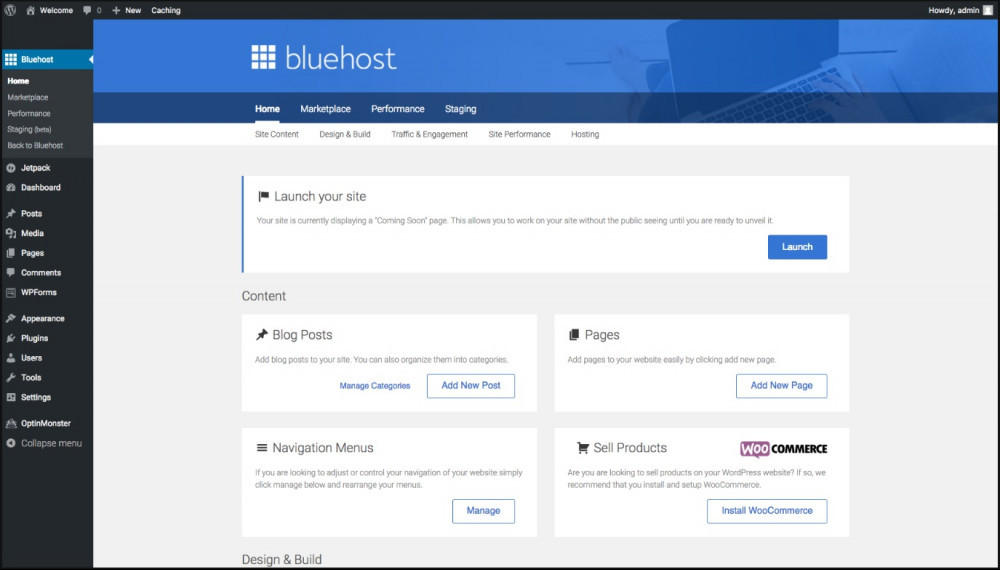 Walk through the process of signing up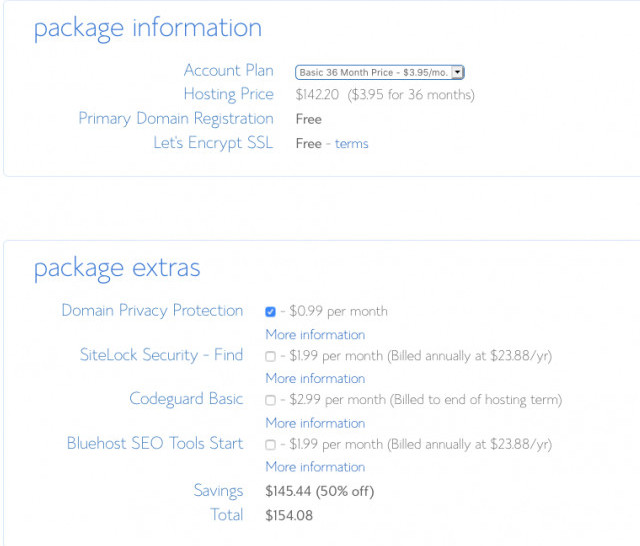 Final opinion of product
Customer service gets mixed reviews with many customers saying that they are happy and have positive experiences. Unfortunately there are also many negative reviews by customers. If you want an all inclusive package of building your website, web hosting, training and ongoing support, then have a look at my review on Wealth Affiliate.
If you are looking for an eco friendly, green energy host, then read this review on GreenGeeks.
And if you want specialist VPS hosting, then I recommend looking at Nestify. You might find this review on What is Nestify about? Best VPS hosting sites, helpful.
Hostgator is another very popular website hosting company and you might find this review on What is Hostgator Hosting About, helpful.
Bluehost is WordPress recommended
Bluehost Websites designs can be fully customized
Easy to use dashboard
Full suite of tools
Built in security
Fast web pages
24 / 7 expert support
Recommended by WordPress
Whatever your needs, the Bluehost web hosting plans that will cater for you. Start with a small or basic plan and you can always upgrade later as your business grows and your needs change.
30 Day money back guarantee, easy to use themes, safe and secure online payments.
You can customize your solution and by using my link, you will get the best deal. I can strongly recommend Bluehost as they deliver good value and strong performance.

I hope the Bluehost web hosting review has answered all your questions about Bluehost, but if you do have any suggestions or queries, please leave it below and I will help you out.