Are you concerned that your website is polluting the environment and harming the planet? Then look no further than Green Geek hosting. The GreenGeeks web hosting review will show that the eco-minded company, hosts some of the best eco friendly websites.

GreenGeeks has become a well-known name in the WordPress hosting industry, with their environmentally friendly responsible platform. The Green Geek hosting platform has been designed with a mindset of no waste and maximum use of resources.
It has been designed in such a way, that every aspect is as energy efficient as possible.
Green Geeks web hosting reviews will look at what is green hosting and how GreenGeeks incorporate it, as well as their hosting plans.
Disclosure : I do have affiliate links on this site. If you click on any and make a purchase, it will not cost you anything more and will help me to bring you more reviews. These are my own opinions based on my experience and research.
The GreenGeeks Web Hosting Review
Green Geeks is an eco-minded, green energy, web host, and was founded in 2008. It is the leading eco-friendly, green web hosting provider. Trey Gardner is the CEO and the company is privately owned.
The goal of GreenGeeks is to be as environmentally friendly as possible. They offer 1-click WordPress install, managed updates, enhanced security, free CDN, free site migration and the choice of more than 5 different data center locations.
Data centers are located in Chicago, Montreal, Toronto, Amsterdam and Phoenix.

The eco friendly website hosting options are backed by their 300% renewable energy commitment. Currently power more than 600,000 websites, with customers in more than 150 countries.
Green Geeks invest in renewable energy, thus, keeping their operations carbon neutral. They put back into the grid, 3 times the energy they consume. This is done in the form of renewable energy.
Renewable energy is matched via Bonneville Environmental Foundation (more about that below).
So, if you want one of the best eco friendly websites, then choose Green Geek hosting. Thereby helping the environment, at the same time as getting a web hosting solution.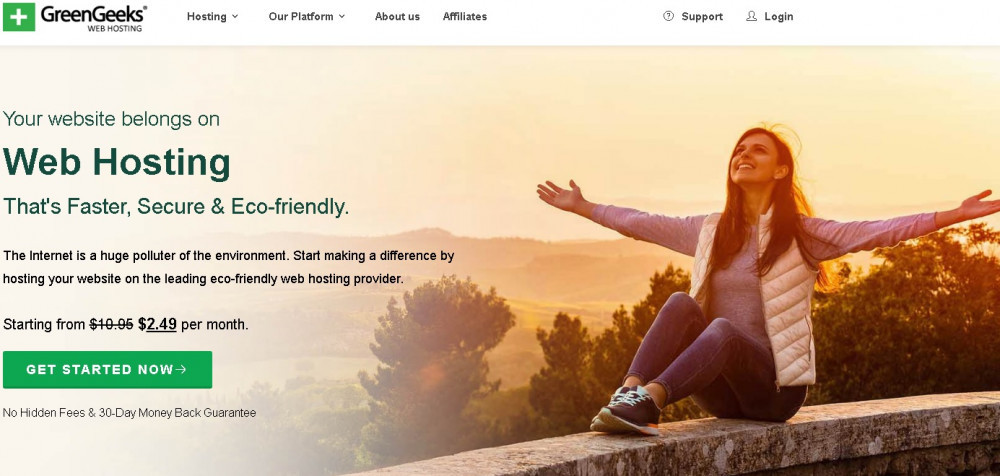 Before we continue with the GreenGeeks web hosting review, let's have a look at what is green hosting.
What Is Green Hosting?
The web hosting industry has a huge negative environmental impact, mainly because of the astronomical amounts of energy they use. The primary way in which web hosting providers can give back to the environment, is through carbon offsets or renewable energy.
Green hosting is an eco friendly hosting solution that reduce their carbon footprint by using different eco-minded technologies and processes.
Renewable energy is produced using naturally occurring resources, such as wind, sunlight and water. No fossil fuels are required, thus resulting in highly efficient, clean energy.
Renewable Energy Certificates (REC) are generated by companies that specialize in creating renewable energy. RECs are tradeable in the USA and represent proof that 1 Megawatt-hour (MW h) of electricity, was generated from an eligible renewable energy source.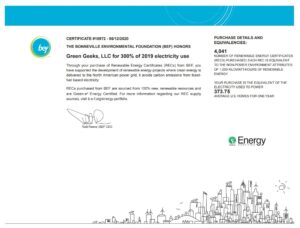 A web host can buy renewable energy certificates (RECs), thereby certifying that they have helped to generate a certain amount of renewable energy.
And of course the money that the company gets that is selling the RECs, can be used to cover operational costs, as well as investing in additional green energy initiatives.
How GreenGeeks Use Green Hosting
Green Geeks mitigates their environmental impact by purchasing wind energy credits at a rate of 3 times the amount they consume. They also use energy efficient hardware for their servers, which are placed in data centers.
Green Geeks work with the Bonneville Environmental Foundation (BEF) in Portland, Ohio. BEF is a Green-e partner. They tell BEF how much personnel, servers, etc. they have. Together with wind farms, they then calculate their annual energy consumption and carbon footprint.
Through BEF, they then buy 3 times more RECs than they have consumed, thereby putting energy back in the grid. This is their commitment to the environment and the best eco friendly websites they host.
GreenGeeks is a recognized United States Environmental Protection Agency (EPA) green power partner.
Also work with One Tree Planted, thus planting trees across the globe. One tree will be planted for every web hosting account that they make provision for on their hosting platform.
Green Geeks web hosting reviews found they have an A+ rating with the Better Business Bureau (BBB).
What Green Geek Hosting Offers
GreenGeeks offer Shared, VPS, WordPress, eCommerce and reseller hosting on their specially engineered hosting platform. It is designed for the fastest, most secure and scaleable hosting available.
Reliable web hosting allows you to have top quality hosting, while also benefitting the environment.
A Weebly website builder is available, which is a drag and drop website builder. Or you can use a content management system like WordPress.
Launch your website and online store with Green Geeks. If you use WordPress, can use a plugin like WooCommerce.
Green Geeks use SSD storage so sites load faster, and LiteSpeed Cache so the read/write speed is very impressive. It has CDN that speeds up load time, by saving a copy of your page on the server that is closest to your customer.
Green energy websites are energy efficient, without compromising proficiency. The best eco friendly websites are hosted by GreenGeeks. So let's have a closer look at their hosting plans in the GreenGeeks web hosting review.
Features of Green Geek Hosting Plans
Key Features at a Glance:
Unlimited web storage space.
Unmetered traffic count.
Unlimited websites (except for the Lite Plan)
300% energy match.
SSD storage.
SSL certification.
Free domain for the first year.
Free website migration.
Zero day vulnerability fixes.
Built-in scaleability.
24/7 support.
30-day money back guarantee.
Free CDN and LiteSpeed Cache.
Host your website on the 300% green hosting platform. You can feel good that you are making a difference and using an eco-minded web hosting service.
Green Geeks Web Hosting Reviews of Plans
Prices are affordable and plans include numerous useful features. They offer several hosting plans, suitable for beginners to large companies.
Web Hosting: Lite is $2.49 / month, Pro $4.95 / month and Premium $8.95 / month.
WordPress Hosting: Lite is $2.49 / month, Pro $4.95 / month and Premium $8.95 / month.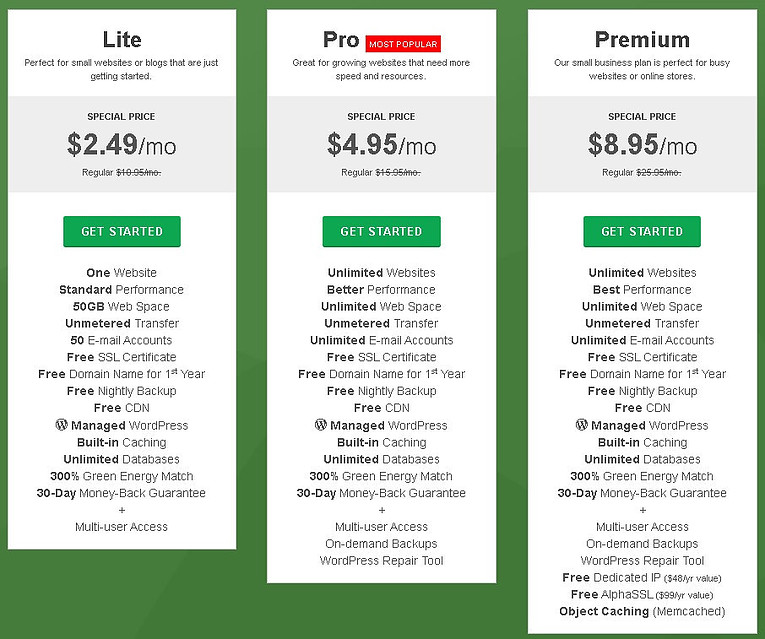 Managed VPS Hosting: 2GB is $39.95 / month, 4GB $59.95 / month and 8 GB $109.95 / month. Here you can see al the features of each plan.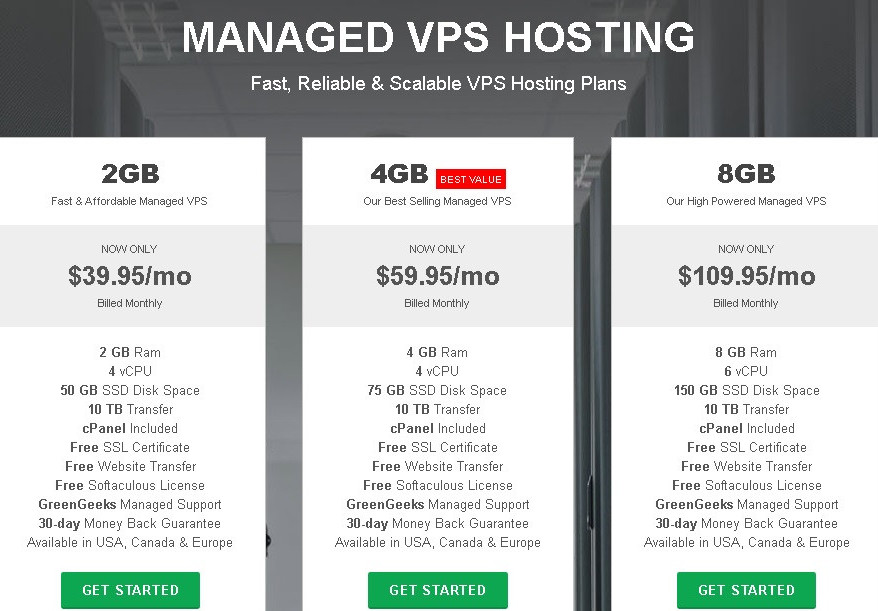 Reseller hosting: RH25 $19.95 / month, RH50 $24.95 / month and RH80 $34.95 / month. These are all the features included in each plan.
Do be aware that these special prices all refer to a 3-year term. At the end of the term, the plans renew at the regular price.
So, why choose GreenGeek Hosting? You can do your part to help the environment and choose eco-friendly web hosting.
Pros: What I like About GreenGeeks
GreenGeeks is a reliable and popular web host service provider, and if you are starting a blog, then they are beginner friendly. This is what I like about them:
Solid uptime performance:
Uptime is one of the most crucial factors to consider when choosing a web hosting service. GreenGeeks deliver an average uptime of 99.95%.
Uptime shows the reliability of a web host, but directly affects the experience that website visitors have. It also affects the bounce rate, which can potentially mean loss of profits if visitors click away.
Speed:
Speed is crucial when it comes to website performance. Very fast page loading time of less than one second. The longer it takes for a page to load, the higher the chance that visitors will click away.
GreenGeek's load speed is faster than the industry average, clocking in at around 477 ms (milliseconds). GreenGeeks give their users the option to enable caching, to further enhance page load time. WordPress users can also install a WordPress caching plugin.
Eco friendly and Sustainable:
Green energy websites are better for the environment. GreenGeeks have strong values that care about the planet. They purchase 3 times the wind energy credits, to compensate for the energy they used to power your website.
By hosting with GreenGeeks, you can help to support renewable energy. Recognized green power partner with the EPA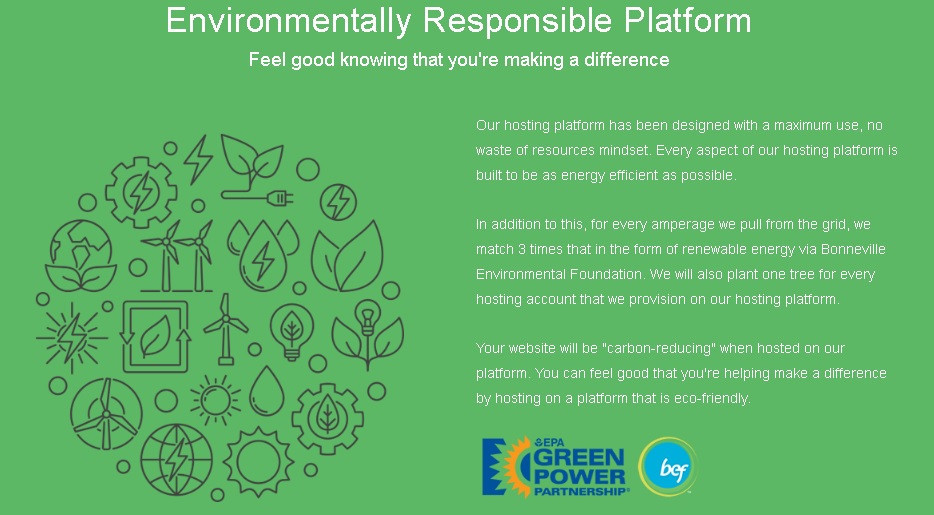 Packed with fantastic features:
GreenGeeks hosting has all the features you need to build a website. Server hardware is branded and servers are based on Supermicro rack mountable servers, powered by the most power-efficient Intel processors.
Very affordable:
We can see in the GreenGeeks web hosting review that they offer competitive prices. It is good value for money for the features that are offered.
Superb support:
When you look at what customers say on Green Geeks web hosting reviews, they rave about the top-notch support. They are very quick to respond to queries and never mind the issue, expert help is provided. 24/7 support is via live chat and email, and via phone Monday to Sunday 9 am to midnight EST.
WordPress expert support specialists are available for managed WordPress customers. They will help you set up your WordPress site and assist with any WordPress specific issues.
Negative comments mainly complain about automatic re billing and exceeding file limits.
Extensive Knowledge Base:
Have an extensive knowledge base where users can search for answers to their questions. GreenGeeks have loads of categories and sub categories to search in. These include general hosting, VPS hosting, reseller hosting, sales questions, billing questions, video tutorials, and much more.
This feature is great if you prefer self-help, rather than seeking assistance from a customer service representative. If you don't find your answer within the categories, you can search in the search bar.
This is over and above live chat, email and phone support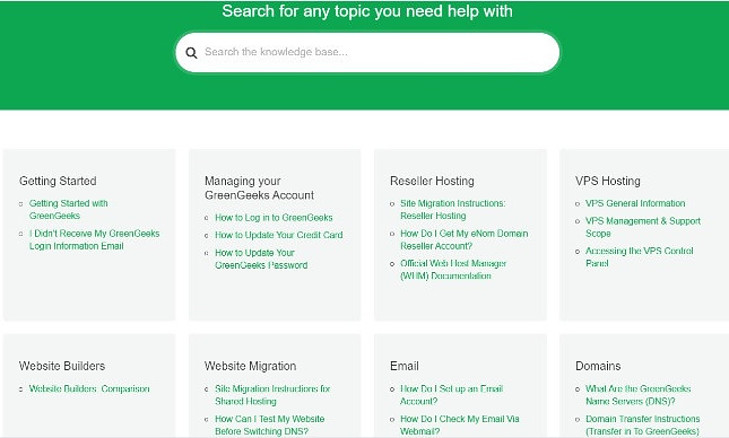 Free domain name and migration:
Free website migration if you want to move your website to Green Geeks. If you are currently hosting with another services, they will transfer your website to their servers for free.
They also provide a free domain registration transfer for the first year.
30 day money back guarantee:
If you move over to GreenGeeks and you are not happy, there is a 30-day money back guarantee on most hosting plans. (There are some exceptions as you will see in cons).
Security and Nightly backup:
In the event of anything bad happening and your site crashes, GreenGeeks provide free nightly backups. This is in addition to SSH access.
They offer additional security measures of real-time security scanning, automatic brute force detection, SSL secure server, Spam Assassin protection and the ability to have password protected directories.
Multiple high quality server locations:
5 different data centers. The closer the server is to your location, the faster the speed will be.
So, choose a server location close to you. This can have a huge positive impact on the SEO of your site.
Free CDN:
Content Delivery Network (CDN) is powered by Cloudflare and is free. Cloudflare allows users to cache content and use servers closest to website visitors, to get it delivered.
Thus, surfing the web is much faster for those that visit your best eco friendly websites.
Cons: Where They Can Do Better
As with all good things, there are always downside aspects that you should be aware of before making a final decision:
Higher renewals: this is an industry standard practice that you get a very low rate ($2.49) that is advertised. This low rate though is only applicable if you sign up for 36 months. The shorter the sign-up term, the higher the cost.

$3.95 per month biennially.
$4.95 per month for an annual plan
$10.95 for monthly billing.

Phone support is not available between midnight EST and 9 am. Personally this would not be a problem for me as live chat and email support are available.
Refund policy has some strings attached to it. GreenGeeks offers you a free domain name when you join. Should you request a refund, the fee for the domain name registration, will be deducted. ($13.95 if it is a .com site) This though is another standard industry practice, but you do need to be aware of it.
Set-up fee for monthly billing: If you opt for monthly billing, there is a $15 set-up fee. If you pay for a year or more, there is no fee.
Additional Promises
GreenGeeks make these promises to customers that servers will be kept up to date with the following specifications.
The latest generation energy-efficient Intel Xeon processors.
Minimum of 128 GB DDR3 ECC-Registered memory.
BGP4 Gigabit connectivity to several Fiber GigE Tier 1 Backbones.
RAID-10 SSD storage arrays to provide maximum performance and redundancy
Solid State Drive (SSD) acceleration
Gigabit connectivity.
Never oversold.
Name brand server parts.
No desktop hardware whatsoever.
With GreenGeeks you can rest assured that your data is stored on high-quality, state-of-the-art servers. Data centers all have a server-safe fire suppression system, with early fire detection mechanism.
Automatic climate and temperature control system, with humidity and temperature sensors is located throughout the facility.
Do I Recommend GreenGeeks?
Yes, I certainly do. They provide solid speed, brilliant uptime and super customer support.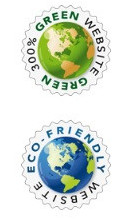 They have a bigger mission than simply being a web host. Green Geek hosting wants to make a difference to their environmental impact by providing the best eco friendly websites.
They provide you with green tags to put on your website, to help spread awareness and environmentally friendly practices.
Websites pollute the environment, and that is harming the planet.
If sustainability is important to you, you cannot go wrong with GreenGeeks
The GreenGeeks Web Hosting Review: Final Thoughts
The web hosting industry is a bigger environmental polluter than the airline industry. You can lessen your web hosting's impact on the environment, by choosing GreenGeeks.
Feel good to have your money supporting a sustainable business. If you want one of the best eco friendly websites, then host with GreenGeeks.
Recommended for small to medium-sized sites, WordPress and eCommerce sites. If you have an eCommerce site and need help to choose a theme, this post on the 9 Best Free Shopify Themes Templates will help you decide.
GreenGeeks is a very good hosting solution for small businesses. If you have very high traffic volume though, you might want to upgrade to a high performance plan.
You might find this post on 3 Best Website Hosting Service Providers helpful to compare hosting providers.
Wealthy Affiliate also offers world-class hosting, combined with affiliate marketing training, if you want an all-inclusive package.
If GreenGeeks is not for you, then have a look at the BlueHost review.
If you have any experience with GreenGeeks, or any questions about Green Geeks web hosting reviews, then please them below in the comments and I will get back to you