Do you want to start your own blog free online and wondering how to start a WordPress blog from scratch? I guess you also want to know what is the best WordPress hosting for beginners. So, let's set up a blog page in WordPress together, and create a unique and beautiful blog.
It is not hard to start a blog. Blogs are affordable and far more accessible today, than ever before. But, blogging is not a get-rich-quick scheme. The reality is that blogging is not for everyone. So, before we set up a blog page in WordPress, let's see if blogging is for you, or not?
Should You Start Your Own Blog Free Online?
Blogging is not for you if:
You expect to see immediate results.
You're looking for a trick or shortcut to make money online.
You think passive income is really passive and comes without any work.
You need $3,000 as soon as possible.
Blogging is for you if:
You want to build a sustainable business that can support you and your lifestyle.
You want a business that will last several years, not just a few months.
You're willing to put in a realistic amount of time and effort to make your blog profitable.
In essence, to start a blog, you set up a CMS (Content Management Solution) like WordPress, choose a theme and a web hosting service, write and publish your first post.
Blogging becomes so much easier when you choose what is the best WordPress hosting for beginners, HostGator, to partner with.
Why Self Hosted And Not Free?
When you start your own blog free online, you might be tempted to go for free hosting. Opting for a free hosting service like Bloggers.com or Squarespace, come with huge limitations.
You are tied into one hosting service and editing functions are limited.
When you publish a blog on a free platform, like Bloggers.com, they have the rights to your content. So you don't own your content and I didn't want to forfeit the rights to my content.
Often you cannot place advertisements, which is a huge source of revenue when you want to monetize your blog.
A .com site shows that you are serious. It also ranks better in SEO.
Switching later can be difficult, having to pay a professional to do the transfer.
If you are serious about your blog, then I recommend you opt for a self-hosted WordPress blog. The only essential purchase when you start blogging, is hosting, everything else is optional.
If you are wondering what is the best WordPress hosting for beginners, I would look at HostGator.
The first step to set up a blog page in WordPress, is to find your niche.
Getting Started: Find Your Niche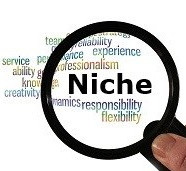 The niche is the topic of your blog. When it comes to choosing your niche, there is no right or wrong niche. But do make sure people are interested in your topics, and that the audience is big enough.
Your blog must help people in some way, solve a problem or provide a solution.
It helps if your niche is something that you are passionate about. I am a bit of an eco-warrior, so my lifestyle blog ecoworldonline.com, is all about eco friendly products and sustainable living.
If you are stuck on selecting a niche, you can read this post on What is a niche for affiliate marketing.
Choose a Domain Name
When you start your own blog free online, you need a domain name (the name of your blog) and web hosting (where your domain lives). The good news is that what is the best WordPress hosting for beginners, namely HostGator, offers both as a deal.
If you don't have a possible name for your domain, spend some time brainstorming. Write down words and phrases that could be relevant to your niche. Start combining these and come up with a few options. Now check if those are available as a domain name, and you can do that with HostGator.
Tips for choosing a domain name:
Always choose .com when possible.
The name needs to be as short and concise as possible, as it will be easier for people to remember the name.
Keep it simple and let it reflect your niche. When I chose passiveincomeearners, I knew my blog would be about earning passive income.
Avoid using numbers, hyphens and homophones.
It should be easy to say and understand.
Avoid complicated words and ones that are commonly misspelled.
If you have a domain name like "allaboutsocks", and you want to blog about CBD oil, people would most probably not click on it as the content might not be relevant. So, don't limit yourself to a name or niche that is too narrow.
If you are not sure what you will be blogging about, or know it will be more general, you can choose your name and surname. Or if that is not available, variations of it, but avoid having numbers in your domain name.
Your blog name and domain name will be very similar. This blog name is Passive Income and the domain name is passiveincomeearners.com.
So, do give your name some serious consideration, as you are stuck with it.
Choose a Blogging Platform
You need two things for how to start a WordPress blog from nothing:
a blogging platform, and
A blogging platform is where you organize your blog posts and edit your content. It uses Content Management System (CMS) software and WordPress is by far the most popular CMS software.
Self hosted WordPress is the best choice for making money from blogging, and I use it for all my blogs.
It is easy and quick to install and use.
The free open-source software can be used by everyone and it means you have control over your blog.
There are thousands of free themes and plugins to choose from.
Google loves WordPress as it is a search engine friendly platform.
Hosting is the home of your blog or website. You basically rent space for your website on the world wide web. So, it is where your website files are stored.
Sign Up For Hosting With HostGator
Starting a blog can be very easy when you choose a hosting service like HostGator. They are reliable, extremely affordable, speedy and without restrictions on traffic that prevent your blog from growing.
So, your next step is to sign up with HostGator.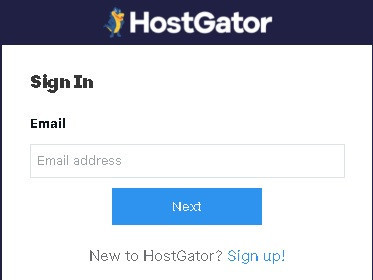 Their plans start as low as $2.75 / month and you get a free domain name with your hosting plan. They are fantastic in terms of support and if you already have a website, they will migrate your existing site for free.
When you start your own blog free online, you only need the basic, cheapest option. With HostGator you get unlimited disk and bandwidth space, together with 24/7/365 support and an incredibly affordable hosting plan.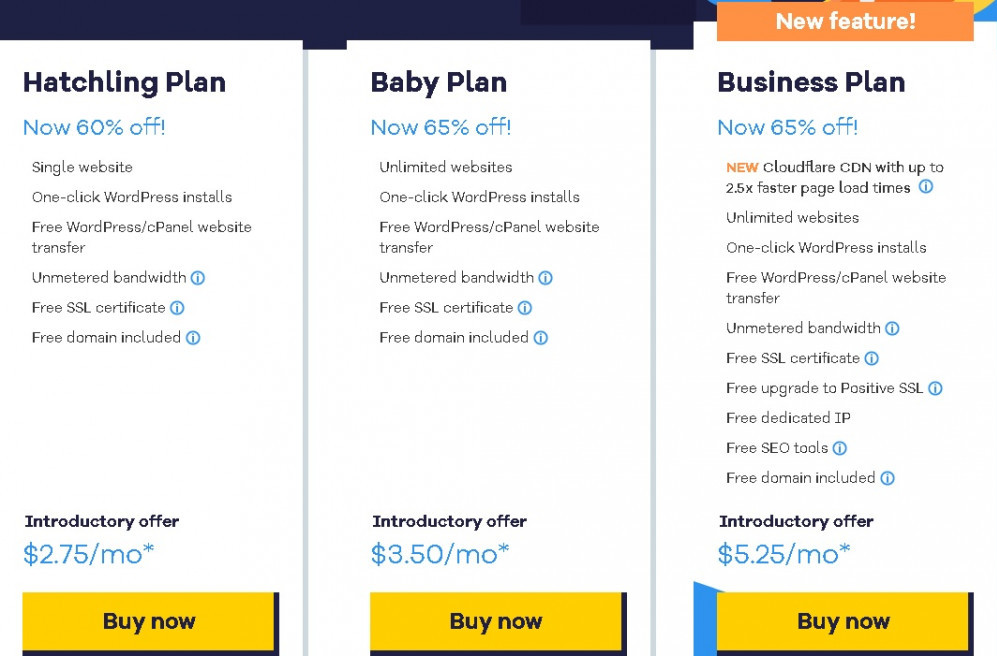 Follow the instructions to set up your account.
I recommend you choose the annual payment option. You will save a lot of money, while also feeling more committed.
Go through the prompts on the screen and complete billing information.
When it comes to add-ons, that is completely your choice. I personally use free plugins, as I don't feel I need the add-ons, but your requirements might be different.
Set Up a Blog Page In WordPress
Your next step is to install WordPress, which will be your blogging platform. If you do decide to use what is the best WordPress hosting for beginners, HostGator, it is very easy, as it will install WordPresss automatically.
HostGator has a "Quick Install" button for a raft of different programs, with WordPress being one of them. After clicking on Quick Install, you just select WordPress on the next screen.
Complete your details as prompted and decide whether you want auto-updates or not. It can be changed later.
Your WordPress Dashboard
There is a lot to WordPress, but it is very simple and easy to use, and you will soon get used to it. This is what my dashboard for passiveincomeearners.com looks like: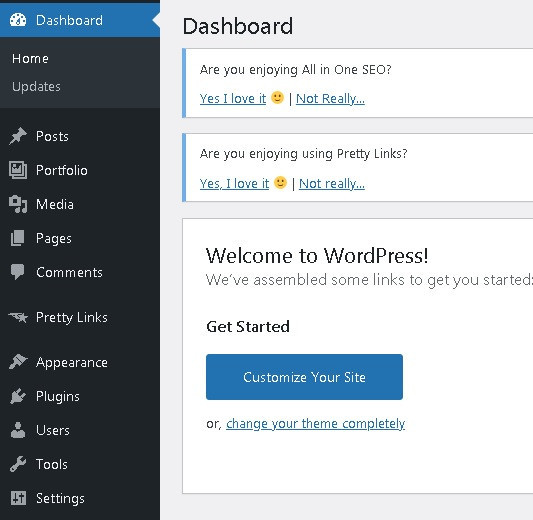 Posts: add new posts or edit old ones.
Portfolio: I do not use this at all, so mine is empty.
Media: any images, videos or other files that you upload to your blog, lives here. I normally upload images directly in the post editor, so hardly ever use this.
Pages: pages are used for "static content", so it is content that you don't update or change frequently.
Comments: this is where you moderate comments that have been left. It can be changed approve and reply to them, or bin it if it is spam.
Pretty links: I have it as a plugin, so it shows up here, but you will not have it.
Appearance: this is where you make your blog look attractive, so spend time on choosing a theme. More about this later.
Plugins: these are software add-ons and I will show you the ones I have below.
Users: here you manage users for your site, as it is my blog, I am the only user.
Tools: here you will find import and export options, a redirection manager and site health. I only use it to check on site health and if there are recommended improvements or critical issues that need to be fixed.
Settings: these are all the general settings that you can fine-tune for your blog, like site title, tagline, language etc.
Let's have a closer look at some of these features where you can customize and optimize your WordPress blog.
How To Start a WordPress Blog From Scratch – Putting it all together
There are endless customizations in WordPress, but we will look at some essentials.
Appearance
One of the first steps when you set up a blog page in WordPress, is to choose a theme and customize it.

Theme: When you start your own blog free online, there is no need to buy a theme, as there are many free themes available. Your theme will probably evolve over time as your blog grows. When choosing a theme, evaluate if it fits the niche and topic you are covering, as well as your personal style. If you are starting a blog and want to include an online store, then read this post on the 9 Best Free Shopify themes templates for eCommerce.
Widgets: widgets are drag-and-drop content areas, such as sidebars and footers. So, here you can have an area to the left or the right of your post where items can be displayed. This is where you can add affiliate banners or an email subscriber sign-up. I use AWeber to manage my subscriber list. As a new blogger, you don't want to pay for an autoresponder. With AWeber, you can sign up for free, and grow your list to 500 subscribers. Only when you reach 500 subscribers, do you need to buy a plan. But, by then, you should be making money from your list and blog to be able to afford the small monthly fee. You might find this post helpful: Tips for your email marketing strategy.
Menus: this is where you are able to add things to your navigation bar.
Posts and Pages
When you publish content, you want to do it as a post. This will enable visitors to comment on your posts. A page on the other hand, doesn't have a comment option.
You certainly want an "About Me" post and contact details. Having an About Me page will build trust with your website visitors. I did find it extremely awkward to write about myself, but you can always edit it as your blog grows.
You also need to have a Privacy Policy and an Affiliate Disclaimer on your site, so add them as pages. It can be changed publish your "About Me" as a page, but personally I prefer it as a post. This way I can add to it and people can comment on it.
Plugins
One of the main reasons why so many people choose to set up a blog page in WordPress, is the amount of free plugins that enable you to customize your site. Plugins are software add-ons and there is literally a plugin for anything and everything. With plugins, you enhance your WordPress blog by adding extra features.
It is very easy to install plugins, just click on Plugins > Add New. It can be changed search for the plugin you want to use. But, you don't want too many, as they could slow down your page loading time.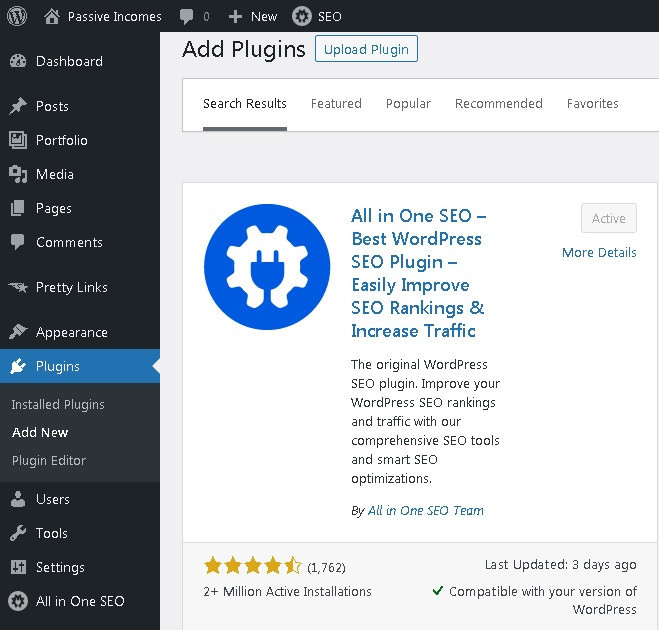 These are the plugins that I have:
All-in-one SEO: this is extremely important and will allow you to work on search engine optimization. This will improve your rankings and chances to be on page 1 on search engines like Google, Bing and Yahoo. If you would like to know more about search engine optimization (SEO), then please read this post. What is website search engine optimization?
Headers and Footers: code for affiliate links and Google Adsense can be added in here. When there is an update to your theme, you will lose any changes you made to the theme. So to avoid having to redo anything, use the header and footer plugin.
Classic Editor: enables the classic WordPress editor and the old-style edit post screen with TinyMCE, Meta Boxes etc.
Easy Table of Content: I only recently added this. It is a user-friendly way to create and display a table of content as it is automatically generated from your content.
Kadence Blocks – Gutenberg Blocks for Page Builder: features advanced page building blocks for Gutenberg to create custom column layouts, backgrounds, icons, dual buttons etc.
Kraken Image Optimizer: this plugin allows your WordPress images to be optimized. It improves page load speed of your posts.
Pretty Links: shrink, track and share and URL using your website and brand.
Shareaholic – Grow and Engage Your Audience. This is the plugin that allows you to add social media buttons to your blog, for sharing your content. It can also be used for ad monetization and content analytics.
You do want a sign-up form on your blog, so if you do not have it in a widget, then use a subscription plugin.
If you plan on having a membership site, then you will need a Form Builder plugin like ProfilePress. You might find this post helpful: ProfilePress: WordPress Best Form Plugin.
Explore the plugins that you feel will benefit your niche and blog. It can be changed install plugins later, but I do recommend that you have the All-in-one SEO plugin right from the start.
Create Your First Blog Post
Congratulations, now that you know how to start a WordPress blog from scratch, you are ready to write and publish your first blog post.
You need to create content, so start writing your first post. From the left-hand menu select Posts > Add New. It can be changed delete "Hello World".
Without any material and content, it is difficult to see what your blog looks like. So, don't waste too much time trying to perfect the appearance of your blog. You will most probably go back after a few months and edit your first posts.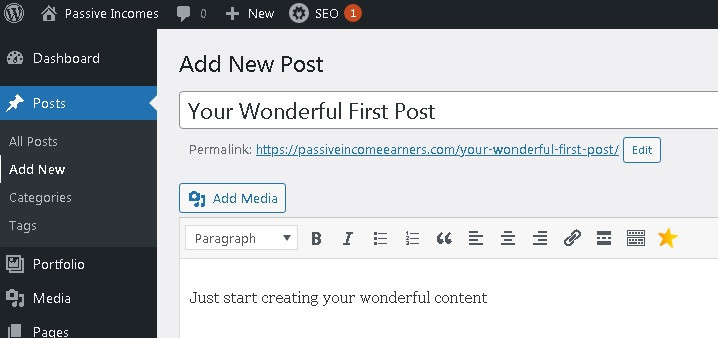 Tips for your content:
Use headings to separate sections.
Make use of bullet points and lists.
Add images to make it look attractive.
Make use of white space to make it easier on the eye.
Before you hit "Publish", check for typos and grammatical errors.
These are more posts that you might find helpful:
Now that you know how to start a WordPress blog from scratch, I encourage you to go ahead and start your own blog free online, and share your passion.
If you have any questions or comments on what is the best WordPress hosting for beginners, then please leave them below and I will get back to you.